The Bridgerton Season 2 Trailer Has Everyone Saying The Same Thing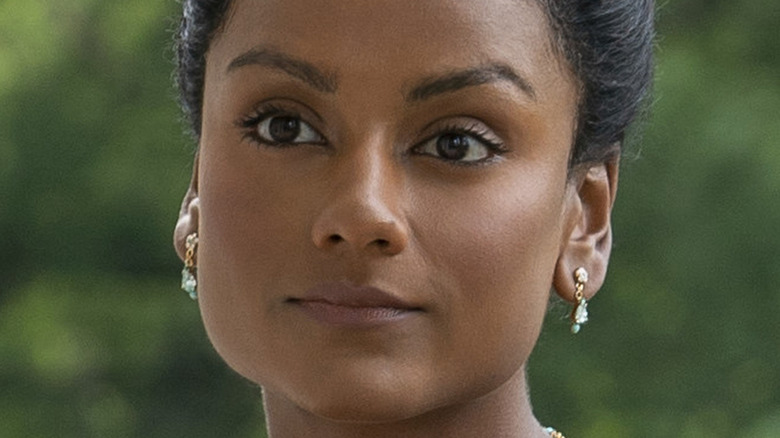 Liam Daniel/Netflix
We know that many of you, just like all of us, have been waiting extremely patiently for "Bridgerton" Season 2 to arrive, and we have finally been rewarded with the first full trailer. And if you thought "Bridgerton" Season 1 was steamy, hang on to your petticoats for the next installment. We're getting love triangles, wet shirts, seductive hand-holding, rakes, coquettes, gossips, and croquet. Can you stand it? Neither can we. 
Following the formula laid out by the book series the show is based on, Season 2 will focus on a second Bridgerton sibling, Anthony, as he searches for a wife under the watchful gaze of his mother — and his intended's gorgeous and protective older sister, Kate Sharma. Phoebe Dyvenor is back as Daphne (sans René-Jean Page as the Duke, unfortunately), as is the inimitable Nicola Coughlan as Penelope/Lady Whistledown. 
Coughlan has been hyping the second season nonstop on her own Twitter, writing at one point, "I've just seen the finale of Season Two of Bridgerton and it is so good I am FREAKING OUT." Well, so is everybody else on social media in reaction to the latest trailer.
Fans noticed parallels to another famous Regency romance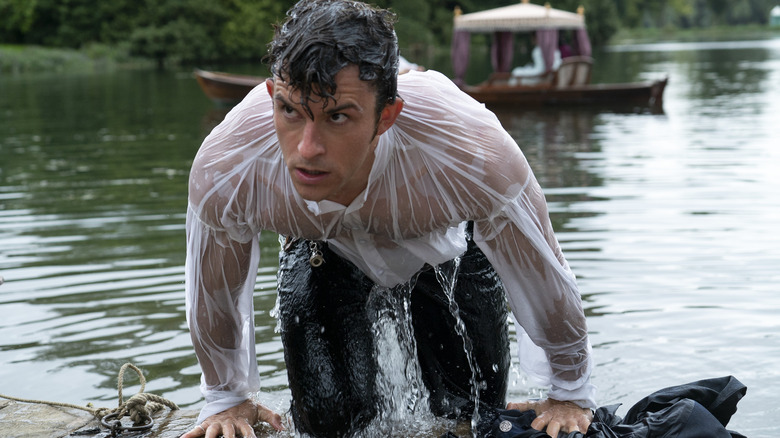 Liam Daniel/Netflix
It seems that for Twitter fans, watching the Bridgerton Season 2 trailer just once was simply not enough. "CHRIS VAN DUSEN REALLY SAID ILL TAKE THE BEST PARTS OF THE BRIDGERTON BOOKS AND TEASE YOU WHTH THE PERFECT TRAILER," one person tweeted, adding, "Rewatched it 30 times!" Another enthusiastic "Bridgerton" fan tweeted, "The amount of times I've watched the Bridgerton trailer could make up the entire running length of the series." And another person raved over the teased romance between characters Anthony Bridgerton and Kate Sharma, tweeting, "Me watching every kathony scene in the trailer for the 12348th time." 
Another theme many fans noticed, once they had regained their composure, was a certain "Pride and Prejudice" vibe. "This part of the trailer was serving pride and prejudice love declaration like I feel this is a bit too excellent," one person observed, citing Anthony's line, "My honor is hanging by a thread..." Another observant Regency romance fan tweeted, "They really referenced the famous 'Pride and Prejudice' scene I'm screaming," over a GIF of a surprisingly hot hand-hold from the trailer that seemed to recall the much-memed scene in the 2005 Kiera Knightly movie. Hard-core "Pride and Prejudice" fans will note parallels between "Bridgerton's" Anthony emerging from a body of water in a soaking wet shirt to the scene's originator, Colin Firth as Mr. Darcy in the 1995 BBC miniseries. It sounds like "Bridgerton" Season 2 will again be the talk of the Ton!