The Dawson's Creek Co-Star Jensen Ackles Had A Hard Time Getting Along With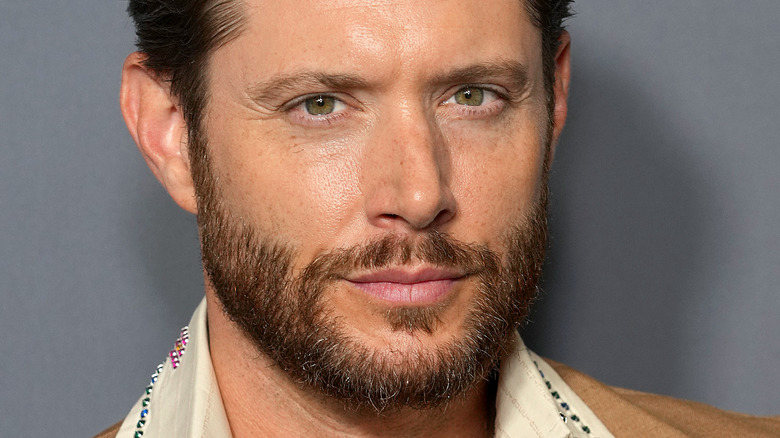 Kevin Mazur/Getty Images
Jensen Ackles and Jared Padalecki forged a friendship that gave "Supernatural" fans an extra reason to adore the long-running show, and it endured after the series wrapped in 2020. Ackles went on to land a role in the satirical superhero series "The Boys" and found himself having a conversation with his pal Padalecki about how busy their lives have become. "We were just talking about the fact that we thought after 'Supernatural,' things would be smooth sailing and we would just be sitting back with umbrella drinks. And it has proved to be the complete opposite of that," Ackles told Variety.
Before he was blessed with a packed work schedule and a supportive celeb friend to complain to about it, Ackles played a character on "Dawson's Creek" who threatened to break up a friendship. As the peer counselor C.J., he slept with Audrey (Busy Philipps) even though a member of her friend group, Jen (Michelle Williams), was pursuing him romantically. In real life, Philipps and Williams developed a bond to rival that of Ackles and Padalecki. "It was like, you know, how people say love at first sight? We had that thing. We had that friend connection," Philipps told Entertainment Weekly. However, Ackles found it much harder to connect with Williams.
It took Michelle Williams a while to warm up to Jensen Ackles
In a 2012 appearance at ChiCon, Jensen Ackles spoke about what it was like to film scenes with Michelle Williams on "Dawson's Creek." As recapped by Fangasm, he recalled, "The way she'd deliver the lines was a lot different than I had expected. It changed the way I would play my lines." He compared this to how he and Jared Padalecki would similarly respond to each other when they worked together years later. "That's one of the reasons I have good on-camera chemistry with him," Ackles said.
But, while he immediately received some helpful acting lessons from Williams upon joining the cast, their interactions were initially limited when the cameras weren't rolling. "She was more of an introvert. You had to earn her respect a little bit," Ackles stated on the "Inside of You With Michael Rosenbaum" podcast. During a 2012 JibCon appearance, Ackles compared the set of "Dawson's Creek" to high school, explaining that the gossipy atmosphere just didn't seem to be Williams' thing. "She kind of kept me at an arm's distance," he revealed. But one day, out of the blue, the "Blue Valentine" star gave the "My Bloody Valentine" actor the opportunity to prove that he was worthy of her friendship. "After a few episodes of working together, she's like, 'Okay, I'm ready to take you out,'" Jensen recalled.
Michelle Williams and Jensen Ackles bonded over music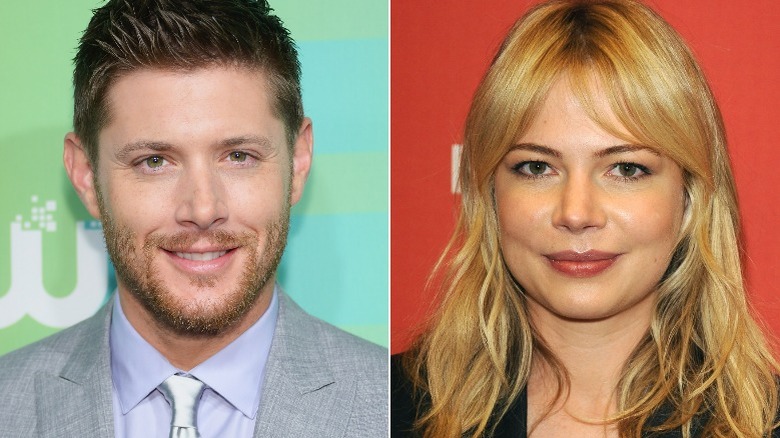 George Pimentel & Michael Loccisano/Getty
On the "Inside of You With Michael Rosenbaum" podcast, Jensen Ackles recounted how Michelle Williams invited him to join her at a music store she loved to frequent in Wilmington, North Carolina, which is where "Dawson's Creek" was filmed. "She goes, 'Grab a basket,'" Ackles recalled. He revealed that Williams barely spoke to him as she tossed CDs into the basket, while he trailed her around the store. Her picks were rock albums by groups that were active during the '90s and '00s, including The Shins and Spoon.
Ackles took the haul home and did his homework, which had a profound effect on his relationship with Williams. "It was her olive branch," he said. "And the next day I showed up, and we had wonderful conversations." Speaking of conversations, in 2017, Williams and Busy Philipps delighted "Dawson's Creek" fans by chatting about their on-screen kisses in a series of Instagram videos. However, when Jensen's name came up, all the two pals could do was express amazement over how popular "Supernatural" had become. "They have their own Comic-Cons," said an incredulous Philipps, causing Williams' jaw to drop.
Ackles told the JibCon crowd that it had been years since he'd seen Williams, but he said, "I'm sure if I did, it'd be a big hug." So, fans of Jen and C.J. missed out on that sweet moment when Ackles didn't get an invite to Entertainment Weekly's "Dawson's Creek" reunion.