The Two Dawson's Creek Stars That Didn't Get Along On Set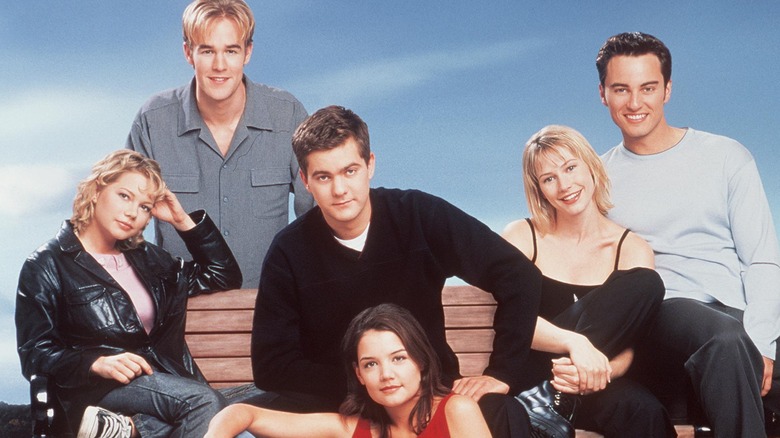 Columbia Tristar/Getty Images
We may receive a commission on purchases made from links.
Art imitated life on the set of "Dawson's Creek," at least where Dawson (James Van Der Beek) and Pacey's (Joshua Jackson) fractured friendship was concerned. While fans have always blamed the character's declining bond on the love triangle between them and Joey Potter (Katie Holmes), it turns out that some of that onscreen tension stemmed from real-life emotions (via Cheatsheet). Early on, Van Der Beek and Jackson's relationship wasn't nearly so chummy in real life. Once the writers noticed that the actors weren't getting along, they started purposefully writing their characters apart. This decision left a whole lot of room for the Pacey/Joey romance to blossom, which was an unexpected treat for the writers (via Vanity Fair).
Even though "Dawson Creek's" writers were building toward a romance between Dawson and Joey—childhood friends with an intense fixation on the concept of soulmates—they couldn't help but notice the chemistry between Jackson and Holmes, who eventually dated in real life (unbeknownst to much of the crew). From Season 1, they started pondering how they could work that into the story but initially held off. Showrunner Greg Berlanti shared his reasoning behind eventually pitching Joey and Pacey's first kiss to Vanity Fair. "I always loved the Camelot-esque story of two close friends and the love story that comes between them." Ultimately, Joey and Pacey's romance forever changed Dawson, Pacey, and Joey's bond. In real life, however, the cast's relationships are just as complex – if not more so.
James Van Der Beek and Joshua Jackson are friends today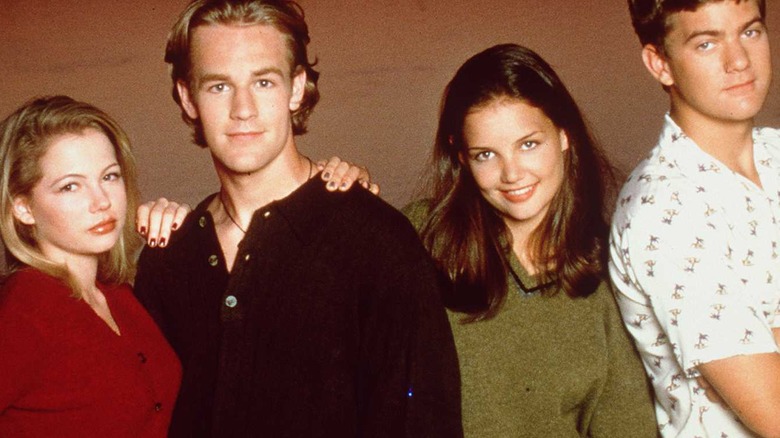 Getty Images/Getty Images
Even though James Van Der Beek and Joshua Jackson didn't get along during "Dawson's Creek's" run, it appears that the former co-stars are much closer today. Over the years, the actors have popped up on each other's social media accounts, usually accompanied by a heartfelt (or humorous) caption. The most famous callback occurred when Jackson posted a side-by-side picture of him crying in his role for "The Affair" with Van Der Beek's endlessly memed crying face (inspired by Dawson's breakup with Joey). "I'm coming for your crown @vanderjames," Jackson captioned the photo (via US Weekly).
That same year, the cast shot special covers for Entertainment Weekly, in celebration of "Dawson Creek's" 20th anniversary, and the accompanying interview sparked a surprising assertion from James Van Der Beek: he's team Pacey. While discussing the show's controversial finale, which revealed that Pacey and Joey ended up together, Van Der Beek shared: "I don't know, it felt right to me. It seemed like it made more sense." However, when the interviewer asked Katie Holmes her opinion, Van Der Beek interjected: "Katie's in the hot seat." Meanwhile, Jackson jokingly responded, "She's not allowed to have an opinion." Ultimately, Holmes chose neutral ground, though Jackson quickly agreed with the show's ending. "Yeah, of course I did." He added, "My vanity knows no bounds."
The exclusive Dawson Creek's group chat
Despite the easy rapport between the main cast members nearly 20 years after "Dawson's Creek" ended, not everyone who appeared on the show feels as in tune. Busy Phillips, who played Joey Potter's college roommate, Audrey Liddel, has shared some complicated feelings about her time on the teen soap opera. 
In 2018, the actor wrote in her memoir, "This Will Only Hurt A Little" that her experience on "Dawson's Creek" was different than that of her previous show, "Judd Apatow's Freaks and Geeks." In her former job, the cast hung out off-set, but the "Dawson's Creek" cast didn't. "Maybe that was how it had been when the show first started, but by the fifth season, when I showed up, the main cast didn't really hang out together that much and they obviously had some fairly intense dynamics going on," wrote Phillips (via Cheatsheet). The actor and writer also shared that it was hard for her to forge a bond with Holmes. "Katie was very sweet, but we didn't spend that much time together."
Unfortunately, it doesn't appear as if Phillips is any closer with most of the main cast today. This same year, Phillips shared that she and Michelle Williams, who played Jen Lindley on the show, aren't a part of the cast's group chat, reasoning they may have missed the memo. "I don't know why we're not on it, but we're not. Maybe they figure that we're fine," she shared with US Weekly.