Why You Won't Find Chris Pine On Social Media
Ernesto Ruscio/Getty Images
There are countless actors who share the name Chris. However, there are four particularly famous men named Chris who happen to be known as the Hollywood Chrises. If you're unaware, the group includes Chris Evans, Chris Hemsworth, Chris Pratt, and Chris Pine, according to the Independent.
Despite being famous enough to be among these other notable stars, Pine isn't really interested in fame and has always seemed to be indifferent about it. Back in 2013, he explained to C for Men (via E! News), "It helps I don't really seek anything out. Hopefully, I put the vibe out of 'not looking for it.' I'm very clear about my relationship to 'it' and I don't like 'it.' I find 'it' very invasive, though I'm trying to welcome 'it' more in an effort to be more zen and not angsty."
Of course, the fact that Pine isn't terribly interested in fame hasn't prevented him from regularly causing a viral moment on social media. For instance, fans flocked to the internet to speculate about what had really happened when it appeared as if Harry Styles had spit on Pine. Granted, Pine may have initially been unaware of the online brouhaha thanks to the fact that he's just one of many stars who refuse to use social media. If you're wondering why he won't be joining Twitter, Instagram, or TikTok anytime soon, you'll be interested to find out that he has a few very specific reasons for staying away from social media.
Chris Pine won't risk his privacy to tweet about his life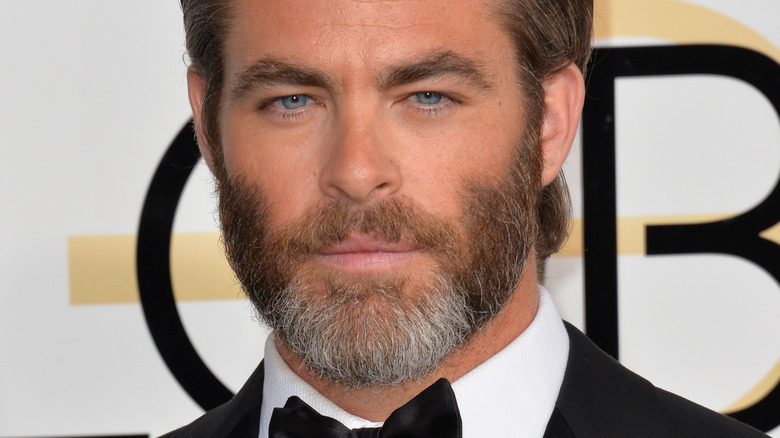 Featureflash Photo Agency/Shutterstock
Social media has been around for years, but Chris Pine has always seemed to be completely disinterested in signing up for the latest popular online platform. In fact, when asked back in January 2014 if he had ever considered logging on to a social media site, he told The Hollywood Reporter, "No, f**k no. What am I going to tweet about? My sneakers? Or, 'I have 140,000 friends on Facebook.' What does that even mean? I find it to be a waste of time. The Internet is so caustic; just a place where people get to spew nonsense and bulls***."
Later that same month, Pine told USA Today there is some content on social media that he respects. Apparently mentioning how Dwayne "The Rock" Johnson uses his official Twitter account to get out the word about causes he supports, Pine explained, "There are wonderful things to do with that medium. I just don't have any interest in it."
Pine went on to tell USA Today about another issue he has with social media, saying, "With Facebook and Twitter everyone wants to publicize their innermost truths. In 2014, we are seeing the true dissolution of public and private. Privacy is not as guaranteed, is not as respected, cherished, or desired as it once." Granted, Pine's hesitancy around social media hasn't stopped him from becoming a popular internet meme.
Chris Pine turned into a popular social media meme
You may not be able to find social media accounts belonging to Chris Pine, but that doesn't mean you won't be able to find the star on social media. Just look for mentions of him on pretty much any major platform and you'll find fan-run Pine-related accounts, seemingly endless admiring posts, and even a popular meme that features none other than the actor.
Indeed, when the Pine and Harry Styles spit drama went down, it wasn't the only thing that left fans buzzing. During an interview at the Venice Film Festival for their movie, "Don't Worry Darling," Pine appeared to completely zone out or disassociate while Styles was chatting away with the press on multiple occasions during the event. The moment that was caught in a video clip — as well as in an undeniably internet-worthy collection of pics — quickly became a meme, according to Page Six. While the now-everlasting behavior from Pine led to a wide range of tweets, one person echoed what plenty of others were sharing, writing, "Chris Pine disassociating is exactly my mood [right now.]"
In fact, the meme became so popular that one Twitter user noted, "The fact that 'Chris Pine disassociating' is one of the prompts when you start typing in his name on Twitter is honestly outstanding." We have to wonder if he would agree.