Fans Can't Believe Their Eyes During Harry Styles' Interaction With Chris Pine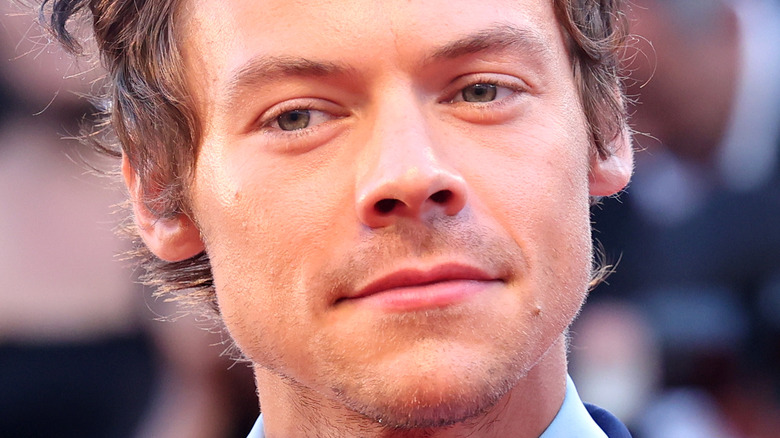 Franco Origlia/Getty Images
Harry Styles' new movie, "Don't Worry Darling," created plenty of drama before it ever even hit the headlines. There were all those reports of an apparent feud between director Olivia Wilde and Florence Pugh, plus all that talk about whether Shia LaBouf was fired from the movie or if he left of his own accord.
But that's not all. Fans also went crazy speculating about what's been going on between Wilde's boyfriend Styles and his co-star, Chris Pine. The internet had a field day when the two joined forces to promote the new movie, with a clip going viral (more than 203,000 likes and 11.8 million views in less than 24 hours viral) on Twitter on September 5 that appeared to confirm Pine maybe isn't exactly hooked on the former One Direction singer's every word. Shared by Twitter user @romansgerri, the video showed Pine completely zoning out during a press junket while Styles spoke next to him, barely moving for close to 20 seconds while he co-star spoke about the movie.
But is there actually some kind of drama going on between the "Watermelon Sugar" hitmaker and the "Star Trek" actor? Well, another video of the two just went viral and it has everybody talking — and speculating.
Did Harry Styles really spit on Chris Pine?
Clearly the new kings of a viral tweet, mere hours after the zone out video hit social media, Chris Pine and Harry Styles were at it again. This time, a Twitter clip grabbed attention after fans speculated it showed the former spitting at the latter during a press conference for "Don't Worry Darling" at Venice Film Festival on September 5. The video, posted by journalist Matt Ramos, showed Styles walking up to his seat next to Pine, leaning forward slightly, and sitting down. In between all that, Pine could be seen reacting to, well, something, as he stopped clapping for Styles, looked down, and uncomfortably smiled at Styles, who did not look back at him.
Naturally, this is Twitter, so people had plenty to say. "Ok what the hell is going on. This had to be an accident, right? Or he actually didn't spit and Chris was reacting to something else?" one person questioned, while another pointed out, "Watch Harry at the very end of this video. He nudges Chris just as the lights dim and he's laughing. Makes me wonder if it wasn't on purpose." Others, meanwhile, were firmly on the no spit train, even posting slowed down videos that didn't appear to show anything coming from Styles' mouth, while others theorized Styles' sweat may have dripped on Pine. Notably, a video taken from another angle showed the two chatting.
Whatever really happened here, Pine was definitely reacting to something...