The Brutal Job Eric Church Had Before He Hit It Big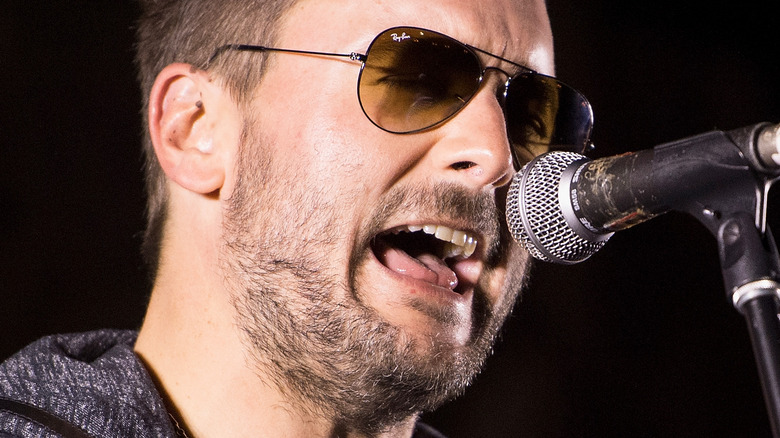 Erika Goldring/Getty Images
The road to country stardom isn't easy. Just ask superstar Maren Morris, who learned how to sing at age 10 using the family's karaoke machine and then gigged for years before getting her big break, per Ace Showbiz. When she released her debut album "Walk On" in 2005, Morris' mother told Harper's Bazaar they "basically sold the furniture out of the house" to pay for its production and distribution. Likewise, Luke Combs was rejected from reality singing competition "The Voice" years before he won Male Entertainer of the Year at the 2021 CMAs. "They had four audition cities and narrowed it down ...I made it through those rounds with the producers, but I got a letter saying I wasn't 'interesting' enough for the show's ratings so I didn't get to the show," Combs told Whiskey Riff.
In keeping with Morris and Combs, there are plenty of other country superstars who paid their dues with unglamorous jobs before their names were ever in lights. Per Wide Open Country, Trace Adkins spent 14 years working on oil rigs, while Dierks Bentley cleaned toilets. As unbelievable as it sounds to imagine the "Burning Man" singer ever scrubbing the porcelain, he was clearly committed to doing what needed to be done!
While it's not quite as bad as Bentley's gig — after all, he recalls once seeing a toilet backfire (yikes) — Eric Church is another one who had a pretty brutal job before he manifested his dreams of country stardom.
Eric Church sold knives on television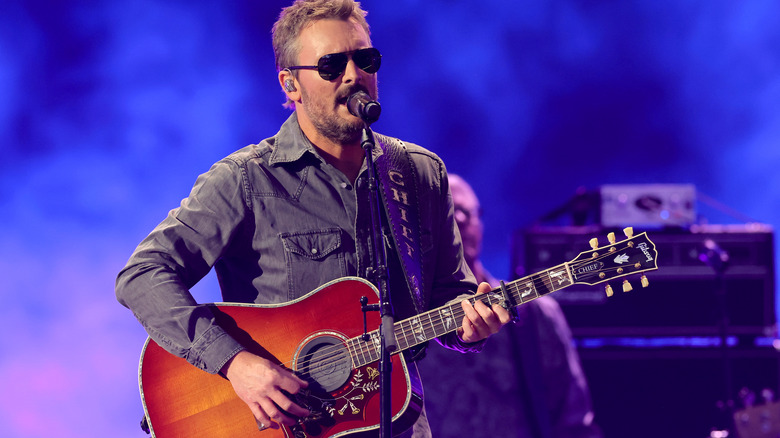 Kevin Winter/Getty Images
After graduating, Eric Church moved to Nashville to make it in the music biz. But that didn't happen without him working a side job to earn some money — and according to Church, it was a doozy. "I sold knives from midnight to 7 or 8am [on the Shop at Home Network]," he said (via Taste of Country). Given the late-night time slot, Church was aware that many of the callers dialing in weren't sober. "I knew they were drunk. ...They'd just come home from the bar, flipped on Shop at Home and said, 'You know what? I need [those knives],'" he joked. The "Heart on Fire" hitmaker would therefore try to talk potential clients out of their purchases. "I was maybe the worst salesman in history because I ended up talking a lot of these people out of it," he added. Sounds fair, right? After all, no one wants to wake up with a hangover only to learn that they're suddenly the proud owner of a 10-in-1 air fryer or (thanks to Church), a new knife set.
But, in retrospect, the job proved that Church has never been afraid to take chances. For example, when he was up-and-coming, he requested that his label, Capitol Records, allow him to "cut the songs the way he wanted to," according to The Boot. It was a daring move that paid off in spades, as it helped establish Church as the rebellious, no-holds-barred star that he's known as today.
Eric Church does things his own way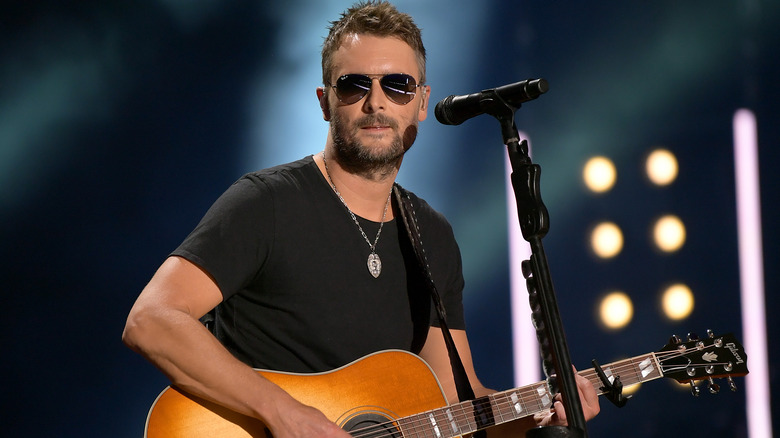 Jason Kempin/Getty Images
As of this writing, Eric Church's one of the most popular musicians in contemporary country music. Since bursting onto the scene with his debut album "Sinners Like Me," he's had 28 songs on Billboard's Hot 100, including "Springsteen," "Talladega," "Drink In My Hand," and "Heart on Fire." In 2019, he won Album of the Year, and his other accolades include Grammy nominations galore, plus three CMT nominations for "Video of The Year," per IMDb. At this point, Church is probably on everyone's Spotify playlist, and he's clearly come a long way from hawking sharp objects on the Shop at Home network.
But whether he's selling knives or writing hits, the star does things his own way. Despite getting in trouble with his bosses for turning away clients back in the day, Church doesn't look back with regret. "I'd want someone to talk me out of buying some of the stuff I've bought at 2am," he defended himself, per Taste of Country. Likewise, in his music career, Church once got himself fired from a Rascal Flatts tour for playing too long and too loudly. Rolling Stone reports that Church also decided to take an unconventional route with his 2021 record "Heart & Soul," by recording in a restaurant and "challeng[ing] himself to write and record a song a day." But whenever the hitmaker makes up his mind to do something, it seems to work out in the end.