Ray J Goes Next Level With New Accusations In Kim Kardashian Feud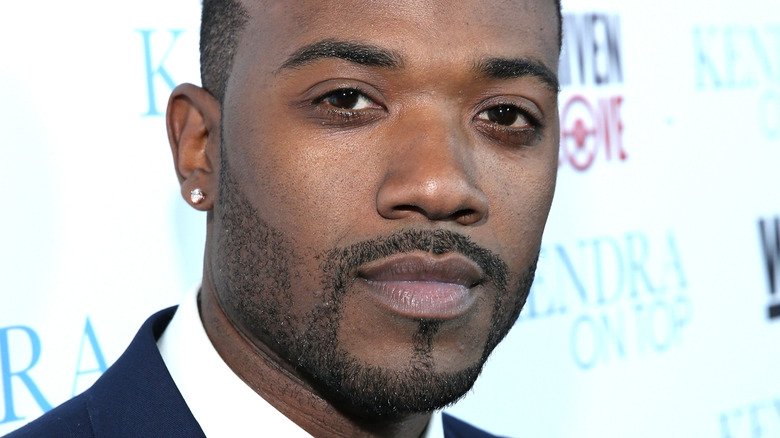 Jonathan Leibson/Getty Images
Unlike the streets of Sin City, what happens on "The Late Late Show with James Corden" doesn't stay on "The Late Late Show with James Corden."
Famous matriarch and momager Kris Jenner was all smiles when she and her youngest daughter, lip kit mogul Kylie Jenner, appeared on the late-night talk show on September 8. "I can't go home, I can't go home," she laughed nervously to host James Corden after it was confirmed via a lie detector test that Kylie was indeed the chosen favorite amongst her six children. And during another question for the polygraph test, Jenner got caught in a lie when she reluctantly answered that she does believe the PDA between her eldest daughter Kourtney Kardashian and new hubby, Travis Barker, can be too much "once in a while." Perhaps even the polygraph machine knows that Mama Bear Jenner is more than a little bothered by all the Kravis tongue-touching. Still, it was an entirely different question that managed to infuriate singer and rapper Ray J and spur an all-out Instagram war.
Ray J claims Kris Jenner picked the best of three sex tapes to release
Perhaps if Kris Jenner only had one wish it would be that she could make the sex tape polygraph question on her September 8 appearance on "The Late Late Show with James Corden" go away forever. 
When asked whether or not she helped daughter Kim Kardashian release her sex tape, Jenner answered with a resounding "no." And while the polygraph machine determined that she was telling the truth, the man at the center of the sex tape begs to differ. On September 10, Ray J took to Instagram to get a few (read: a lot) of things off his chest. "YOU f***** with THE WRONG BLACK MAN krisjenner @kimkardashian" he began in a lengthy Instagram post wherein he referred to the polygraph examiner, John Grogan, as "a fake" and a "polygraph parasite." Ray J vowed, "IM GOING ON THE BIGGEST RANT OF MY LIFE TONIGHT TO CLEAR MY NAME OF THIS NEGATIVITY AND SHOW YOU HOW THESE PEOPLE ARE F***** DEVILS."
But the tirade didn't stop there. During an Instagram Live video (via The Cut) Ray J went on to claim that he and Kardashian filmed three sex tapes in total and it was Jenner who selected the one to release citing "it gives my daughter a better look." Then, in a call to action, he asked his fans to "demand them to admit that they've been f****** me over and they should immediately bow down to the facts and go ahead and apologize." YIKES.