The Unconventional Way Anya Taylor-Joy Learned To Speak English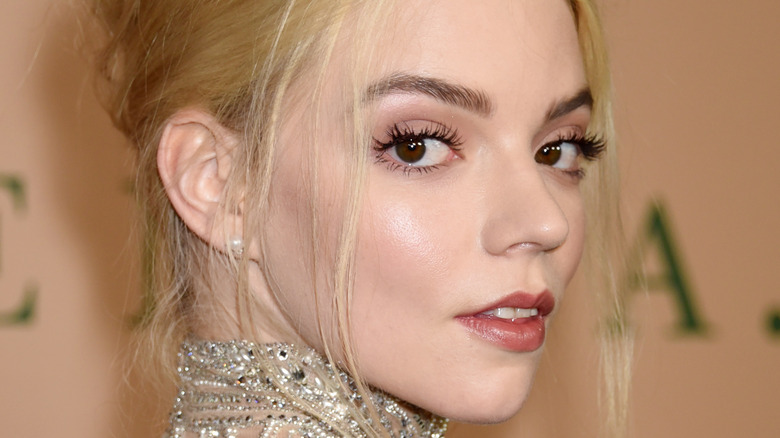 Ga Fullner/Shutterstock
Anya Taylor-Joy is becoming one of the biggest names in Hollywood. In 2021, the actor earned the Golden Globe Award for Best Performance by an Actress for her role in Netflix's mini-series, "The Queen's Gambit," according to People. She has since nabbed roles in highly-acclaimed films like Edgar Wright's "Last Night In Soho" and Mark Mylod's "The Menu." She is next slated to play the titular role in George Miller's "Furiosa" in his "Mad Max" franchise.
But while Taylor-Joy's list of accolades is long and well-known, few people are aware of her background and how she came to be the actor she is known as today. According to an interview with Good Morning America, Taylor-Joy was born in Miami, and raised in Argentina before moving to London. In 2017, she told Marie Claire that her father is Scottish-Argentine and her mother is African-Spanish. One thing that's for sure — she always wanted to act. She said, "I always wanted to be an actor and I dropped out of school when I was 16."
But how is it that she learned English and eventually began booking roles in many American series and films? The answer is a bit more magical than one might suspect. 
Anya Taylor-Joy was raised in Argentina and England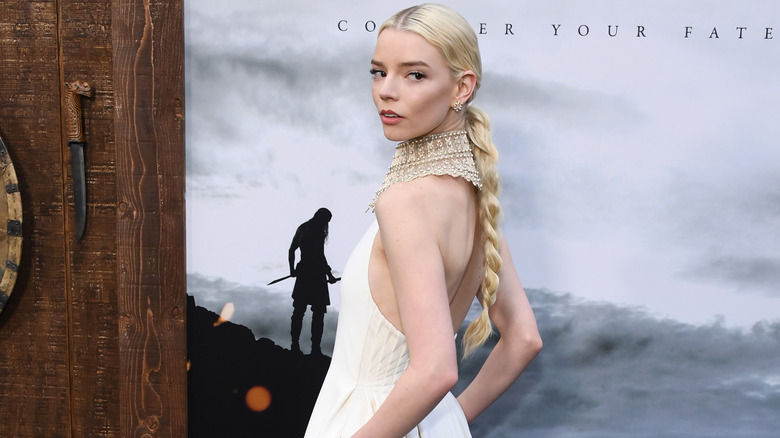 Jon Kopaloff/Getty Images
In her Marie Claire interview, Anya Taylor-Joy stated that her family moved to Argentina right after she was born, but ended up moving to England not long after; and initially, she was not a fan of life in the new country. 
"I was stubborn and I wanted to go home and I didn't understand London at all. I'd come from a place where everything was green and everything was expensive and there were animals everywhere and all of a sudden, I came here and I was like 'what the f*** is going on?'" Taylor-Joy said that her family moved to England because of political unrest in Argentina, adding, "We all really resented them for it and now we look back, we're like thank you so much because they gave us such an opportunity in life."
Being born in Miami and raised in Argentina, Taylor-Joy explained that her path to learning English was complicated. "I was very lonely," Taylor-Joy said to GMA. "So I learned English. I needed to make friends. So I actually learned to speak English by reading the Harry Potter books." 
In addition, she acquainted herself with other children's classics.
She refused to learn English for two years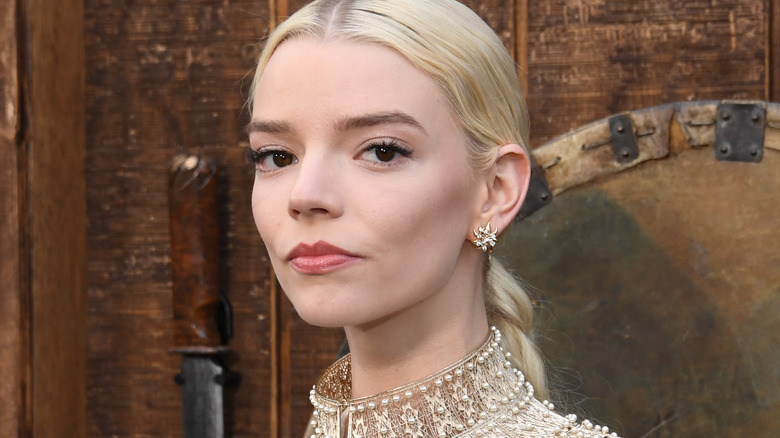 Jon Kopaloff/Getty Images
According to Perth Now, Anya Taylor-Joy actually spent two years refusing to learn English after first moving to London. It was her uncle who suggested she start reading "Harry Potter." Speaking to NME, per the outlet, Taylor-Joy said, "My uncle would sit me down with the Harry Potter books, so all my language when I was young was quite precocious because I was learning from these books." She jokingly added, "I was very well versed in spells from a very young age." 
In an interview with Vanity Fair, Taylor-Joy spoke about the buzz she was getting for "The Queens Gambit" just ahead of the Golden Globe nominations. She said, "Look, any kind of recognition for your work is wonderful and truly moving, but I have to show up for my movie and my director and my friends. If I were consistently thinking about things like that, I don't know how healthy my mind would be."
Taylor-Joy added that she is constantly grateful for the opportunities she has been given, but makes sure to do her best, no matter the job at hand.