Who Is Oscar Isaac's Wife, Elvira Lind?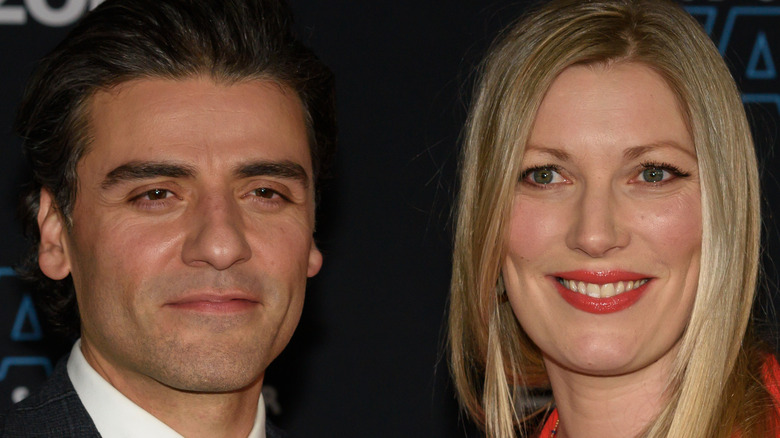 Silvia Elizabeth Pangaro/Shutterstock
Oscar Isaac and Jessica Chastain nearly broke the internet when they shared an unexpectedly sensual moment at the Venice Film Festival in September 2021. While posing for press photos on the red carpet, Isaac, in a surprise move, caressed Chastain's arm and planted a kiss on her inner bicep (Or sniffed her armpit? The reports vary.). The act surprised even Chastain, who laughed in response and affectionately cupped the actor's face. Naturally, this steamy public display of affection had social media abuzz, with fans gushing about their undeniable chemistry and wondering whether the two stars might actually be romantically involved in real life.
Well, as Chastain herself clarified, they are not. "We went to college together at Julliard," she explained during an appearance on The Late Show With Stephen Colbert. "We're both married to other people; we've been friends for more than 20 years." Chastain has been happily married to Moncler executive and Italian count Gian Luca Passi de Preposulo, with whom she shares two children, Giulietta and Augustus (per Us Weekly). As for Isaac, the actor is married to Danish filmmaker and producer Elvira Lind. The couple dated for several years before they eventually tied the knot in March 2017. They have welcomed two sons — Eugene, who was born in the same year, and Mads, in 2019. But what else is there to know about Isaac's wife?
Elvira Lind is an acclaimed filmmaker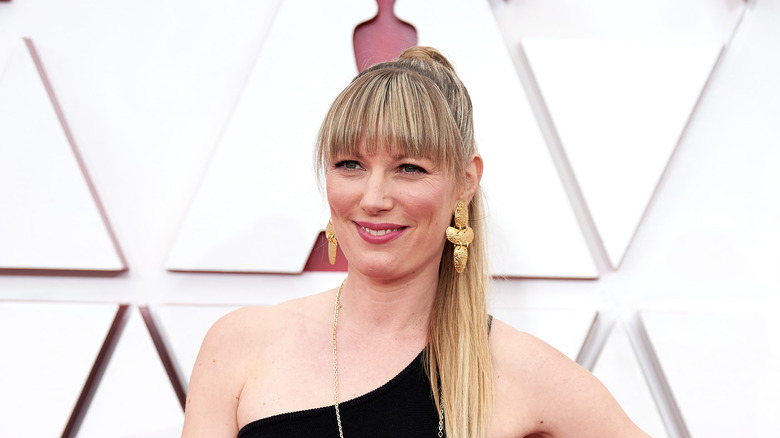 Handout/Getty Images
Born in Copenhagen, Denmark, Elvira Lind is an award-winning documentary filmmaker, screenwriter, and producer. She earned her degree in filmmaking from the City Varsity School of Media and Creative Arts in Cape Town, Africa, in 2006 (per Talk House). One of her more popular works is "Bobbi Jene" — a documentary feature about an American dancer who turned her back on her successful career in Tel Aviv in order to become a solo artist in the U.S. It premiered at the Tribeca Film Festival in 2017, where it won all awards in its category, including Best Documentary Feature, Best Cinematography in a Documentary Feature and Best Editing in a Documentary Feature.
Aside from making films, Lind also heads the production company Mad Gene Media, which she and her husband Oscar Isaac founded in 2019, per The Hollywood Reporter. According to its official website, the firm offers a wide variety of content ranging from documentary films, shorts and features, to podcasts, graphic novels, and live performance shows. Part of its lineup is "Cucumber Smoke," a feature film by Lind with screenwriter Adam Nichols. In addition to "Cucumber," Lind is also reportedly working on a fiction feature with acclaimed playwright Amy Herzog, per Screen Daily. The Danish filmmaker first spoke to the outlet in 2021 about fulfilling her wish to finally dabble in fiction. "Verite documentary filmmaking spoke to me, but I also always dreamed of doing fiction," she said. 
She and Oscar Isaac worked together in a short film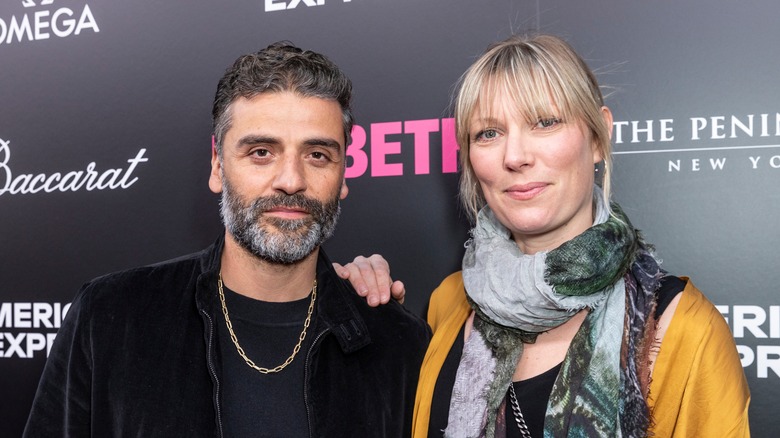 Lev Radin/Shutterstock
In November 2020, Elvira Lind released her first fiction short film, "The Letter Room," starring her husband Oscar Isaac. The comedy short follows the story of a lonesome correctional officer who finds himself enmeshed in a prisoner's private life after being transferred to the letter room (per IMDb). It premiered at the Telluride Film Festival and went on to earn plenty of awards and nominations, including Best Live Action Short Film at the 93rd Academy Awards in 2021.
After working on the short film together, Lind shared her appreciation for her "talented husband" via Instagram. "Thank you for letting me put you in a fat suit during a summer heatwave," she told Isaac. "Thank you for trusting me to direct you while I was seven months pregnant. I know that wasn't always easy." She also thanked her husband for showing up and bringing his unique talent and magic to "The Letter Room." Lind added, "Thank you for growing the most impressive mustache I have ever seen. You are the funniest man I know. I love you more than any words can explain on social media. I am very happy we got to make this together — and stayed married after."