The Truth About Oscar Isaac And Jessica Chastain's Relationship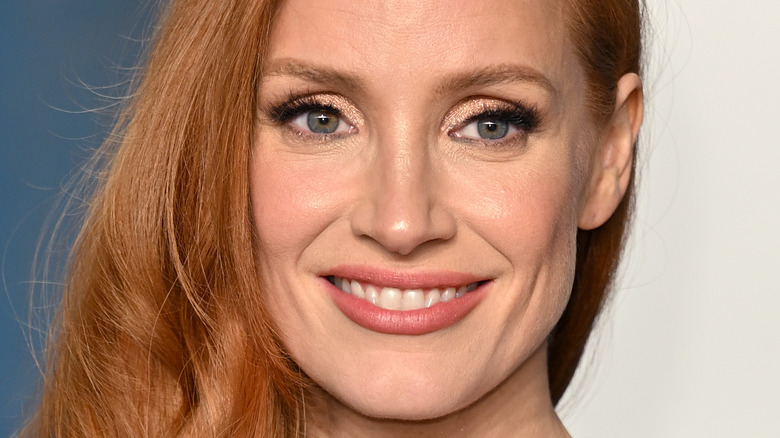 Karwai Tang/Getty Images
Sometimes, a celebrity can only be understood by another celebrity. After all, Hollywood is full of besties who have become friends because anyone not in the glare of the spotlight has a hard time understanding it. Then, there are actors who have become close after working together professionally.
Take for example, Leonardo DiCaprio and Kate Winslet, who first captured fans' hearts in "Titanic," before going on to co-star in 2008's "Revolutionary Road." The two gushed about working together again during a promotional interview on the "TODAY" show, hinting that the film's heavy emotional content would have been difficult to shoot with anyone else. Winslet has also been vocal about her love for the Oscar winner, even admitting to "loving him with all her heart," as she said in her acceptance speech for Best Actress in a Drama at the 2009 Golden Globes.
While DiCaprio and Winslet's sweet friendship has led many fans to ship them IRL — despite the fact that neither is single, as of this writing — theirs isn't the only relationship that people love to see off-screen. "Star Wars" alum Oscar Isaac and Academy Award winner Jessica Chastain have a history dating back to their days at Juilliard, but people didn't seem aware of this until their chemistry at the 2021 Venice Film Festival had Twitter swooning. Based on the steamy interaction, many were wondering whether the two had ever dated when the cameras weren't rolling. So, did they?
Oscaar Isaac and Jessica Chastain have known each for a long time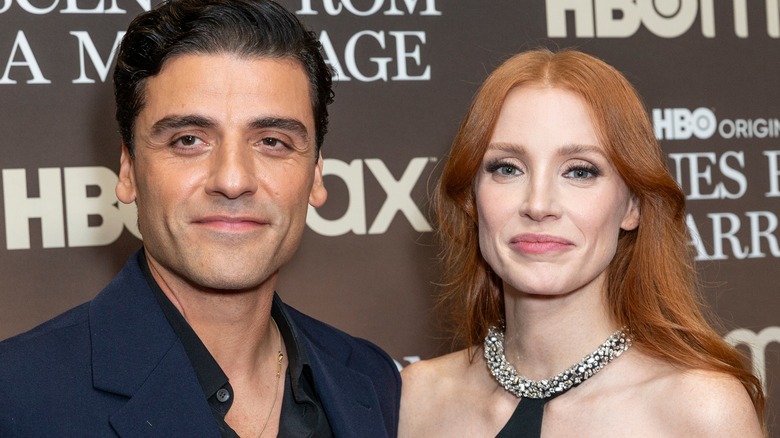 lev radin/Shutterstock
According to USA Today, Oscar Isaac and Jessica Chastain first met when they were students at Juilliard — though the meet-cute was more poignant for Isaac than it was for Chastain. "I can't remember the first time we met. It wasn't like this magic moment of, 'Who is that man?'" she told the outlet, while Isaac recalls "noticing" her during her Helen of Troy monologue. Either way, the existing rapport made for a positive working experience on the set of the 2014 film "A Most Violent Year."
Amid the COVID-19 pandemic, the pair reunited to film "Scenes from a Marriage," per People. "When I got the scripts, I knew immediately it was going to be like a play, because most of it's just him and I talking for an hour," Chastain told the outlet. She further called their chemistry a "special thing," adding that, "it's very rare to have it with another actor."
That said, their close friendship made for some unexpected roadblocks during the filming process of "Scenes from a Marriage." "It ... became difficult and quite painful ... where not only are we verbally but [also] physically hurting each other," Chastain shared with Entertainment Tonight Canada. "And when you're filming those scenes with someone that you really love — because there's deep love between Oscar and I — it becomes very complex and difficult to navigate." Thankfully, the duo remained close friends at the end of the project, and their chemistry raised eyebrows in 2021.
What was going on with Jessica Chastain and Oscar Isaac's red carpet chemistry?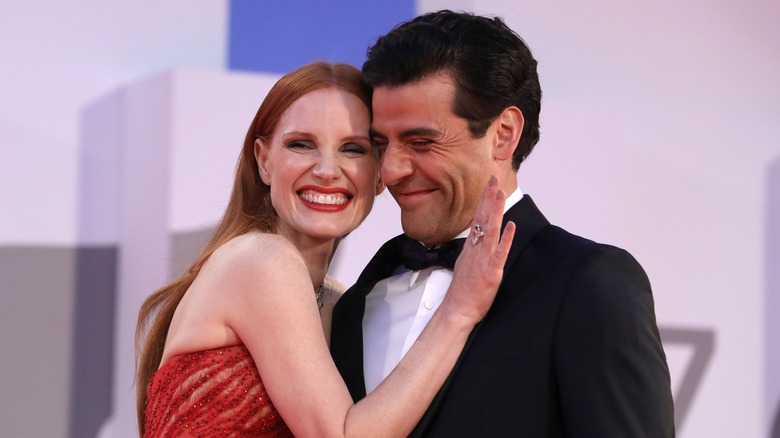 Elisabetta A. Villa/Getty Images
At the 2021 Venice Film Festival, Oscar Isaac was caught on camera embracing Jessica Chastain, as well as kissing the inside of her arm. The intimate exchange set Twitter on fire, but Chastain made it clear that the whole thing was just an extension of their on-screen chemistry. The "Zero Dark Thirty" star took to Twitter to poke fun at her steamy moment with Isaac, by sharing a picture of "The Addams Family's" Gomez Addams kissing Morticia Addams' arm, in the same place where Isaac had smooched her. She captioned the post, "Sept. 12th," with a devil emoji, in reference to the release date for "Scenes from a Marriage."
Likewise, Isaac laughed the whole thing off. "Look, if there's an armpit right next to me ... what else are you supposed to do?" he joked to Entertainment Tonight. Both actors drew clear boundaries, making it known that while they had piles of love and respect for one another, they were married to other people. According to Us Weekly, Isaac wed screenwriter Elvira Lind in 2017. The "Moon Knight" star has often been open about his admiration for his wife, calling her an "incredible woman" in a 2018 interview with GQ.
For her part, Parade reported that Chastain has been married to Gian Luca Passi de Preposulo since 2017. "I actually love being married," she told the Wall Street Journal in 2018.