Who Is Jessica Chastain's Husband, Gian Luca Passi De Preposulo?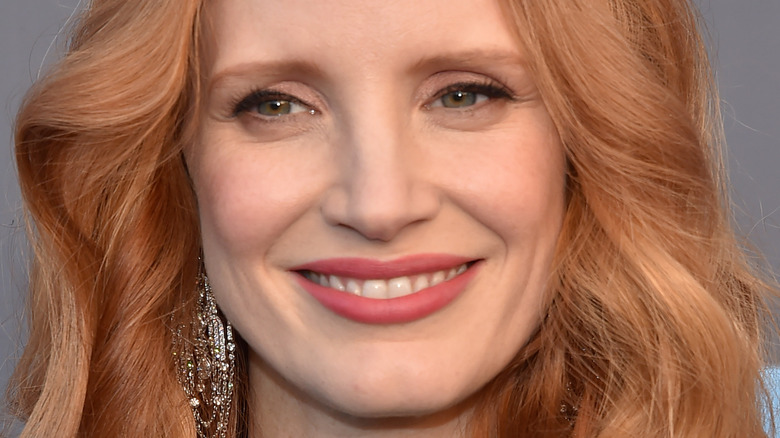 DFree/Shutterstock
Oscar-nominated actor Jessica Chastain is known for her roles in acclaimed films like "Zero Dark Thirty," "The Help," and "A Most Violent Year," which she starred in alongside fellow actor Oscar Isaac. The two again worked together for the HBO miniseries "Scenes From a Marriage" in 2021, per IndieWire, in which they played a married couple.
After Chastain and Isaac walked the red carpet in September 2021 to promote the series, fans took notice of photos from the event that showed Isaac kissing Chastain's arm, which ignited a social media conversation about the strong chemistry between the actors, per Us Weekly. During an interview later that month, Chastain explained that she and Isaac were just being friendly when this took place, and his face ended up close to her underarm by accident.
"I think it was really funny, 'cause when you look at it in regular speed ... I'm looking straight ahead, and [Isaac], like, looks over at me, and he just kind of goes to give me ... a peck on my elbow, and at the same time I'm going to give him a hug, so all of a sudden his face ends up in my armpit," Chastain said as she laughed on "Today." In real life, Chastain and Isaac are separately happily married. Jessica Chastain's husband, Gian Luca Passi de Preposulo, comes from a high-status background and ended up working in a career field connecting him to the entertainment industry.
Gian Luca Passi de Preposulo is an Italian fashion industry leader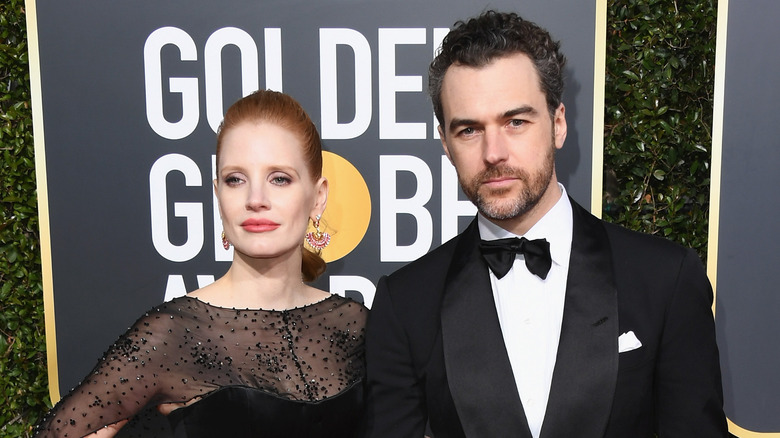 Jon Kopaloff/Getty Images
Although fans have been quick to notice the chemistry between co-stars Jessica Chastain and Oscar Isaac, the two are just friends who are married to other people in real life. Isaac is married to Elvira Lind, per Hollywood Life, and Chastain's husband is Gian Luca Passi de Preposulo. People reported that Passi de Preposulo is a member of an elite Italian family with a rich history that includes his ancestors obtaining the Villa Tiepolo Passi estate and holding aristocratic titles. The magazine also stated that Passi de Preposulo works in the fashion industry, as he previously contributed to Armani and now works for the brand Moncler. Furthermore, he told Business Insider all about a brand of Prosecco wine that he created in 2010, called Fiol. 
Passi de Preposulo's work in fashion led him to meeting Chastain, as they encountered each other at a Paris fashion show after her Academy Award nomination for "The Help" had been announced, she later said during an interview. "The day that Gian Luca and I met was the day that I got nominated for an Oscar ... it's probably the best day I've ever had," Chastain said on "Live with Kelly and Ryan" in 2017. This interview took place the same year that Chastain and Passi de Preposulo tied the knot, and they've been going strong ever since.
How Gian Luca Passi de Preposulo changed Jessica Chastain's mind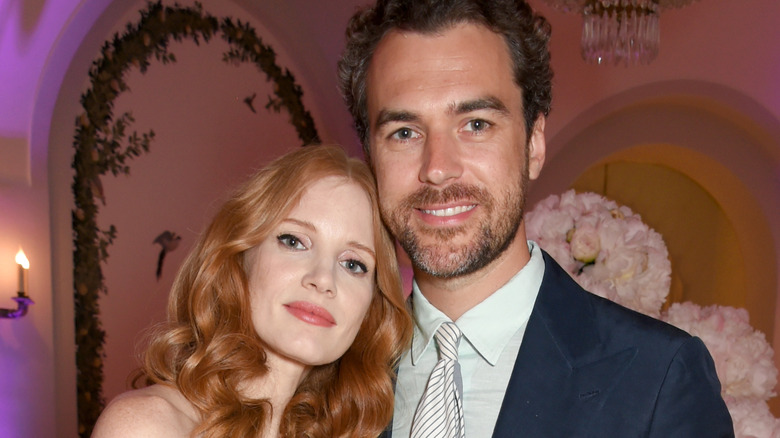 David M. Benett/Getty Images
Jessica Chastain's husband of five years, Gian Luca Passi de Preposulo, is a fashion industry maven and Prosecco business owner, who won the esteemed actor over since their first meeting at a fashion show. Chastain and Passi de Preposulo's connection became so strong as they dated that it totally altered the way Chastain views marriage. 
"[Passi de Preposulo] knew that marriage wasn't something I was interested in," Chastain told The Wall Street Journal in a 2018 interview. "And then as we got to know each other, the idea of marriage shifted for me. There are some things worth celebrating—and he's worth celebrating." Their celebrating of being a married couple officially kicked off after their 2017 nuptials, which took place near Venice, in Passi de Preposulo's homeland of Italy, per Vogue.
Chastain has taken a liking to exploring Italy with her husband, as she revealed on "Live with Kelly and Ryan" in 2021 that they two spent two and a half months together there during the pandemic. "It was amazing ... Italy was a dream," she said. It seems like Chastain has found her perfect match in Passi de Preposulo, and here's hoping the happy couple has many more fond memories ahead!