Pete Davidson's Sister Shares Heartbreaking Tribute To Their Late Father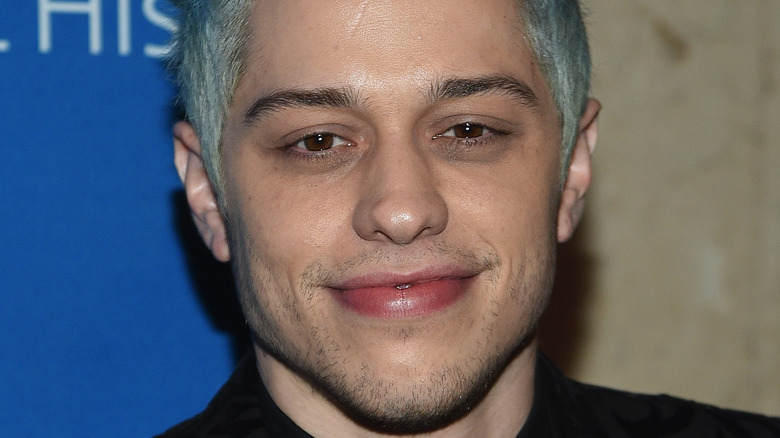 Dimitrios Kambouris/Getty Images
If you have a handkerchief handy, we think now is a good time to pull it out. These days, most of us see Pete Davidson as the wisecracking funnyman from "Saturday Night Live," but the last time his father saw him, he was just a bright-eyed 7-year-old with a bright future in front of him. Sadly, Scott Davidson, a firefighter, never got to see his son become one of the youngest members to join the "SNL" roster. 
According to the New York Post, Scott died over two decades ago after he ran up the stairs of the Marriott World Trade Center on the morning of September 11, 2001 — moments before the collapse of the North Tower took the lives of countless people they were trying to save. 

Casey Davidson, the 24-year-old sister of the comedian, recently took to Instagram to share a heartbreaking tribute to their father on the 21st anniversary of his death.
Pete Davidson's sister says she misses their father every day
Casey Davidson marked the 21st anniversary of the 9/11 terrorist attacks with a solemn message on her Instagram. "This year more [than] ever I wish you could be here. We miss you, we celebrate you and we remember you every day," she penned alongside a black-and-white photo of their father, adding "Proud to be your caseygirl."
As per a New York Times profile, via Daily Mail, Pete Davidson was "overwhelmed" by his father's death, and began to act out in school as a result. During his darkest hours, the comedian revealed that he pulled his hair out until he was bald. 
At the 2021 Met Gala, Pete walked the red carpet with a garnet necklace to honor the memory of his father, who, according to the National Fallen Firefighters Foundation, was "a brave and fearless man and a devout patriot."