Tommy Lee Makes Unsurprising Move After His Revealing Viral Photo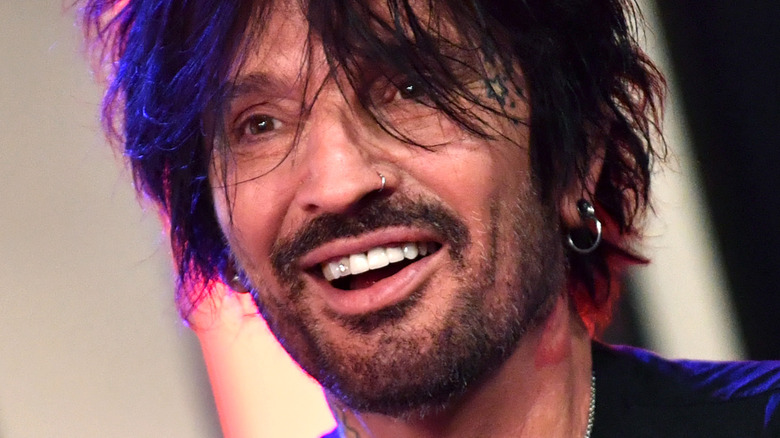 Emma Mcintyre/Getty Images
It was 1996 when Tommy Lee realized that he and his then-wife, Pamela Anderson, were robbed. According to his 2004 memoir, money and expensive jewelry were stolen from their safe (via The Washington Post), but the thing that the married couple was worried about was the missing 54-minute, self-taped video that included eight minutes of the two getting intimate. Weeks later, the tape was sold and aired on television.
Nowadays, the drummer hasn't backed away from sharing some NSFW posts on social media. In 2019, Lee posted a video of a specific private body part being shown near his current wife Brittany Furlan Lee's mouth, per Page Six. The drummer captioned the video with "they finally gave me my own filter," telling his followers that the image wasn't real.
In August, Lee posted a since-deleted uncensored picture of his actual male organ and captioned it, "Ooooopppsss." According to LADbible, the picture was up for a total of eight hours before Instagram took it down. While fans' reactions ranged from support to pure shock, many weren't happy with how Instagram handled the situation, as the social media platform seemingly takes down artistic pictures of nude women immediately. Lee has shown that the controversy doesn't bother him, though, as he's joined a platform that will allow those types of posts.
Tommy Lee joins OnlyFans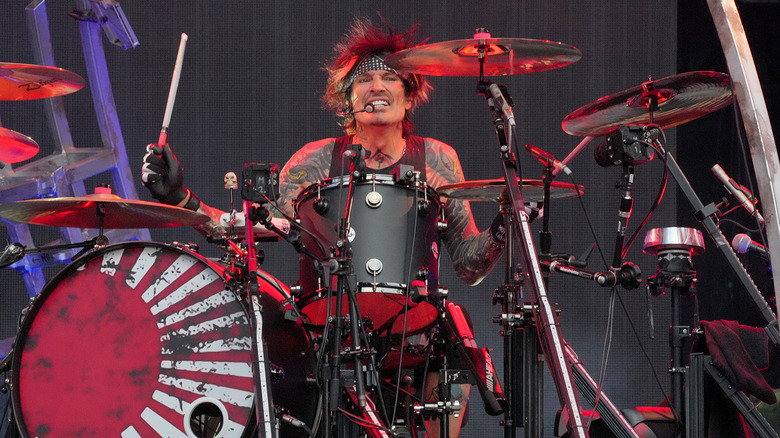 Kevin Mazur/Getty Images
Motley Crüe drummer Tommy Lee took to his concert to announce his new account on OnlyFans. "I showed you my s***, they took it down off the internet," Lee said at the concert. "What I've done, is I have now gone over to a place where you can be free as f***, and you can show anybody whatever the f*** you want, and they don't f***ing take it down." Lee then pulled his pants down to reveal the words "only fans" written on his buttocks.
Following the concert, the drummer took to his other social media platforms to promote his new OnlyFans account. In a Twitter video, Lee stated that he was "tired of Instagram policing our bodies," and encouraged his fans to join the "wild side." He linked his OnlyFans account in the caption of the tweet.
Lee's private part has been getting some attention after Hulu's "Pam & Tommy" debuted. On "The Late Show with Stephen Colbert," Marvel actor Sebastian Stan, who portrays the drummer in the series, was asked about a specific scene in the show where his character is seen having a conversation with the organ. "He's realizing he's in love with this woman, and he's telling his best friend," Stan said. He also mentioned that the body part is a character in Lee's memoir, and the writers simply brought that to life.