Plastic Surgeon Decodes Sonja Morgan's Stunning Transformation - Exclusive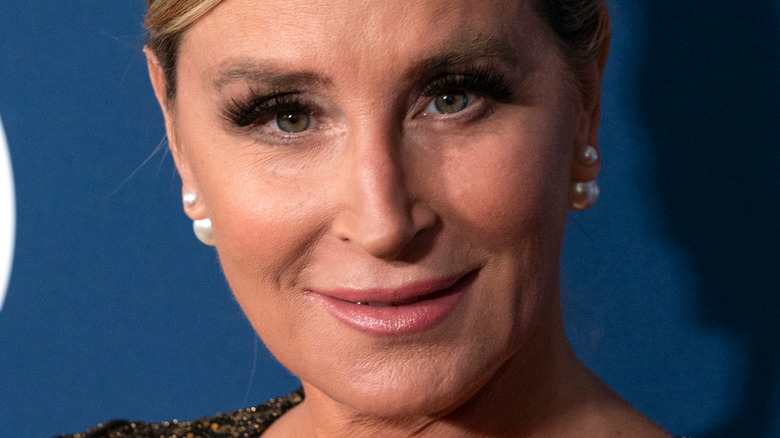 lev radin/Shutterstock
With Sonja Morgan, it is not a question of determining whether or not she's ever had plastic surgery done, as the "Real Housewives of New York City" star has always been more open than most when it comes to her cosmetic procedures. This is a woman who allowed Bravo cameras to document her vaginal rejuvenation procedure for the show, after all. With Morgan, it is more a question of which specific procedures she's had done, for which Nicki Swift consulted Los Angeles plastic surgeon, Dr. Glenn Vallecillos, who exclusively tells us what procedures he can tell Morgan has had done — and what he might do differently. 
In 2020, Morgan happily responded to fan queries about her apparently updated face on Instagram, telling fans she'd gotten both a lower facelift and neck lift. "I just wanted to be rid of the wrinkling on my neck and the [jowls] that were starting to form," she said. "People thought I was nuts because it was so subtle. But not to me! It was a no-brainer — gravity had taken its toll, I was also exhausted and I needed a 'pick me up.'"
But that's not all, according to Vallecillos. 
Sonja Morgan appears to have had an eyelift and possible nose job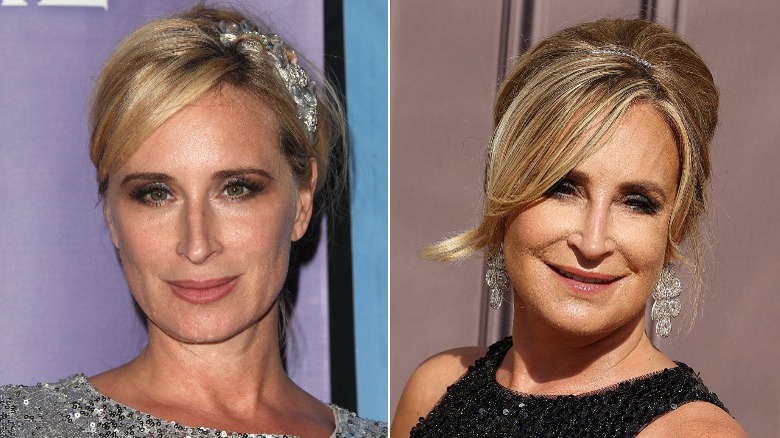 Arturo Holmes/Getty & DFree/Shutterstock
When Nicki Swift asked Dr. Glenn Vallecillos to analyze what plastic surgery procedures he thought Sonja Morgan had gotten, he pointed to a couple of recent changes in her face. "In her more recent photos there appears to be changes to Sonja's nasal tip which would be suggestive of a rhinoplasty, although the look is modest and the overall nasal aesthetic is consistent with her un-operated nose," Vallecillos says, commending the doctor who performed it for "a job well done." The doctor also noticed some changes to Morgan's outer eye shape, which suggests "an eyelid surgery or a blepharoplasty with a possible canthopexy versus a canthoplasty, whose role is to tighten the ligaments of the outer corners of the eyelid to correct drooping and/or sagging eyes," he explains.
Additionally, Vallecillos notes that Morgan appears to have more volume in her "midface" now than she did before, which says to him that she may have had some fat-transfer with a facelift and possibly some fillers.
But while Vallecillos approves of the "subtle" nose job, there are some things he would have done differently had Morgan been his patient.  
Sonja Morgan's face may be over-volumized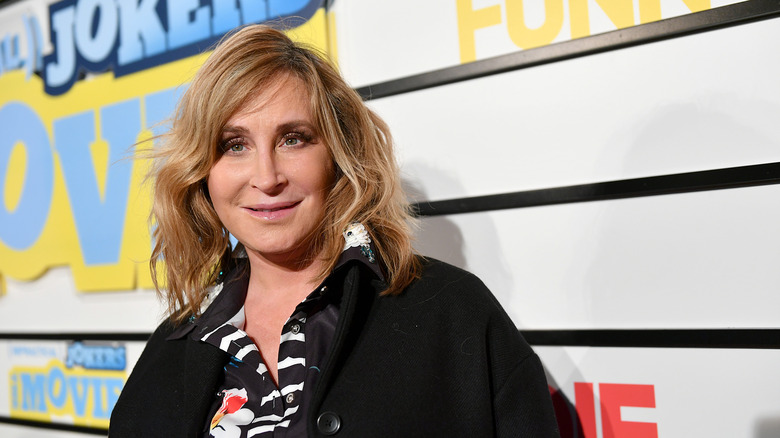 Mike Coppola/Getty Images
According to Dr. Glenn Vallecillos, Sonja Morgan's face looks "over-volumized," which he says results in the "quintessential 'pillow face' appearance which is characterized by a dysbalanced volume distribution and, ironically, an aged appearance." He notes, "Sonja is blessed with excellent facial bone-structure which theoretically allows her to maintain a youthful look throughout the decades with minimal aesthetic manipulation. I would personally be very reticent to over-volumize her face." 
So what would Dr. Vallecillos do differently? "I would utilize subtle volumizers such as Galderma's Sculptra, which also serves to build up the skin's natural collagen," Vallecillos tells Nicki Swift. "I would focus on maintaining her skin quality with gentle laser resurfacing, light peels, and skin plumping treatments, such as with Revance's latest HA filler, Redensity."
That may be so, but so far, the only plastic surgery Morgan herself has ever said she regretted was getting liposuction. "In this day and age, the surgery and getting things fixed is part of my self-care," she told Us Weekly in 2019. "Where I felt in this day and age I went too far is to do liposuction. I don't think it's in anymore. You don't really need to have that."