This Is Why Blake Lively Was Banned From Disneyland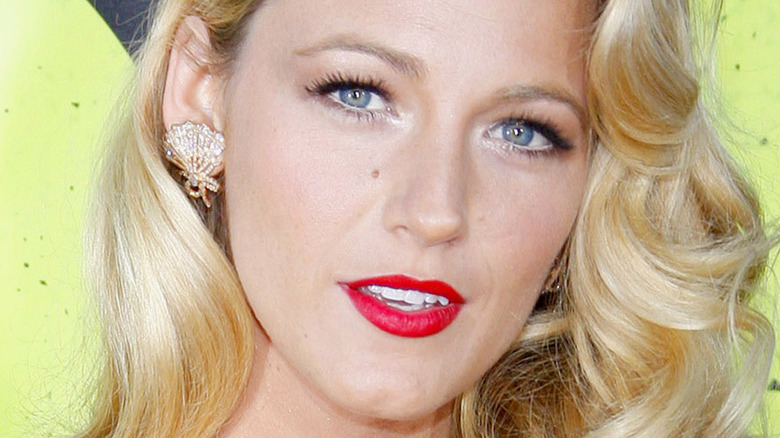 Tinseltown/Shutterstock
You know Blake Lively. She's Hollywood's good girl with a head of golden locks and the life most of us only dream of; an A-List career, a hot husband (hey, Ryan Reynolds), and two adorable children. The star has proven time and time again that she's not really here for crazy party action that a lot of young starlets can get pulled into, even going as far as to condemn the wild child role that made her a household name.
"People loved it, but it always felt a little personally compromising — you want to be putting a better message out there," Lively told Allure in 2015 (via Glamour) of playing Serena van der Woodsen in "Gossip Girl" from 2007 until 2012. "I would not be proud to be the person who gave someone the cocaine that made them overdose and then shot someone and slept with someone else's boyfriend," she added. And we can believe that, because this star is so straight laced she doesn't even treat herself to cocktail (or two) on the weekend. "I don't drink because I don't like the effects of alcohol," she confessed to People in 2021, while she also proves her good girl status by regularly proudly showing off her baking skills on Instagram.
So, it may surprise you to hear then that Lively was actually once such a badass she found herself banned from Disneyland. Yes, you read that right. THE Blake Lively was once banned from Disneyland for bad behavior.
Blake Lively's mischievous ways upset the House of Mouse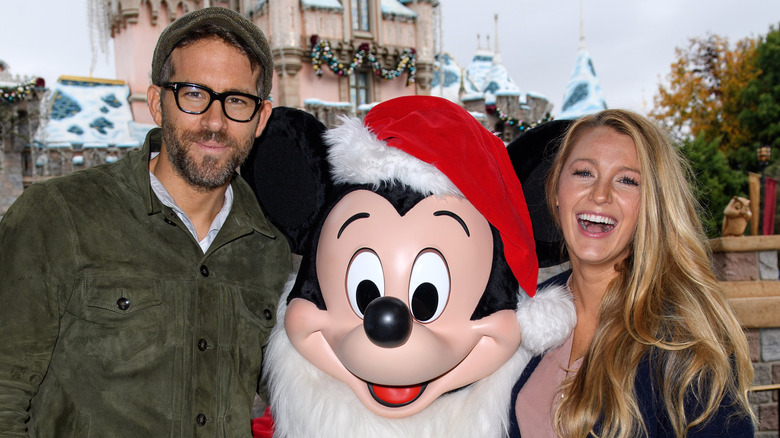 Handout/Getty Images
We know these days that Blake Lively is an upstanding citizen through and through (even admitting her wrongs with a heartfelt apology every now and then), so we're going to have to throw it back a little for her drama involving Mickey Mouse. In fact, we're throwing it all the way back to when Lively was 6 years old when she her mom was taking her out of school to visit Disneyland around twice a week — and doing things to get in that we wouldn't recommend. 
The "Sisterhood of the Traveling Pants" star opened up about her childhood Disney days on "The Late Show with David Letterman" in 2009, recalling how she was once sent to what she described as "Disney Prison." She explained that, back then, employees would stamp guest's hands when they left the park, but that could be transferred to someone else if they put hairspray on their hand first. Tut tut. Lively's brother (who also has an acting career) knew that and went up to someone in the parking lot to get himself and his sister free stamps — cut to the Lively siblings sneaking in to The Happiest Place on Earth. They were quickly found out, though, with the "Green Lantern" star recalling, "So we go downstairs in Disneyland. It's all-white rooms, everyone is dressed in all white, the furniture is all white, and they just interrogated us," calling it "really scary and traumatizing."
How long was Blake Lively banned from Disneyland?
Blake Lively revealed on "The Late Show with David Letterman" that they Disney employees tried to stop her from ever coming back to the park for the mischievous act, but she got away with just a year-long ban — which was pretty darn lucky if you ask us! And we're guessing Lively feels the same way, as we know she's a fan of the parks and has been back to the scene of the crime several times since that fateful day.
In fact, over 30 years after the childhood Disneyland drama, she wasn't letting her childhood trauma get to her as she was back at the California theme park to make new memories and celebrate her 34th birthday. The actor shared a sweet snap in front of the castle alongside her sister on Instagram in August, writing in the caption, "Find me a happier place on earth to start my birthday celebrations early. I'll wait..." But it's not just the West Coast theme park where Lively has celebrated being free to immerse herself in the Disney magic. In 2018, Lively took things international and celebrated Halloween a few days early at Disneyland Paris, per Disney Parks Blog. Two years later, People reported she celebrated another Holiday at the park, this time back in California with her husband, Ryan Reynolds, as they cuddled up with Mickey Mouse for Christmas.
It seems like the iconic mouse has officially forgiven this young rule breaker.