Camille Grammer Opens Up About Cancer Diagnosis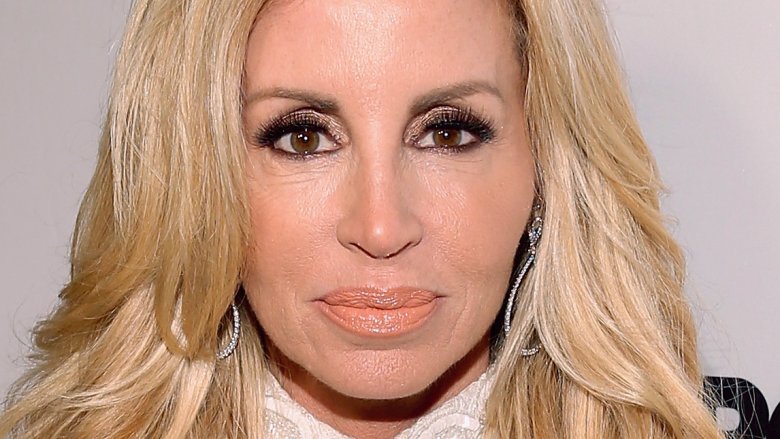 Getty Images
The Real Housewives of Beverly Hills star is taking things one step at a time following her major health scare.
Camille Grammer opened up about her recent cancer diagnosis at the Friday, Dec. 15, 2017 premiere of her show in West Hollywood, where she spoke with Entertainment Tonight.
"I'm doing well, I'm healing. In some pain and discomfort this evening, but I'm here," the reality TV star said. "I'm here to promote the show and support it." Grammer also discussed her involvement with the Foundation of Women's Cancer, adding, "I'm using this platform for good. Knowledge is key, and awareness is key, and that's what I'm doing." 
"I'm obviously very passionate about this," she went on. "I've had my second below the belt cancer and my mom is fighting her third cancer, so I grew up with this. Watching my grandmother go through cancer and fight it, and watching my mom and self. So, again, I am very passionate about this cause, giving back and raising awareness."
As Nicki Swift previously reported, Grammer, 49, revealed that she had been diagnosed with skin cancer on Thursday, Dec. 14. "Thank you Dr. Beth karlan for removing those pesky cancer cells. You are Amazing!" she wrote on Instagram, captioning photos of herself at Cedars-Sinai Hospital. "This is my second cancer diagnoses. Thank God We found it early. (squamous cell carcinoma)."
"Early detection is key. My cancer was removed and I'm resting at home," she continued. "Ladies listen to your bodies. If something doesn't seem right go for a checkup. Don't put it off. Annual check ups are important."
Grammer, who was previously married to Frasier actor Kelsey Grammer, had been diagnosed with early stage endometrial cancer in 2013. At the time, she "underwent a radical hysterectomy" as a part of her treatment, before celebrating being one year cancer-free in January 2015. "It's an amazing start to the new year," Grammer told E! News at the time. "I'm reaching milestones all the time and just trying to get myself back."
We're glad to hear that Grammer is recovering well! While we wait for more updates on her health, read up on other celebrities who are battling life-threatening diseases.