Inside Alexandra Daddario's Rigorous Health Regimen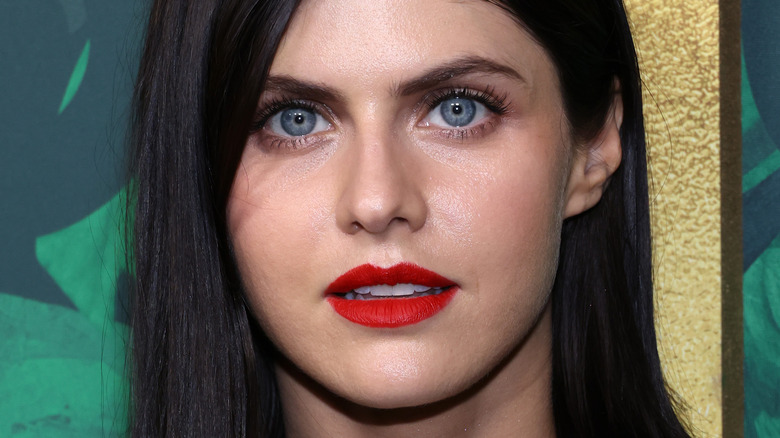 David Livingston/Getty Images
Alexandra Daddario will be the first to admit that her body has opened doors for her in Hollywood. After getting her big break in the family-friendly film "Percy Jackson & the Olympians: The Lightning Thief," Daddario shifted her focus to the small screen, telling Collider that she fought tooth and nail to get cast in the prestige TV series "True Detective." The part she wanted required her to film racy nude scenes, of which she said, "Getting naked on a show where I didn't have a huge role, I didn't know what to expect."
What happened was that she suddenly became an in-demand actor, and when Daddario got cast alongside Zac Efron and Dwayne Johnson in the "Baywatch" movie, it was her male co-stars who got topless. Johnson might be one of the buffest guys in the biz, but in an interview with M&F, Daddario joked, "Some people say I have bigger pecs."
Daddario also described the experience of touching Efron's washboard stomach while they were shooting a scene together. "It was like an animalistic shock went through me," she told Entertainment Tonight. Per Women's Health, Daddario wanted to get abs of her own for the movie, which required her to wear a lot of swimwear, and while she was already a bit of an exercise fanatic, she learned that she needed to make some changes to her fitness routine to make those abdominal ripples materialize.
Alexandra Daddario and Meghan Markle worked out at the same hot yoga studio
Alexandra Daddario is a devoted practitioner of hot yoga, which makes for an intense workout. In a 2019 appearance on "The Late Late Show with James Corden," the actor said the New York City studio where she attended classes was kept at a balmy 105 degrees. Meghan Markle had picked that particular studio to get her own sweat on while she was in the city, prompting Daddario to joke, "She can sweat on me; I don't mind."
Daddario told Women's Health that hot yoga was her go-to workout until she started filming "Baywatch." For months, she prepared for the role under the tutelage of personal trainer Patrick Murphy, who introduced her to strength training and high-intensity workouts that incorporated plyometrics and cardio machines. Daddario's muscles never knew what to expect, as Murphy kept things interesting by regularly having her perform different exercises with a variety of equipment, including BOSU balls, weights, and resistance bands. "For the first time in my life, I have real abs!" Daddario said of the results, per Women's Health.
But while hitting the gym transformed her body, hot yoga would remain Daddario's first love. "It's a great combination of good for your body but also good for your mind in the way that you approach yourself and the world around you," she explained to StyleCaster. And according to the actor, it's even more effective when combined with a prickly form alternative therapy.
Alexandra Daddario's daring acupuncture experience
All you have to do is scroll through Alexandra Daddario's Instagram to see she's a big fan of the ancient art of acupuncture. She's shared numerous snapshots of herself going full Pinhead with a face full of needles. Speaking to Women's Health of the one-two punch that acupuncture and hot yoga deliver, the actor said, "​​If I do them back-to-back, it's almost like a computer rebooting."
According to WebMD, acupuncture enthusiasts believe that having needles inserted into their skin can treat myriad health issues, and Daddario believes that it's what healed a shoulder injury when she was in her 20s. She even allowed one acupuncturist to stick a needle in her perineum, which is an, uh, very sensitive area of the body. "I will tell you, I felt like a million bucks the next day," Daddario said of the results.
On the "HypochondriActor" podcast, Daddario said that acupuncture has eased her aches and pains, and she believes that it has saved her from visits to the hospital. She also revealed that the alternative therapy has helped her de-stress by triggering an emotional release. "There were times I'd be laying on the table and just uncontrollably crying," she recalled. As for what those scary-looking face needles do, Daddario said her sinuses clear up after that particular treatment. However, while acupuncture has been beneficial for the "Mayfair Witches" star in many ways, she warned, "It's not a cure-all for everything."