Who Inherited David Bowie's Money After His Death?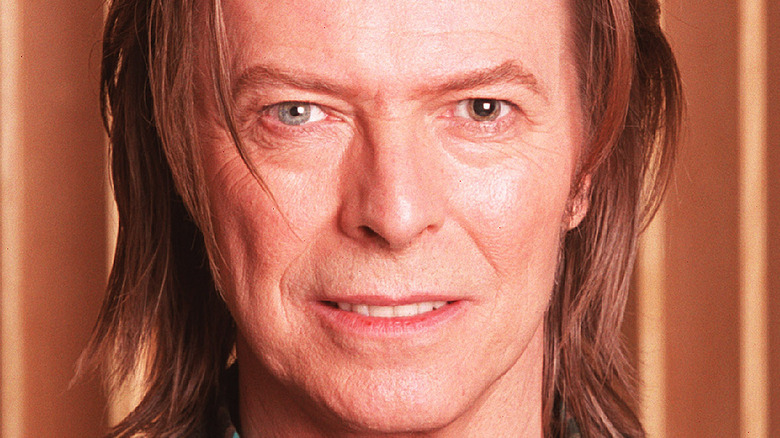 Dave Hogan/Getty Images
David Bowie fans around the world were left devastated in 2016, when the iconic performer died of liver cancer. But what was to come of his fortune?
According to Rolling Stone, Bowie was worth an eye-watering $100 million at the time of his death. Included in that was an impressive real estate portfolio. Per Architectural Digest, he owned properties in Mustique, Lausanne and Los Angeles — oh, and a boat docked in the Mediterranean. Back in 1992, the singer told the publication he didn't visit said boat nearly enough — but it was there, in case he ever got the urge. It's also worth noting that since his passing, Bowie's estate went on to sell his music catalog for a whopping $250 million (via Variety). 
Part of what made Bowie so lucrative, according to BBC News, was that on top of his musical accolades, he was also something of a pioneer in the finance world. After realizing that his ex-manager would earn 50% from his music in perpetuity, Bowie, his financial manager and a banker developed a concept, now known as "Bowie Bonds," that allowed investors to purchase shares in his future income. That not only allowed the singer to buy out said ex-manager, but also helped him accumulate a fortune, hence the impressive net worth at the time of his death. Our question remains, though: what happened to all that in the wake of Bowie's tragic death?
Bowie's wife and kids got the lion's share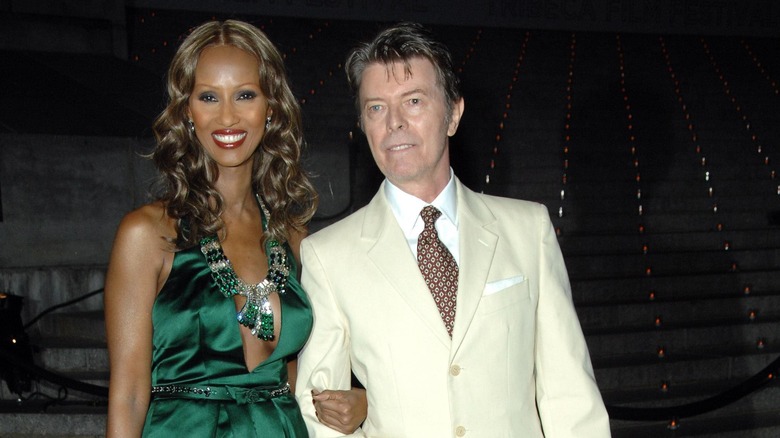 Everett Collection/Shutterstock
Most of David Bowie's earlier years saw the icon live a life of indulgence through a variety of personas. However, in his later years, he settled into family life. And, as evidenced by an interview with Sydney Morning Herald, per BowieWonderworld.com, he couldn't be happier about that. He even told the outlet that his wife, supermodel Iman, and their daughter, Alexandria Zahra Jones, would be touring with him as he, "Couldn't bear to be away from them." It's no surprise, then, that when it came to writing his will, Iman, Alexandria, and his son from his first marriage, Duncan Jones, took center stage. 
It's no secret that Bowie and Iman's love story was the stuff of fairytales. Iman even declared that she would never marry again after his death. In fact, speaking to Hello last year, she revealed that she wouldn't even use the term "late husband." "Someone a few years ago referred to David as my late husband, and I said 'No, he's not my late husband. He's my husband,'" she shared. According to ET, Iman received the majority of Bowie's estate — an estimated 50% of his net worth. 
As for his children, ET revealed that both received a $25 million inheritance. Additionally, Alexandria would get the family's upstate New York home when she turned 25. 
... but he also included two loyal employees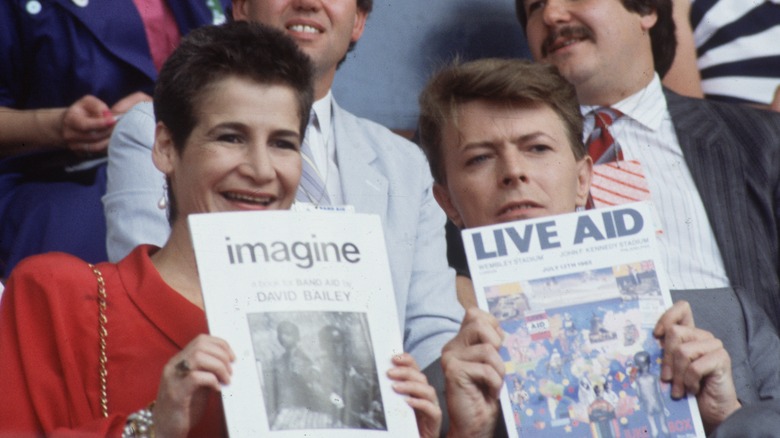 Hulton Archive/Getty Images
David Bowie's relationship with Iman was a love-filled one, but unfortunately the same couldn't be said for that with his first wife, Angela Barnett. As such, after their split and while Bowie was touring, much of Duncan Jones' upbringing was spent with his nanny, Marion Skene. Per Mail Online, Jones has said he, "Always considered her as my mum." That no doubt played a role in Bowie's decision to leave her an impressive sum in his will. According to ET, the former nanny was allocated $1 million.
Skene wasn't the only employee Bowie made provision for, though. He also left $2 million to his assistant of nearly five decades, Corinne Schwab, per The Telegraph. According to the outlet, in addition to working for Bowie, the singer also considered her his best friend, who helped him get through his darkest periods, including his substance abuse problems. "Coco was the one person who told me what a fool I was becoming and she made me snap out of it," he said. Rolling Stone reports that he also left her shares in a company named Opposum Inc., though Mirror speculated that may have been a practical joke on his longtime bestie, as no company by that name exists.  
Bowie may have had an impressive net worth, and the ability to lead an unbelievably extravagant lifestyle, but it's heartwarming to know that at the end of the day, his greatest treasure was his loved ones.