David Beckham's Appearance In Line To Mourn The Queen Is Sparking Major Buzz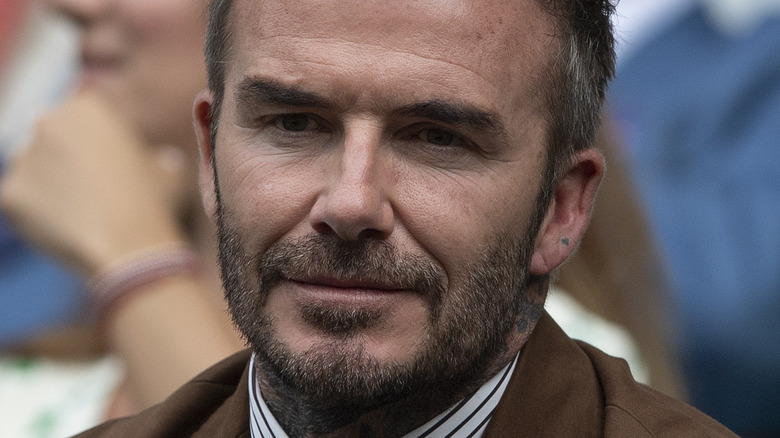 Visionhaus/Getty Images
Soccer star David Beckham is a long-time admirer of Queen Elizabeth II. The special relationship between Golden Balls and the woman with the gold coach dates back to at least 2003, when Beckham received an OBE (Officer of the Order of the British Empire) from the late queen. Per BBC News, Beckham had to reassure her that he didn't mind traveling to Spain to play for Real Madrid.
While Beckham has accomplished much over the course of his athletic career, in 2014, he told The Times, "The fact that I've been able to go to Buckingham Palace and I've been able to meet the Queen, that's the best thing I've ever done." This coming from a man who married a Spice Girl and started a family with her. He also said of Elizabeth, "She's the most amazing woman."
The admiration appeared to be mutual. The queen always seemed to have a beaming smile on her face when she was in Beckham's presence, like when he took her gloved hand in his while greeting him at the Queen's Young Leaders Awards in 2016. Two years later, Beckham had her smiling like a schoolgirl again at the same event, per People. So naturally, after Her Majesty Queen Elizabeth II died, Beckham wanted to honor her in some way, and how he paid his final respects to the royal has left many in awe.
David Beckham waited hours in a show of respect for Queen Elizabeth II
David Beckham joined the queue to see the Queen's coffin at 0145 am Friday morning. If he looks like a man who has been up all night - he has. Full credit to this man who could have played the VIP card. He is a credit to our nation, and his Queen. pic.twitter.com/Gc8VQSETGn

— Tony Parsons (@TonyParsonsUK) September 16, 2022
David Beckham joined the long line of mourners outside Westminster Hall who have been willing to wait over half a day to see Queen Elizabeth II lying in state. Beckham told ITV reporter Chris Ship that his own wait began on September 16 at 2 a.m., London time, and it was 3 p.m. when he reached the front of the queue. This means that he spent 13 hours waiting to pay his final respects to the woman who meant so much to him. During the long wait, Beckham graciously posed for the occasional photo with an excited fan.
As he approached the coffin, Beckham appeared to get emotional and wipe a tear from his eye. "I was so lucky I was able to have a few moments in my life to be around Her Majesty," he shared in an ITV interview. "A sad day but it's a day to remember the incredible legacy she left."
On Twitter, U.K. journalist Tony Parsons joined those praising Beckham for not using his celebrity to jump to front of the queue. "I never thought I'd say this; respect David Beckham, no airs and graces, lining up with the other mourners," one person tweeted. "A massive individual, paying personal respect in the right way," wrote another admirer. "Didn't need the fast pass lane, queued with real people for many hours. Well done Beckham."