Jason Priestley Claims He Once Punched Harvey Weinstein In The Face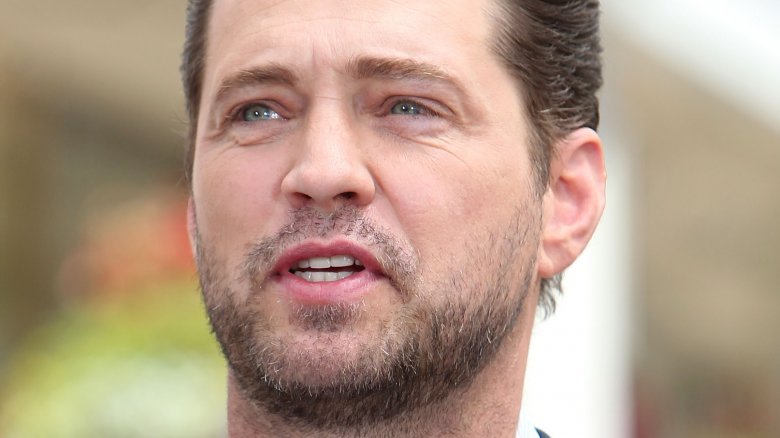 Getty Images
The Beverly Hills, 90210 star says he got into a major fight with the Miramax co-founder.
After director Peter Jackson called out Harvey Weinstein for allegedly blacklisting Ashley Judd and Mira Sorvino in Hollywood, voice actress Tara Strong took to Twitter with a theory about another famous star who incurred the wrath of Weinstein: teen heartthrob Jason Priestley. And, according to her, Priestley may have been largely booted from the entertainment industry all because of a physical fight between the two men.
"Heartbreaking....wouldn't be surprised if this happened to my good friend @Jason_Priestley who punched Weinstein in the face at a club one night," Strong tweeted in response to Sorvino's own message about the alleged blacklisting. Strong added, "Go Jay."
Commenting on Strong's tweet, Priestley remarked on the incident, though he admitted that he's not sure Weinstein had much influence in his acting career. "IDK about that @tarastrong... I know I never worked for Miramax... and boy was my team HORRIFIED when they heard about what I had done!" he wrote. "Harvey was powerful, my team STRONGLY ADVISED me to write him an apology the next day..."
When asked to elaborate by a commenter, Priestley tweeted, "Of course there is more to the story... '95 Golden Globes... at the Miramax Party... Harvey told me I had to leave... I was leaving when he grabbed me by the arm and said 'what are you doing?' I said 'you told me leave, I'm leaving.'"
He continued, "'I didn't say you had to leave' he replied. 'You just told me to leave... right over there' I tell him once again. Getting heated now. He then grabs me tighter and says 'why don't we go outside and talk about this'. That was all I needed to hear."
Refusing to go with Weinstein, Priestley allegedly "pushed him back and punched him with a right hand to his face." Soon after, he noted, "there were security guards pulling us apart and I was escorted out of the party."
Weinstein has yet to respond to Priestley's story, according to People.
As Nicki Swift previously reported, Weinstein's alleged history of sexual harassment, sexual assault, and rape was exposed by The New York Times and The New Yorker in October 2017. Since then, dozens of women in the entertainment industry have come forward with their own disturbing experiences with the disgraced movie producer.