Chrissy Teigen Addresses Critics Questioning Her Abortion Admission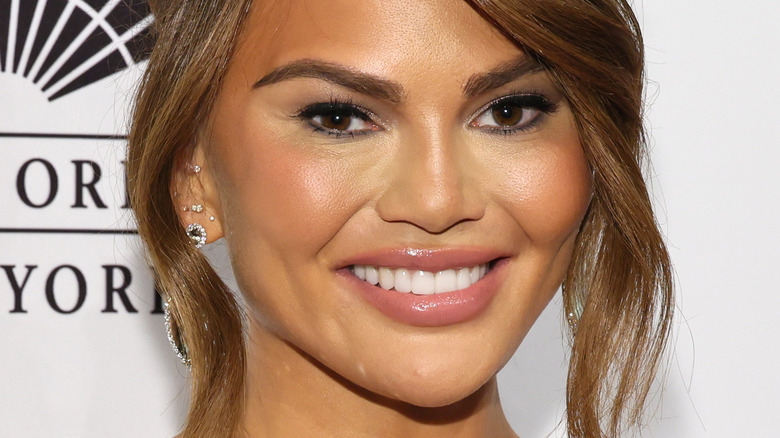 Dia Dipasupil/Getty Images
If you're a fan of Chrissy Teigen, then chances are you know about her heart-wrenching fertility struggles. In September 2020, the "Lip Sync Battle" host revealed the tragic loss of her third child on Instagram. "We are shocked and in the kind of deep pain you only hear about, the kind of pain we've never felt before," she said. "We were never able to stop the bleeding and give our baby the fluids he needed... it just wasn't enough."
Since that fateful day, the cookbook author has kept fans in the loop regarding her emotional experience in various interviews and social media posts. "People say an experience like this creates a hole in your heart. A hole was certainly made, but it was filled with the love of something I loved so much," she said in a personal essay for Medium.
After nearly two years since her heartbreaking loss, Teigen surprised fans when she revealed that she was pregnant in August. "Every appointment, I've said to myself, 'Ok, if it's healthy today, I'll announce,' but then I breathe a sigh of relief to hear a heartbeat and decide I'm just too nervous still," she wrote on Instagram. While Teigen has relished in her new pregnancy since her announcement, the beloved TV personality has also had to fight back against social media trolls.
Chrissy Teigen slam critics over comments regarding her 2020 pregnancy
I knew this would happen, and honestly I've already seen you do your worst so if this makes you feel better, great. It doesn't make me feel worse though. pic.twitter.com/jCm8GH835V

— chrissy teigen (@chrissyteigen) September 16, 2022
Over the last couple of years, Chrissy Teigen has remained an open book regarding her tragic 2020 pregnancy. During Propper Daley's recent "A Day of Unreasonable Conversation" summit, the "Chrissy's Court" star gave further insight into her traumatic loss — which featured a surprising revelation. "Two years ago, when I was pregnant with Jack, John and my third child, I had to make a lot of difficult and heartbreaking decisions," she explained (via The Hollywood Reporter).
However, toward the middle of her speech, the model described her highly publicized miscarriage as an abortion. "Let's call it what it was: It was an abortion. An abortion to save my life for a baby that had absolutely no chance," she said. "And to be honest, I never, ever put that together until, actually, a few months ago." While Teigen's emotional and inspiring speech was meant to highlight the importance of Roe v. Wade — which was overturned in June — some social media users criticized the model for "milking" her story.
One Twitter user claimed that the TV personality wasn't "getting enough attention lately." Another user wrote, "Chrissy Teigen is a very weird woman." In response to the hateful comments, Teigen took to Twitter and slammed the critics for their harsh rhetoric. "I knew this would happen, and honestly, I've already seen you do your worst, so if this makes you feel better, great," she wrote. "It doesn't make me feel worse, though."