Why Sarah Ferguson Has Been Completely MIA After The Queen's Death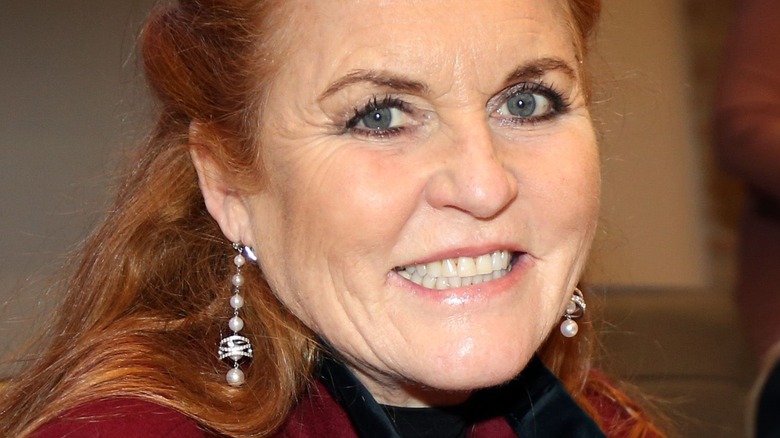 Elisabetta A. Villa/Getty Images
The tragic death of Queen Elizabeth II on September 8 has brought out senior members of the royal family en masse. On September 11, People reported that Princess Anne and her husband Timothy Lawrence accompanied the queen's coffin from Balmoral Castle, where she died, as it was transported to the Palace of Holyroodhouse in Edinburgh. The following day, according to Metro, King Charles III, Prince Andrew, and Prince Edward joined Princess Anne in the procession leading the coffin from Holyroodhouse to St. Giles' Cathedral in Edinburgh.
In the days that followed, Prince William, Prince Harry, Princess Beatrice, and Princess Eugenie welcomed their grandmother's coffin at Buckingham Palace and were later spotted viewing tributes left in memory of the long-reigning monarch. And despite the never-ending drama that has trailed her and Prince Harry's exit as senior members of the royal family, Meghan Markle also joined the royals to receive the queen's coffin at the palace, as reported by Cosmopolitan.
However, one person who has been missing from the lineup of events is Sarah Ferguson, Duchess of York. Ferguson, also fondly called Fergie, became a member of the British royal in July 1986 when she married Prince Andrew. The marriage was short-lived, with the couple getting divorced in 1996, per Mirror — the same year King Charles and Princess Diana's love story officially ended. Despite the divorce, however, Fergie has continued to attend major royal events and is still, in part, considered a member of the family. So, where has she been?
Sarah Ferguson is mourning Queen Elizabeth in her own way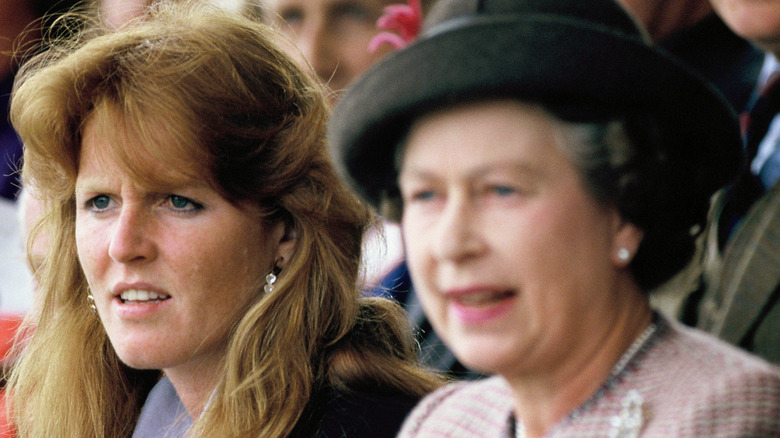 Georges De Keerle/Getty Images
Sarah Ferguson is joining the rest of the UK and the world in mourning Queen Elizabeth II. "I am heartbroken by the passing of Her Majesty the Queen," Ferguson wrote on Instagram following the announcement of the queen's death. "She leaves behind an extraordinary legacy: the most fantastic example of duty and service and steadfastness, and a constant steadying presence as our head of state for more than 70 years."
Despite her touching tribute, Fergie has been absent from all royal events since the queen's passing. On September 16, however, Fergie was spotted with ex-husband Prince Andrew at Windsor Castle as they viewed floral tributes left by members of the public in honor of the late monarch. Per the Daily Mail, this marked her first public appearance since the queen's death.
Fergie, who shares two children, Princess Eugenie and Princess Beatrice, with Andrew, is believed to have received an invitation to the queen's state funeral, set for September 19. "She'll be at the funeral, but where she will be sitting will be interesting," Shannon Felton Spence told Fox News, adding that we should not be expecting to see her seated next to Andrew because "she's not an official member of the royal family anymore." Hilary Fordwich, another royal expert, maintains that even if Ferguson was still married to Prince Andrew, she would not have had a prominent role amid funeral plans for the queen. "I will just say that you're really only seeing those that are the current spouses," Fordwich told Fox News. "Don't forget, she's not a current spouse of the Duke of York." 
Sarah Ferguson remained close with the queen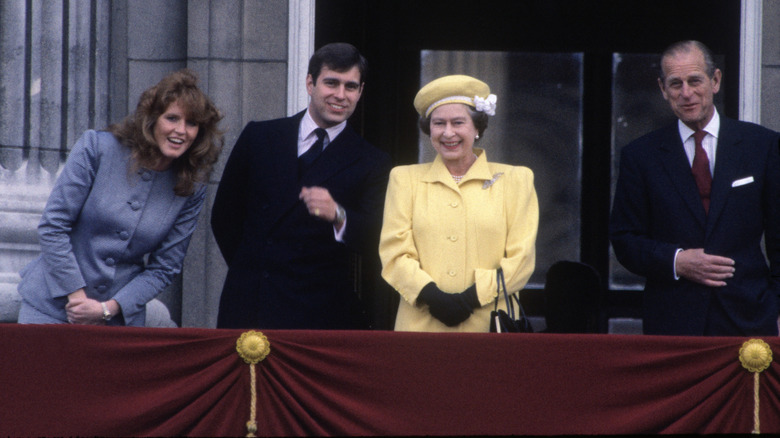 David Levenson/Getty Images
She might have stopped being an official member of the royal family in 1996, but Sarah Ferguson remained friendly with ex-husband Prince Andrew and, most remarkably, Queen Elizabeth II. "To me, she was the most incredible mother-in-law and friend," Fergie wrote in her Instagram tribute to the late monarch. "I will always be grateful to her for the generosity she showed me in remaining close to me even after my divorce."
The duchess had previously opened up about her relationship with Queen Elizabeth, lauding the monarch for her support through the years. "I think to myself that honestly, my mother-in-law has been more of a mother to me than my mother," she said on the "Tea with Twiggy" podcast in August 2021. Fergie went on to describe the queen as her "mentor," adding that her consistency has been a great honor. Fergie's close relationship with the queen could have been inspired by the strained relationship with her own mother, Susan Barrantes, who left Fergie as a child to move to Argentina with her new husband. Barrantes later died in a car crash in 1998, according to People.
Given her seemingly lovely relationship with the queen, it is barely a surprise that Fergie also managed to be there for the late monarch in difficult times. Per the Daily Mail, the duchess was one of the many shoulders of support the queen relied upon following the death of her husband Prince Philip, Duke of Edinburgh, in April 2021.