The Real Reason Phoebe Dynevor Dyed Her Signature Red Hair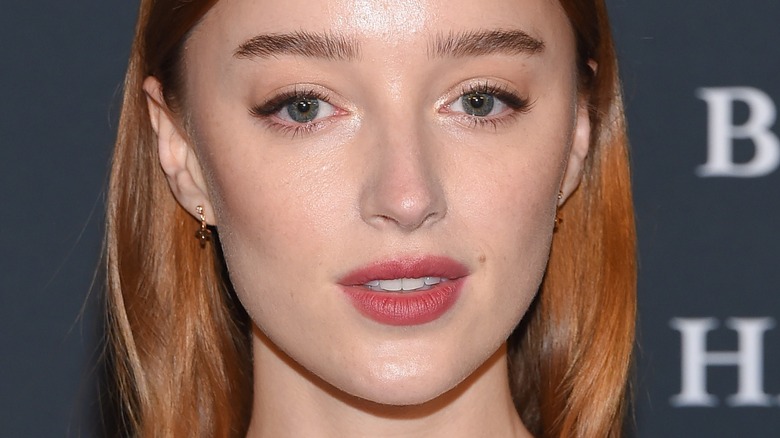 DFree/Shutterstock
Phoebe Dynevor stole many hearts as Daphne in Season 1 of Netflix's "Bridgerton." The role catapulted her to stardom and she eventually returned for the show's sophomore season in a supporting role. While her career has blossomed, Dynevor is quick to shoutout "Bridgerton" for giving her the role of a lifetime.
"It's quite brilliant that Daphne is really, at heart, very empowered, and she has a lot of agency and she says no," Dynevor told Harper's Bazaar. She also praised her character's instincts and "resilience," before adding that it "was obviously all clouded in the context of her being a woman in Regency England and everything that meant." However, the show also focuses on bringing modern sensibilities to a different era, something missing from most period pieces.
"I really found it interesting, the parallels between Lady Whistledown and the tabloids and just how we love to build women up and then tear them down," Dynevor added. Her perspective is certainly interesting given how her superstar status because of the show made her the subject of tabloid speculation. Dynevor's trademark red hair has also garnered her plenty of attention — especially when she traded her signature color for this darker shade.
Phoebe Dynevor dishes on her complicated hair history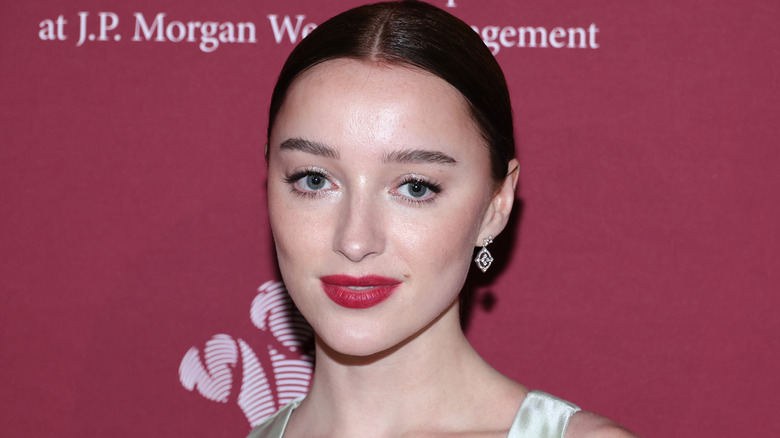 Theo Wargo/Getty Images
One of the more unique reasons Phoebe Dynevor landed herself in the spotlight had to do with her signature flaming locks. But in July, she traded her long red hair for a medium-length brunette style, per Glamour, after previously going dark for the Met Gala. As for why she dyed her hair, the actor joked that she made the decision "when red hair became a trend."
"As an actor, hair color is mainly just to do with roles," Dynevor revealed to British Vogue. She then explained she went blonde for a while for a series she was on before going "back to her roots." The actor went "red again and enhanced it a bit more." However, even for a natural redhead, the color can be rather difficult to maintain. Dynevor also explained the origin of her first dye job: "I originally went blonde to cover up the fact that I was a natural redhead and got called 'ginger' at school."
Since "Bridgerton," Dynevor has embraced her natural beauty, even the things she used to be self-conscious about. She further elaborated: "I'm in a phase of embracing everything, including my very pasty, white skin!"
Phoebe Dynevor teases upcoming projects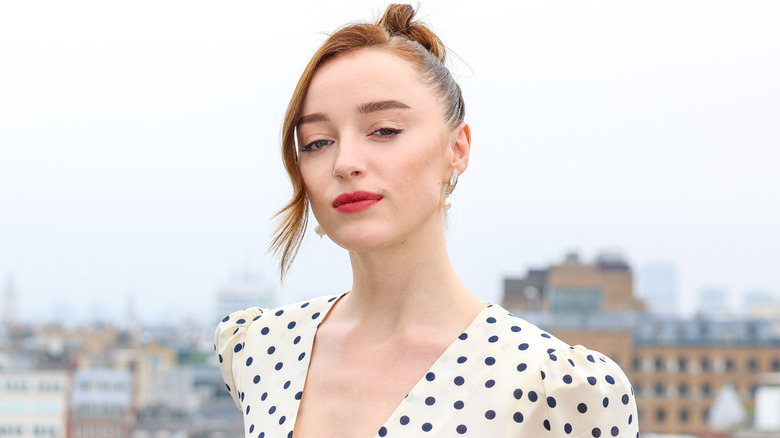 David M. Benett/Getty Images
Despite admitting that her hair color was tied to her acting career, Phoebe Dynevor did not reveal the role for which she dyed her locks. However, she did offer a small tease for fans. "My next role hasn't been released yet, so I can't talk about it, but my character has dark hair, so I thought I'd dye it again in preparation and rock up at the Met Gala with a new look," she told British Vogue. The past year has been big for Dynevor. Not only did "Bridgerton" launch her to A-list status, but her feature film debut also premiered in fall 2021.
"I've been doing TV work since I was 14, so going into film was always something I really wanted...," Dynevor told Harper's Bazaar, while promoting her film, "The Colour Room." She explained that it was a fun change of pace to have only one script and one director. "And it just feeling a lot more intimate. I think that's what really excited me about the medium of film."
Her film career is expanding, with the actor signing on to star opposite Logan Lerman in a rom-com called "The Threesome" in June (via Deadline). More recently, The Hollywood Reporter shared that Dynevor scored the lead in "Inheritance," a thriller directed by Neil Burger, who's known for "Limitless." Whether or not these roles will see her as a redhead, a blonde, or a brunette, Dynevor is likely to captivate audiences no matter what.