Accusers Open Up About Russell Simmons Allegations In New Interview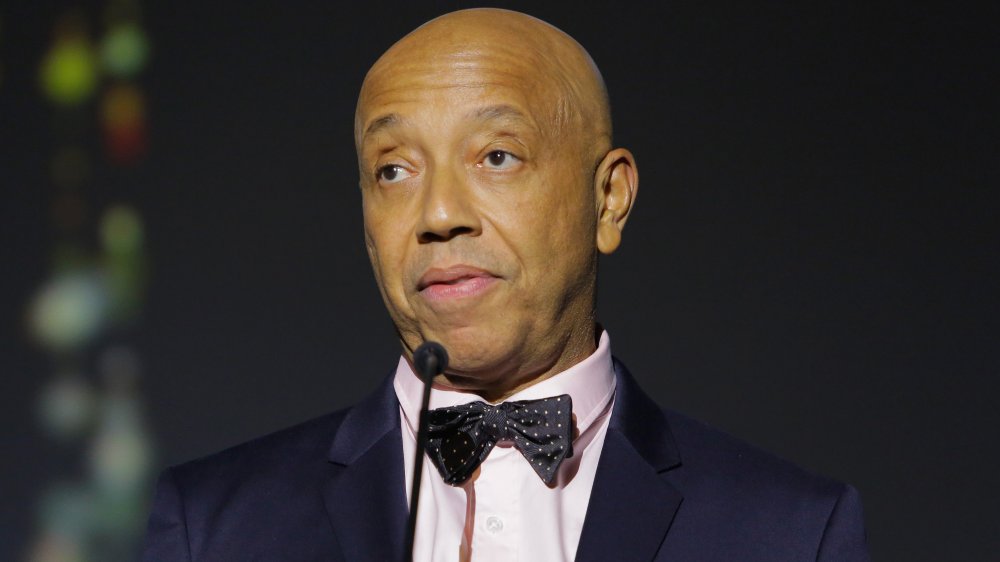 Tiffany Rose/Getty Images
More details have come out regarding the Def Jam Recordings co-founder's alleged incidents of sexual assault.
Two women who've accused Russell Simmons of sexual assault have come forward. Appearing on Megyn Kelly Today on Tuesday, Dec. 19, 2017, accusers Sherri Hines and Natashia Williams-Blach spoke with host Megyn Kelly about their own disturbing experiences with Simmons. Both alleged incidents occurred when the women were about 18-years-old.
Hines recalled being forced to perform oral sex on Simmons, who she said forced her head against him. Williams-Blach, on the other hand, claimed that Simmons had pinned her down and raped her, despite her attempts to maneuver away from him.
Both women expressed incredulousness at what had happened to them, explaining that the alleged assaults had occurred very quickly.
Hines, who revealed she'd been contacted by the NYPD, said, "When something like that happens you do, you feel cheapened."
Williams-Blach noted, "If I could see that 18-year-old girl today, of course, I would reassure her that it was not her fault." She continued, "But I think this culture is, up until this point now — we were just talking about timing — so much encourages this behavior and it's transactional and it has to do with women sometimes anticipating things to a point where, if it happens, 'Oh it feels horrible but you know, I was the pink bikini girl in the movie or I'm modeling and I'm wearing this outfit and it's sort of presented in a sexualized way'... it definitely just lends itself to that mentality."
It appears that both women felt compelled to come forward with their stories after Simmons, who's been accused of sexual misconduct by a total of 13 women (via People), denied any wrongdoing. Regarding Simmons' defense that he's had a spiritual awakening, Williams-Blach, who said Simmons assaulted her after the two took a yoga class together, told Kelly, "That was the main impetus to come forward because I followed this story when it emerged, and I wasn't going to actually say anything at all."
She continued, "He said, 'How can I be a rapist when I'm a yogi and a vegan?'... There is a lot of good actions, good meaning and intentions but they become dirty by what he's done in the darkness."
As Nicki Swift previously reported, Simmons responded to accusations of sexual misconduct with a post on Instagram. "I vehemently deny all these allegations," Simmons said in a statement posted on Instagram. "These horrific accusations have shocked me to my core and all of my relations have been consensual," he wrote. "I am blessed to have shared extraordinary relationships, whether through work or love, with many great women; and I have enormous respect for the women's movement worldwide and their struggle for respect, dignity, equality and power. I am devastated by any reason I may have given to anyone to say or think of me in the ways that are currently being described."
He went on, "I have rededicated myself to spiritual learning, healing, and working on behalf of the communities to which I have devoted my life. I have accepted that I can and should get dirt on my sleeve if it means witnessing the birth of a new consciousness about women. What I will not accept is responsibility for what I have not done."
The NYPD has since launched an investigation into the allegations (via USA Today).
While we wait for more details about the allegations against Simmons, read up on all of the men who've been called out for inappropriate sexual behavior since the Harvey Weinstein scandal broke in October.