Tom Brady Responds To Backlash Over His Controversial On-Field Behavior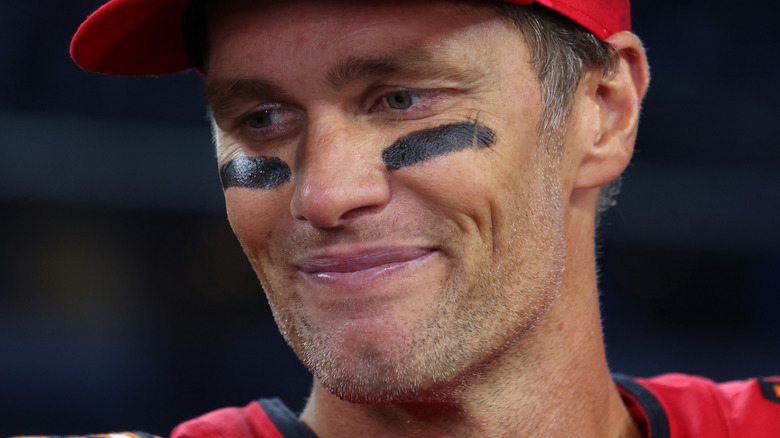 Richard Rodriguez/Getty Images
Tampa Bay Buccaneers quarterback Tom Brady got into a little scuffle with a Microsoft Surface tablet during the September 18 game against the New Orleans Saints. After enduring a seven-game losing streak, it was clear that the Bucs were in need of a big win. The Buccaneers ultimately pulled out a 20-10 win in the end, though Brady clearly wasn't happy as he spiked a tablet in anger.
This wasn't the first time that the former New England Patriot acted out like this. The same thing happened last season in December 2021, as Brady threw a tablet he was looking at in frustration, per Gizmodo. The media outlet added that the 2021 incident also happened during a game against the Saints.
And Brady's personal fight with his tablet wasn't the only physical altercation that happened that afternoon. According to ESPN a feud between Saints cornerback Marshon Lattimore and Buccaneers wide receiver Mike Evans can date back to 2017. They had a small physical fight in the 2020 season, but had a bench-clearing brawl in the September 2022 game. Both players were ejected. Now, the Buccaneers quarterback is apologizing for his behavior on the field.
Tom Brady apologizes for his tablet throwing
A little while after the Tampa Bay Buccaneers and New Orleans Saints game on September 18, Tom Brady posted a video to his Twitter account. "Sorry for breaking that tablet," said the NFL veteran. "I think that's going to be another Twitter meme or something like that." The quarterback wasn't wrong about becoming a meme. One ABC Action News reporter had some fun with posting the video, writing, "The Microsoft tablet might want to sit out the next Tom Brady plays the Saints." The star quarterback slyly addressed his behavior in a post-game press conference interview.
"It's an emotional game," Brady said (via Boston.com). He mentioned that "execution" needs to be improved, but he remembered to praise his teammates for coming through and pulling out a win. "Tough team, really tough team," he added. "Really well-coached team we really struggle with, so it feels good to win."
The tablet throwing also comes after multiple sources have been saying that the Buccaneers quarterback's marriage with Gisele Bündchen is currently on the rocks. "Gisele is busy with her own life now, and has spent time away from Tom in Miami and New York," an insider told People on September 16, despite reports that the two are trying to work things out. Another source added that it's normal, though, and they usually live "separate lives" during the season.