Cardi B Proves She's Getting Close With Beyoncé Amid Nicki Minaj Feud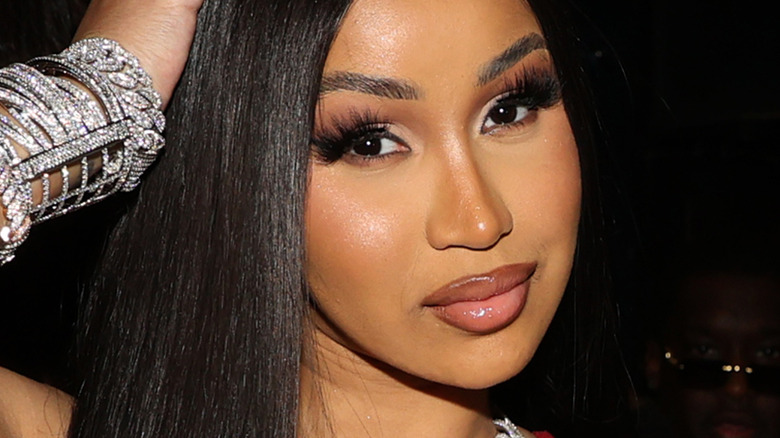 Shareif Ziyadat/Getty Images
Cardi B has always been about female empowerment and has collaborated with a whole range of female stars in the music industry. While her most famous girl power collaboration was 2020's "WAP" with fellow rapper Megan Thee Stallion, she has also teamed up with the likes of Anitta, Selena Gomez, and even her nemesis Nicki Minaj, to create hits.
Speaking of her enemy, Minaj has also had her fair share of female collabs. Per Billboard, her first-ever entry on the US Hot 100 was her single with Mariah Carey, "Up Out My Face," in March 2010. Since then, the "Super Freaky Girl" hitmaker has continued to rack up impressive features with Madonna, Usher, Avril Lavigne, and Ariana Grande, to name a few. In 2014, Minaj appeared on Beyoncé's "Flawless" remix and served as a surprise guest at one of her "On The Run" shows. Queen Bey returned the favor and featured on Minaj's song "Feeling Myself" in 2014, which was promoted with a smoking hot video the following year. Even though it has been a minute since Beyoncé and Minaj teamed up together, Beyoncé gave the rap mogul a shoutout in her Queens Remix for "Break My Soul."
Despite many other stars, such as Janet Jackson, Chloe x Halle, and Destiny's Child members Kelly Rowland and Michelle Williams, receiving a co-sign on the track, it appears that Cardi B was left out. With that said, Cardi's latest social media post proves that Bey has a lot of love for her.
Cardi B received a personalized gift from Beyoncé
On October 11, Cardi B will celebrate her 30th birthday. Although that's still some weeks away, she has already received a gift from Queen Beyoncé herself. As seen in a Twitter video upload, the "I Like It" hitmaker was gifted a signed vinyl record of Bey's latest album, "Renaissance." Not only did the record feature her signature but it also had a long message across the artwork in silver pen. "To: Cardi B. Hard-working, beautiful and talented queen, thank you for always supporting me. Sending so much love to you and yours. Respect, Beyoncé," the singer wrote.
Cardi appeared delighted to have received the present from Beyoncé and told fans she was going to "put it in a glass frame with laser beams on it," adding, "Anybody who gets motherf***ing next to it is gonna get electrocuted on motherf***ing sight. I just wanna say thank you so much. I feel so special." In less than 24 hours, Cardi's video has been watched more than 1.6 million times and received over 1,400 replies, many of which suggest Nicki Minaj might not be happy with Cardi receiving a gift from her collaborator. "Nicki about to go off on Beyonce now?" one user tweeted. "When Beyonce actually likes you!" another person shared. "Notice how nicki didn't receive one from bey," a third user remarked.
As seen on Megan Thee Stallion's Instagram, she also received a signed vinyl. Minaj, too, could have been gifted one but hasn't documented it.