What Is Cardi B's Real Name?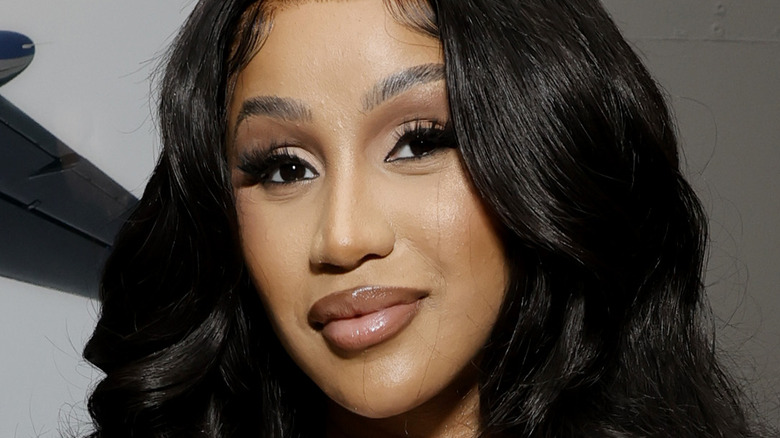 Frazer Harrison/Getty Images
Ever since achieving the chart-topping single "Bodak Yellow" in 2017, Cardi B has morphed into one of rap music's most successful and talked-about acts. Her Instagram page boasts more than 117 million followers, and her ever-evolving career has allowed her to work alongside some of the music industry's most prominent names, including tracks with Chance The Rapper, Maroon 5, and even rival Nicki Minaj.
She may be considered a fairly controversial figure in pop culture at times, but Cardi B is still living her best life regardless. In 2019, the "Be Careful" hitmaker won Best Rap Album at the Grammy Awards for "Invasion of Privacy" — becoming the first female solo artist to take home the golden trophy, per The Hollywood Reporter. In 2020, "WAP" — Cardi's raunchy collaboration with Megan Thee Stallion — was named the best song of the year by various publications, such as Rolling Stone, BBC, and NME, to name a few. Upon its release, the song achieved the most amount of streams in its first week by a female artist.
In addition to Cardi's chart-toppers, fans have also noticed that the rapper has a fair amount of songs that correlate to her stage name, Cardi B — or at least the inverse of it. ("Bartier Cardi" and "Bickenhead," for instance.)
Very few people refer to Cardi B by her birth name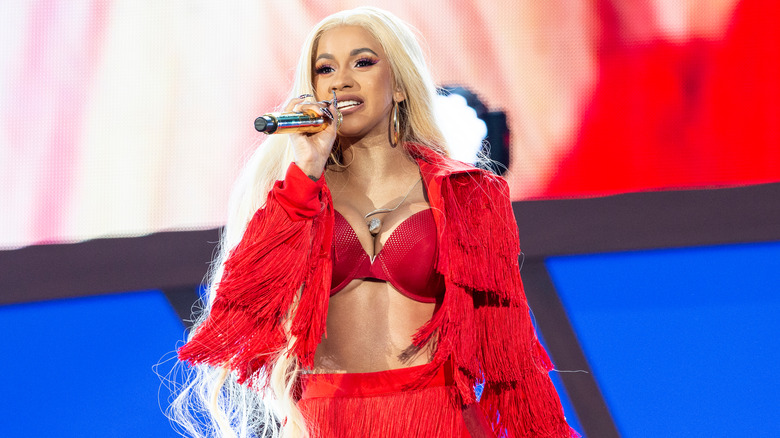 lev radin/Shutterstock
While most only know the Grammy Award winner by her stage name, Cardi B was actually born Belcalis Almanzar on October 11, 1992. Even though many may have known the South Bronx native before she started making music — thanks to her time on "Love and Hip-Hop" — she made it clear that very few people actually call her by her birth name. In a 2017 interview on "The Wendy Williams Show," Cardi explained (via InStyle), "No one calls me Belcalis except for my family, my mother, and my daddy."
But since rising to fame, a lot of people have wondered how Cardi came to choose her stage name. The "Girls Like You" hitmaker admitted on "Wendy Williams" that it was inspired by her younger sister, Hennessy Carolina. According to Cheat Sheet, Carolina was named after the alcoholic drink — yes, her birth name is really Hennessy — which is why people ended up giving Cardi a nickname that was inspired by a rum brand. "My sister's name is Hennessy, so everybody used to be like 'Bacardi' to me," she explained, adding, "Then I shortened it to Cardi B. The 'B' stands for whatever, depending on the day... beautiful or bully."
Cardi later explained that her Instagram handle was Barcardi B, but since the account kept getting deleted — "I think it was Bacardi [the brand] that had something to do with it," she told Jimmy Fallon — she changed it to Cardi B.
Cardi B's familial roots are super important to her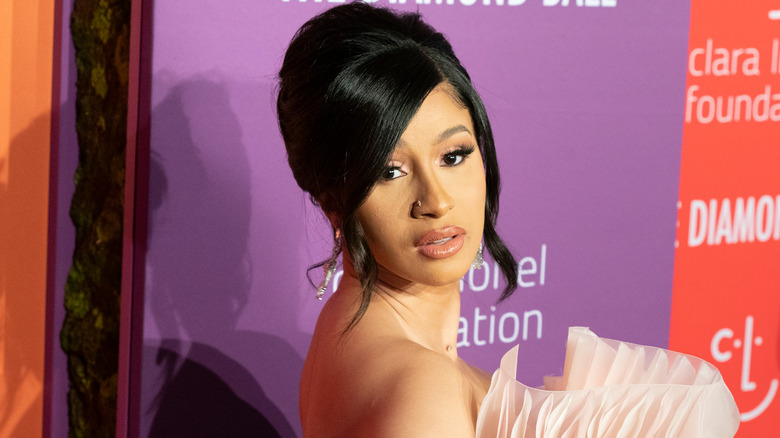 lev radin/Shutterstock
Though she doesn't use her given name professionally, it's clear that Cardi B cares a lot about her family. 
Despite being raised in the South Bronx area of New York, the "I Like It" hitmaker spent a lot of time at her grandmother's home in Washington Heights. "I live in a beautiful condo, it's very big, it's very beautiful, but it's so empty and boring," Cardi explained to The Fader in 2017, adding, "My grandma's house is very, very tiny, but it's just a certain happiness there."
Before the days of being a household name and an award-winning sensation, Cardi worked as a stripper. In a discussion for Interview magazine, she admitted she felt "really uncomfortable" and "very ashamed" of her job, noting that "There were times when I was crying, like, 'Oh my gosh, if my mom or my dad found out, they'd be so humiliated.' But I needed the f***ing money." Initially, Cardi's goal was to make a lot of cash. However, when she started to create music, she wanted to be a big star with hits on the radio. Luckily, the dream came true.