The Real Story Behind Megan Thee Stallion And Cardi B's Relationship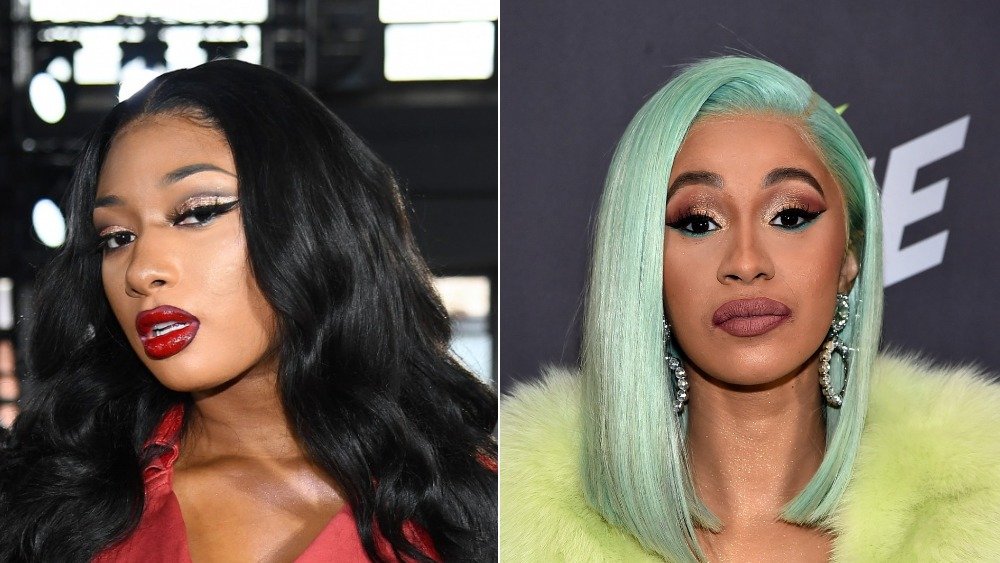 Dimitrios Kambouris, Theo Wargo/Getty Images
The "Hotties" and the "Bardi Gang" are preparing their knees to twerk all night with the highly-anticipated release of the Megan Thee Stallion and Cardi B collab "WAP" on August 7, 2020.
The female rappers both announced the new single on Instagram, and fans went wild for the idea of combining two powerhouse artists whose signature lyrics involve bragging, twerking, and uplifting women. The collaboration has been long-awaited, with fans previously curious if the two rappers would ever come together amid rumor after rumor of feuds.
Cardi B sang Megan Thee Stallion's praises while chatting with Tip "T.I." Harris and Chance the Rapper on Tip's podcast expediTIously back in October 2019, according to HotNewHipHop.
"Look at Megan Thee Stallion. She got that voice that sticks," said Cardi. "Not only do she rap good — a lot of girls rap good — but she got that voice and she got that confidence that sticks. So now, there's no excuse for it."
So are Cardi and Megan really friends? Let's dive into the real story behind their relationship.
Megan Thee Stallion refused to pick sides in Nicki Minaj and Cardi B's feud
After rapper Megan Thee Stallion collabed with Nicki Minaj for the single "Hot Girl Summer" in August of 2019, fans were convinced that the song confirmed Megan Thee Stallion was team Nicki Minaj in the feud between Minaj and Cardi B.
Megan Thee Stallion and Nicki Minaj took to Instagram live to rave about each other, in which Minaj thanked the Houston rapper for her support.
"I wanted to tell you that it means a lot to me all of the nice and all of the sweet things that you ever said," said Minaj. "Like, it means the world to me."
Minaj and Cardi B's feud began with the fans, but slowly morphed into public spectacle after taking snubs after each other following the release of "Motorsport," a Migos collab with the two female rappers, and then a brawl at New York Fashion Week, per TMZ.
Megan Thee Stallion pushed back on involving herself with any feud between Nicki Minaj and Cardi B in an August 2019 interview with E! Daily Pop. 
"It's really like a lot of the fans," said Megan. "They really make it seem like you're picking sides. I really, really, really like both of them. They're two different people, two different rappers. It's not even the same. I feel like we need to stop trying to compare them. I love both of them, so I would definitely like to collab with Cardi too."
Megan Thee Stallion confirmed her love for Cardi B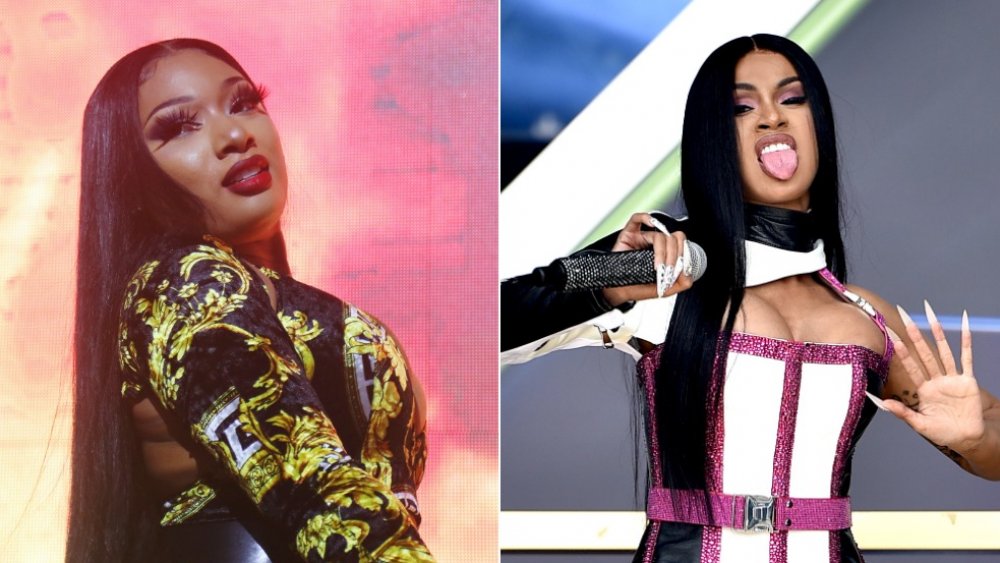 Cassidy Sparrow, Theo Wargo/Getty Images
Megan Thee Stallion being wrongly placed between the beef of Cardi B and Nicki Minaj was the not the first time the rapper had to clear the air. In April 2020, the artist took to Twitter to deny liking a YouTube comment that was directed towards Cardi B.
According to People, the comment in question was left on Megan Thee Stallion's YouTube account. It read, "She won my respect... paying homage to the GOAT means a lot. Pac would be proud. She exceeded Cardi, HANDS DOOOOWN."
Fans caught wind of Megan Thee Stallion allegedly liking the comment, and interpreted the "like" as confirmation the rapper isn't too fond of Cardi B. Megan responded in a tweet, explaining, "I did not like no damn stupid a** comment like this," followed by "I DO NOT HAVE A PROBLEM WITH ANYBODY. I don't like drama I do not bring other females down stop trying to start fake beef."
Fake beef it was indeed, as the countdown to the first Cardi B and Megan Thee Stallion collab officially started just a few months later in August 2020.