The Truth About Megan Thee Stallion And Lizzo's Friendship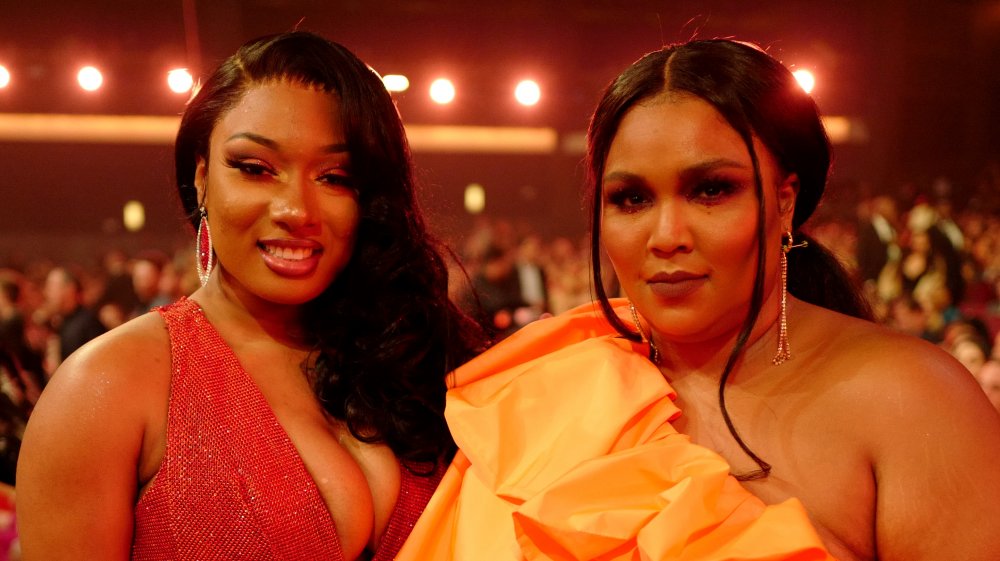 John Shearer/ama2019/Getty Images
There are very few people who do not like Megan Thee Stallion. Though the Texas rapper is known for her explicit lyrics and performances, Megan Thee Stallion (full name Megan Jovon Ruth Pete) also has a well-known reputation for having a fun and bubbly personality. The president of the "hot girls" has been seen with celebs from all areas of Hollywood, from supermodel Naomi Campbell to Queen Beyoncé herself. 
Singer Lizzo (born Melissa Jefferson) also joined the ranks of Meg Thee Stallion fans with a casual "come through" text message, and the rest is history. Fans are still waiting for an iconic twerk song with background flute sounds from the "Truth Hurts" singer, but in the meantime, we'll all just have to dream and enjoy the few glimpses we get into their adorable friendship. 
How did this Black girl magic duo come together? Let's take a look at what the hot girls' friendship is really like. 
Lizzo is Megan The Stallion's official flute player
Celebrities make friends the same way most of us do, apparently: with a relaxing hang out session. Lizzo explained how she joined forces with Megan Thee Stallion in August 2019 to create a wholesome twerk video — which as of writing has over 56,000 retweets and 191,000 likes on Twitter — in a 2019 interview with Nylon. 
"I have a little setup in Malibu where I was just recording and I [told her to] come through. She came through, and we were working. We are very similar in our focus," Lizzo said. She added that she also "drove the boat," which means she allowed Megan to pour liquor into her mouth from the bottle (on camera of course). 
"We both had a list of things we wanted to accomplish. Then we accomplished them, and looked at each other, like, Wheeeewwww! We're done with work, it's time to turn up. She's so great in that way," said the Michigan native. "But there was a song, and I said, 'Let me go lay some flute down on this song.' I grabbed it, and she was like, 'Damn, I wish I could play an instrument. Sh*t, the only thing I can do is play this a**.'" And thus, history was made. 
Lizzo sent Megan Thee Stallion a care package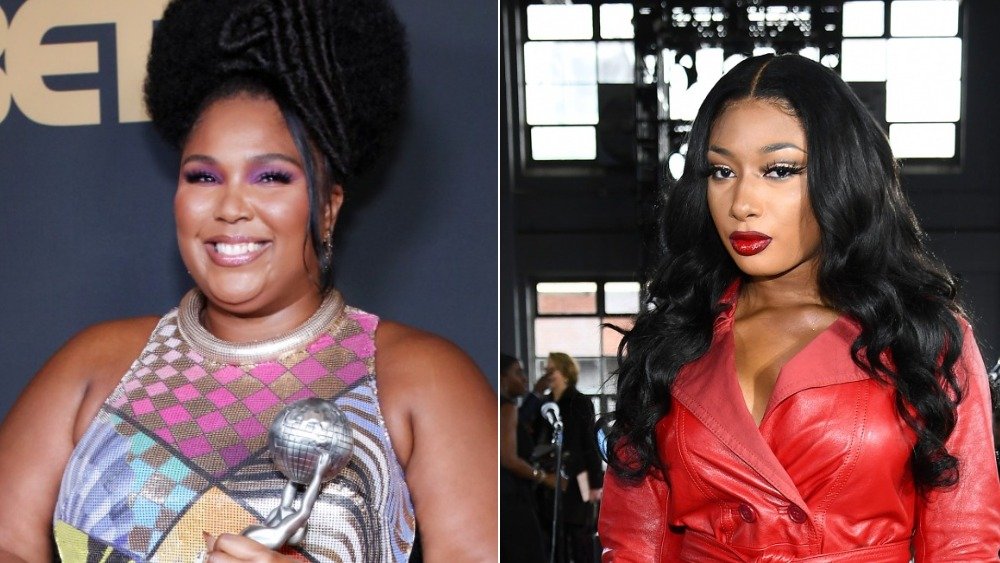 Robin L Marshall, Dimitrios Kambouris/Getty Images
Megan Thee Stallion made headlines in July 2020, when it was reported that the rapper had been shot. No details were revealed about the incident until Meg herself spoke out in an Instagram post on July 15, 2020 to clear rumors and "fake stories." 
"The narrative that is being reported about Sunday's morning events are inaccurate and I'd like to set the record straight," read the post. "On Sunday morning, I suffered gunshot wounds, as a result of a crime that was committed against me and done with the intention to physically harm me." Two weeks after the IG post, the "Savage" rapper went on Instagram Live to speak to her fans directly, according to the New York Times. 
"I was shot in both of my feet," she tearfully said. She also explained that she needed surgery which was "super scary," adding that it was "the worst experience of my life."
Many celebrities sent The Stallion presents and wished her a quick recovery. Among the rapper's supporters was her official flute player Lizzo. According to HipHopDX, the "Juice" singer sent Megan a plush dog-shaped care package filled with Lucas candy. In an Instagram story that's since been deleted, Meg captioned the video, "@lizzobeeating I f**king love you thank you." Now that's a friend. 
We wish Megan Thee Stallion a speedy recovery.