Here's What Janet Jackson Really Looks Like Without Makeup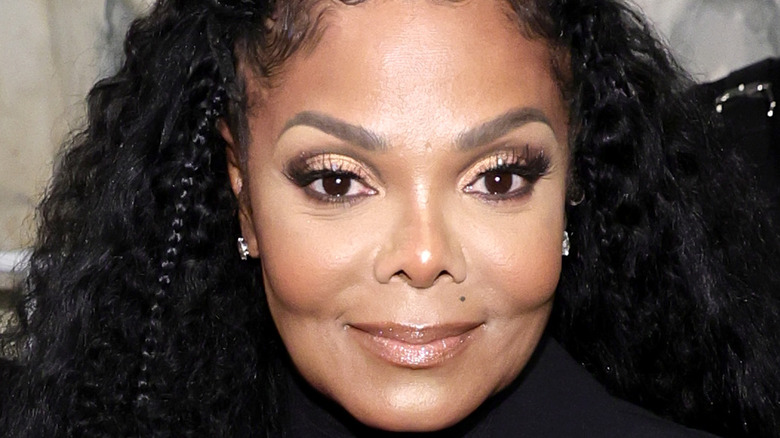 Jamie Mccarthy/Getty Images
With a career spanning many decades, Janet Jackson is considered one of the most famous people in the world. Her family name aside, Miss Jackson has earned her legendary status through her many reinventions through music, acting, fashion, and performing. In addition to winning five Grammy Awards, the "That's the Way Love Goes" hitmaker was also honored with the Vanguard Award at the MTV Video Music Awards in 1990.
Jackson's versatile, glamorous image has been of public interest for many years. In 1993, she starred in the movie "Poetic Justice" alongside deceased rapper Tupac Shakur. Her character, Justice, was known for sporting long, dark braided hair, which has since been declared an "iconic" look by 1966 Magazine. The '90s saw Jackson rock a variety of other styles too. Whether it was her red locks, crop tops, denim pants, bold lipstick, or matching suits, the powerhouse entertainer had fans' heads turning all decade. She made such an impact that Vogue insisted she "ruled" the decade and shared 25 images that proved why. For the 15th anniversary of Harlem's Fashion Row in September 2022, Jackson was named the ICON of the Year for her trailblazing style and stunned on the red carpet in an alluring ensemble, per Daily Mail.
With a history of always being glam, many might wonder what Jackson looks like without makeup.
Janet Jackson is a radiant beauty
Janet Jackson might be known for her glam red carpet looks and killer popstar ensembles, but she isn't shy about showing off what she looks like without her face painted. The "Together Again" hitmaker is fairly active on social media and uses Instagram to update her followers with a variety of content that displays her without any makeup on. Jackson posted a wholesome selfie in May 2021 that saw her flashing her pearly whites while wearing glasses. The makeup-free pic proves that the "For Colored Girls" actor is a natural beauty with a golden smile.
In October of that same year, Jackson shared another image without makeup while sporting a different look. In a selfie wearing a black-and-white patterned flat cap, Jackson rocked long dark braids with hints of blue. Weeks later for Halloween, the singer posted a video of her ironing her son Eissa Al Mana's costume and once again showed off her raw beauty.
In September 2022, Jackson uploaded a video that showcased what she looks like before getting dolled up versus after painting her face. The clip proved popular with her followers and received over 10,000 comments from her adoring fans who love seeing the Grammy Award winner embrace her glam and natural self. "Janet could wear a paper bag on her head and still be sexy AF," one user wrote. "Janet is youthful and gorgeous as ever," another person shared.
Janet Jackson isn't the biggest fan of getting dolled up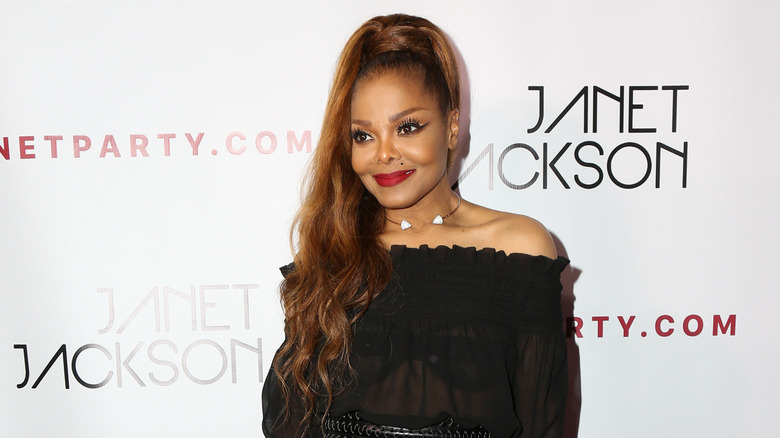 Kathy Hutchins/Shutterstock
In 2018, Janet Jackson graced the cover of InStyle and took fans behind-the-scenes of the shoot. While being interviewed, the "All For You" hitmaker was asked what beauty meant to her. "It means everything," the singer replied. However, she noted it's "more about inner beauty than anything." As for her go-to hairstyles, Jackson credits her many "hair hats" for her transformations over the years. When asked whether she enjoys the process of getting glammed up, Jackson insisted it is "very relaxing" getting her hair and makeup done. That said, she isn't a fan of the whole process itself. "I like at the end when you look nice. But then I can't wait to take it off and get in bed," Jackson admitted.
In a 2022 cover story interview with Allure, Jackson responded to rumors that suggested she may have gone under the knife to achieve her signature cheeks. The singer told the outlet that she isn't focused on having plastic or cosmetic surgery right now but confessed there might be a day when she might consider having something done. "I don't know when my day is coming, but at some point it's going to come and I can choose which path I want to take. I do hope I age gracefully," Jackson expressed. In 2006, she explained to Extra that she underwent a nose job at 16 and was unsure whether she would ever have surgery again.