Why Everyone Was So Devastated For Princess Charlotte During The Queen's Funeral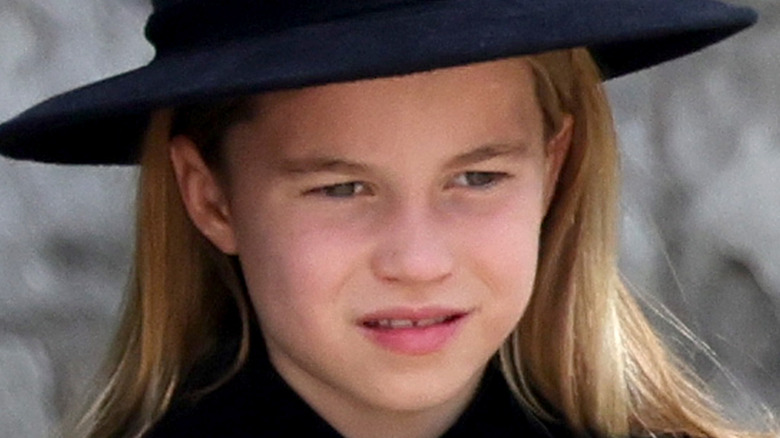 Chris Jackson/Getty Images
It's not typical for young members of the royal family to have formal roles in state funerals, but Princess Charlotte and Prince George proved to be an exception for Queen Elizabeth II's funeral at Westminster Abbey.
All eyes were particularly trained on Princess Charlotte, especially since the young royal was rumored to be the queen's favorite great-grandchild. Kate Middleton noted that the monarch was "really thrilled" upon finding out that she and Prince William were welcoming a daughter before she was born. "As soon as we came back [from the hospital] she [the queen] was one of our first visitors," the now Princess of Wales said in an ITV documentary (via The Mirror). "I think she is very fond of Charlotte, always watching what she's up to." A source also noted that the two had a close bond. "Charlotte's facial resemblance to the Queen as a young girl is marked and, thanks also to William and Kate's daughter's signals of social confidence, she is often seen close to the Queen looking happy and relaxed, suggesting a mutually close relationship," they shared with Express U.K.
The princess was named after her great-grandmother, too. Her full name is Charlotte Elizabeth Diana, which honors both Queen Elizabeth and her grandmother, Princess Diana. With Princess Charlotte's participation in the queen's funeral, many couldn't help but pay close attention to how she would react — so the public sympathized with her when she burst into tears during the service.
Princess Charlotte cried at Queen Elizabeth's funeral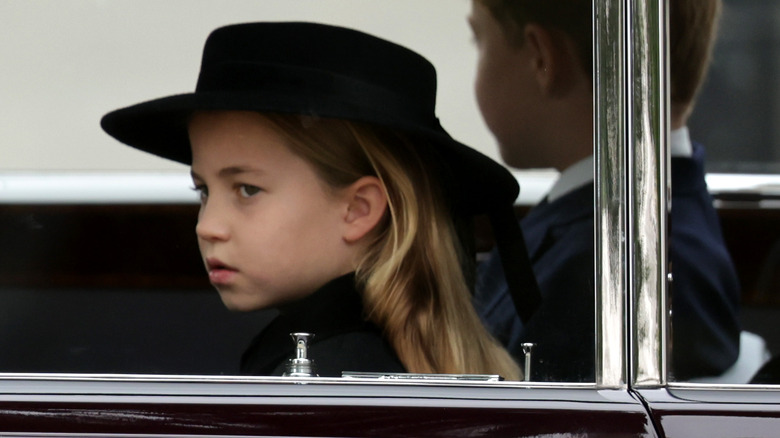 Chris Jackson/Getty Images
Emotions ran high at Queen Elizabeth's funeral — and in Princess Charlotte's case, she couldn't help but cry upon seeing her great-grandmother transported from the gun carriage to a hearse vehicle. Like her aunt, Meghan Markle, Princess Charlotte shed tears while saying goodbye to the late monarch. But her mom Kate Middleton came to the rescue and offered comfort by patting the 7-year-old's back, per Page Six. Kate was also seen holding her daughter's hand as they made their way inside Westminster Abbey.
On Twitter, fans expressed concern over Princess Charlotte's participation in the funeral, saying how she shouldn't have attended in the first place. "She should never have been there. There was no good reason to put those children on display like that," one fan tweeted. "William and Kate shouldn't have paraded her in front of the world like this in her time of grief," tweeted another.
But sources say that Prince William and Kate tried their best to offer a solid support system for their children after the queen's death. Kate reportedly personally delivered the news to her children to soften the blow. "Kate used her words carefully and said that Elizabeth is in heaven with Prince Philip. There were lots of tears and hugs, and naturally, the children are upset," an insider told Closer Weekly. The parents also helped their kids establish a routine to avoid dwelling too much on the queen's death. "They're okay. They're in school, being well looked after," Kate told the crowd in Sandringham. "They're in a routine, and they're happy. They're with new friends."
Princess Charlotte was well-behaved during Queen Elizabeth's funeral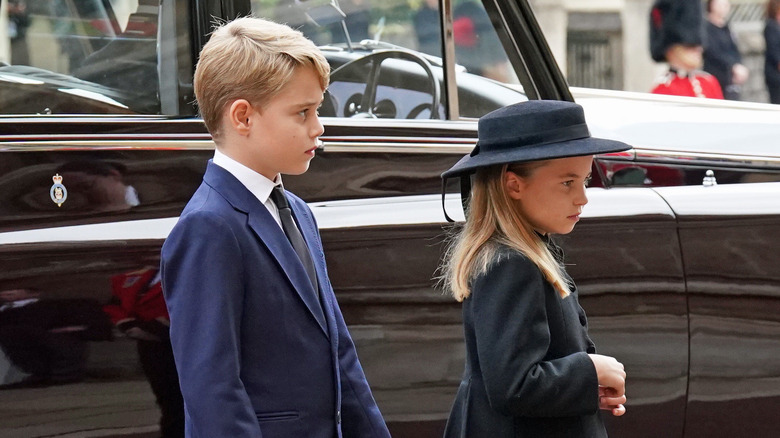 Wpa Pool/Getty Images
Prince George and Princess Charlotte were commended by many as they displayed exemplary behavior at Queen Elizabeth II's funeral. According to Mark Tewksbury, a member of the Order of Canada, the two were "incredibly well-behaved."They looked like really incredibly well-behaved kids but a little like kids, a little like, 'Wow, this is a lot,'" he told People. "For little Prince George, this will be him one day, and he doesn't really know that yet. And then I thought, 'Ah, he's just lost his great-grandmother.'" Princess Charlotte even made it a point to remind her older brother that he had to bow when the funeral cortege passed, per The Independent.
Fans online noticed their behavior as well, with one Twitter user writing, "Really impressed with how Prince George and Princess Charlotte behaved yesterday. Although they are not the first 9- and 7-year-old to go to a funeral, not everyone goes to a funeral that big, where the eyes of the world are literally on them. A testament to their parents' parenting."
The young royal paid tribute to her great-grandmother by way of clothing, too (following Kate Middleton's footsteps, perhaps?). She was seen sporting a small pendant in the shape of a horseshoe, which Vogue noted may be a nod to the queen's penchant for horses and racing.