The Sad Reason Princess Diana Didn't Like Prince Harry's Nickname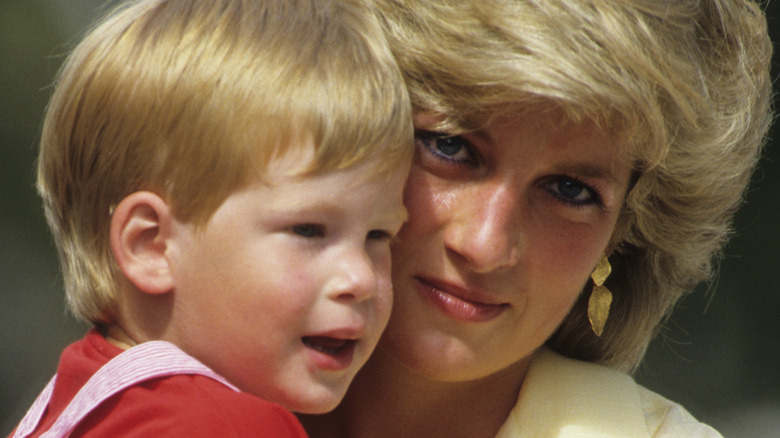 Georges De Keerle/Getty Images
It's been 25 years since Princess Diana was tragically killed in a car accident while traveling through Paris, France. However, her spirit lives on in her children, Prince William and Prince Harry. Though, it definitely seems that Prince Harry's life more closely mirrors his mother's. Like Princess Diana, Harry is widely admired by not only the British population, but by citizens from across the globe. His compassionate spirit and philanthropic nature have won people over and endeared him in the hearts of many. 
Unfortunately, this popularity and visibility has come with some huge downsides for the prince — especially in recent years since he went public with his now-wife Meghan Markle. While there's always been an intense interest in the younger prince's love life, just as there was with Princess Diana's tumultuous marriage and subsequent divorce from King Charles III (via People), Meghan's American citizenship and bi-racial identity appears to have spurred unjust criticism, at least in Meghan's eyes. During Meghan's 2021 interview with Oprah Winfrey, she shared that racial targeting by the press and the royal family influenced their decision to step down from their royal duties and move from England to the United States, according to Time.
And while it may have been impossible for Princess Diana to foresee the difficult path her youngest son would walk down, prior to her death, she did express concerns about certain aspects of Prince Harry's possible future. In particular, Princess Diana was worried about Prince Harry's popular nickname in the media. 
Princess Diana didn't want Prince Harry to be called the spare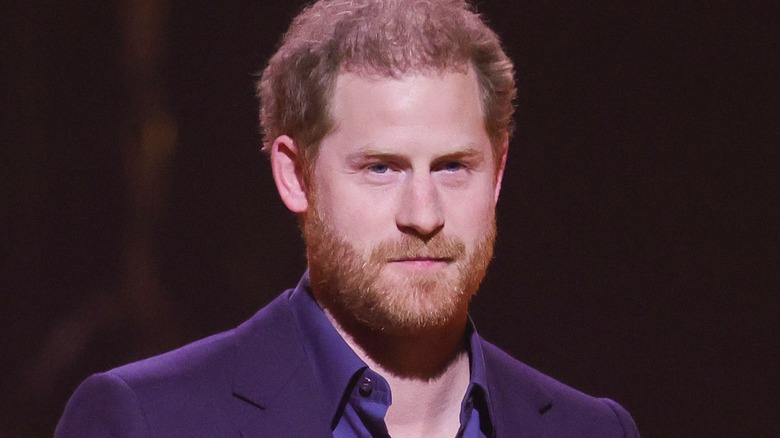 Chris Jackson/Getty Images
As the second-born son of Princess Diana and King Charles III, Prince Harry's ascension to the throne has always seemed rather unlikely. At the time of his birth, Prince Harry was third in line to the throne, just behind his father, King Charles III (at the time Prince Charles), and older brother Prince William. However, the birth of Prince William's children, Prince George of Wales, Princess Charlotte of Wales, and Prince Louis of Wales, has pushed Prince Harry down to fifth in line (via BBC). (Prior to Queen Elizabeth II's death, Prince Harry was sixth in line for the throne). However the rules of succession never guaranteed Prince Harry a shot at being king, as the second-born child is always referred to as "the spare" to the heir — a nickname of which Princess Diana was not a fan. 
James Patterson, a royal expert who penned the book "Diana, William, and Harry: The Heartbreaking Story of a Princess and Mother," asserts that Princess Diana didn't care for the "spare" label that the media placed on her younger son. "I think she tried to control it as much as she could," Patterson shared with Fox News. "I think she was troubled about it. Patterson continued stating that, because Princess Diana experienced difficulties as a princess, she wanted different for her sons. "She simply wanted them to be normal kids and understand that the real world doesn't operate in the same way it worked within the palace."
How Prince Harry honors Princess Diana to this day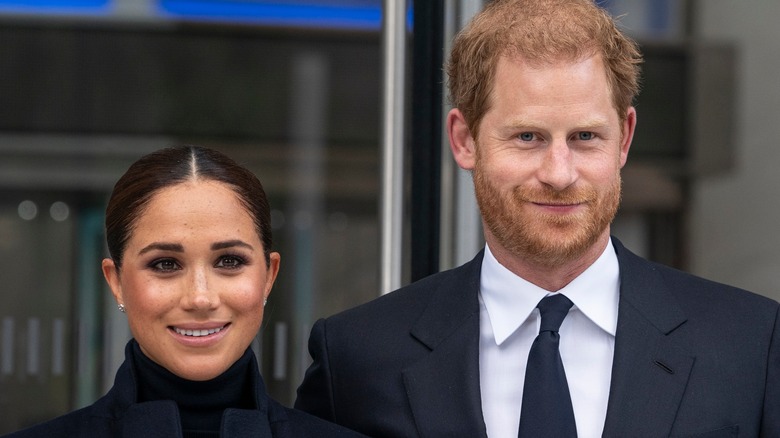 lev radin/Shutterstock
Prince Harry lost his mother at a young age, but he continues to pay tribute to Princess Diana throughout the various stages of his life, proving he's anything but "spare." Prince Harry's creation of The Invictus Games — which allows wounded servicemen to compete in a variety of sporting events — was even inspired by his mother. "I certainly hope and believe everything I do makes her proud," Prince Harry shared with People in 2016. "In the 12 short years I was lucky enough to have with her, I saw and felt the energy and lift she got from helping others, no matter their background, ailment or status. Her life and theirs was better for it, however short theirs or hers was." 
Prince Harry also honors his mother through his wife, Meghan Markle. Before their wedding in 2018, Prince Harry proposed to Meghan with a diamond from Botswana, which once belonged to Princess Diana (via Insider). And for their wedding, he handpicked flowers from a garden inside of Kensington Palace as tribute to his mom, per Town & Country. Of course, the greatest way that Prince Harry is honoring his mother's legacy is by protecting his wife and family. "My biggest concern was history repeating itself," Prince Harry shared with Oprah Winfrey in 2021 (via HuffPost). "What I was seeing was history repeating itself. More perhaps, or far more dangerously, because then you add race in, and social media in. And when I'm talking about history repeating itself, I'm talking about my mother."