How Madonna Really Got Her Role In A League Of Their Own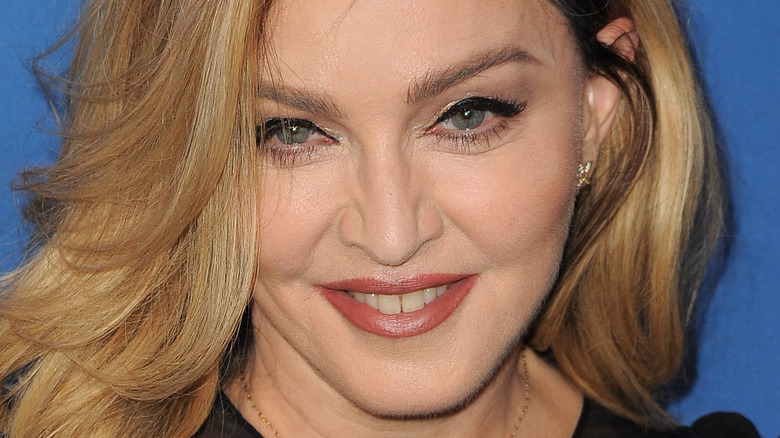 Angela Weiss/Getty Images
"A League of Their Own" has many iconic lines and characters. "There's no crying in baseball" has lived on, and so has the positive memory of Dottie, Kit, Doris, and Marla Hooch. Mixed in with all of the fun of this historical drama was "All The Way" Mae Mordabito, played by Madonna. She and the other ladies that made up the Rockford Peaches stole viewers' hearts just like the real-life female baseball players stole America's.
But even though the Rockford Peaches and the women in "A League of Their Own" made a fun film that featured world-renowned pop star Madonna, not everyone enjoyed the fact that the singer booked the role. Debra Winger, who was originally cast in Geena Davis' role of Dottie, said that she left the production because of Madonna. Winger told The Telegraph in August 2021 (via Today) that once the pop star was cast, she felt it was going to be "an Elvis film." So, why was Madonna cast in the first place? Because no one fit the role better that's why.
Madonna embodied the role of 'All The Way' Mae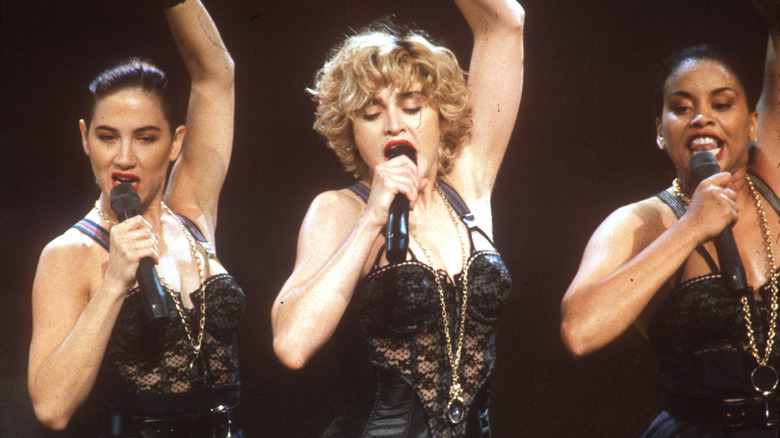 Michael Ochs Archives/Getty Images
Madonna's character Mae was inspired by real-life All-American Girls Professional Baseball League player Faye Dancer, aka "All The Way Faye." According to The Washington Post, Dancer was a great player, a prankster who never let her chaperones rest, and she had a signature slide that Mae painfully does in "A League of Their Own" with a smile for the crowds. "I was forever having fun, raising my skirt up for the fans, doing the splits and handstands when the games got quiet," Dancer said in 1992, according to The Post. The former baseball player died on May 22, 2002. 
Tom Hanks told Entertainment Tonight in 1992 that "no one knew what to expect from the world's most recognizable, popular cultural icon" when asked about working with Madonna.  "She had a distinct personality and that's kind of interesting to get used to after a while," he said. 
By that, Hanks meant that the singer was someone "who has seen an awful lot" and "who has been through a substantial amount." Some would say this is akin to Mae's characterization. "All The Way" Mae knows how attractive she is and uses it to her advantage. But, under it all, she still has feelings and isn't as tough as she might let on. "I did end up liking her. I thought she was neat. I thought she was cool," Hanks shared.
Madonna had a positive impact on her co-stars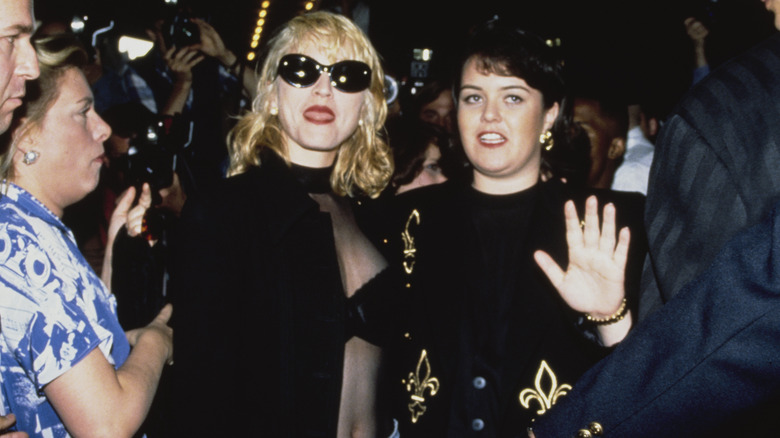 Michael Ochs Archives/Getty Images
In addition to playing Mae wonderfully and basically becoming "[part] of the ensemble," according to Tom Hanks, Madonna made a lasting impact on her fellow cast mates (via Entertainment Tonight). Most notably, Rosie O'Donnell, who played Doris Murphy, and Madonna became fast friends. 
"Rosie was not afraid of Madonna," Megan Cavanagh told Entertainment Weekly in 1992 (via E! News). "[O'Donnell] did what she wanted to do, and I think Madonna loved that." For example, O'Donnell proved how unafraid she was of the pop icon by singing Madonna's own tunes on-set. "Rosie would sing all of 'Holiday,' and Madonna would get mad at her and say, 'Don't ever sing one of my songs again,'" Cavanagh added. "And the next day, [O'Donnell would] come out and sing 'Vogue.' It was so fun to watch her do that."
Madonna's positive impact likely resulted from the fact that she definitely wanted to be there, according to producer Robert Greenhut. He told ESPNW that, even when he told the singer that it paid "very little money" compared to her other projects, Madonna said she "wanted to be diverse in her career" (via E! News). And he said that she was "ultimately... a sweetheart."