Here's What Taylor Momsen Really Looks Like Without Makeup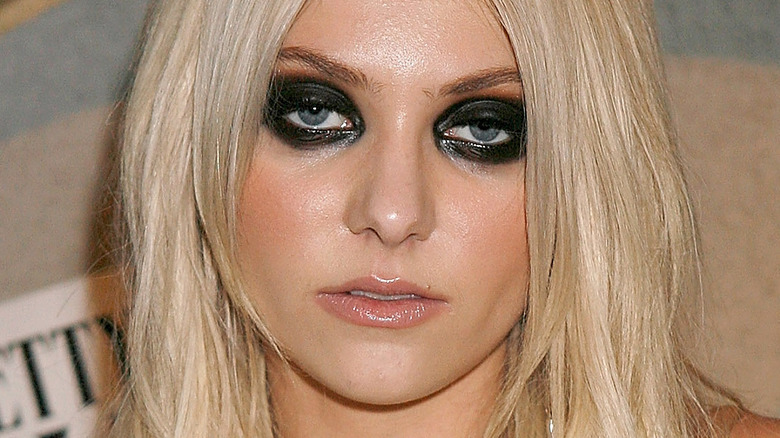 Jo Hale/Getty Images
Taylor Momsen underwent quite the transformation for her role in the 2000 film "How the Grinch Stole Christmas." She told "Today" that she had her first experience with fake eyelashes when she played Cindy Lou Who, the cherub-cheeked little girl who makes the movie's titular, verdant monster reconsider his vendetta against Christmas — and she also rocked an elaborate hairpiece. However, she didn't have to spend as much time in the makeup artist's chair as some of her co-stars.
Momsen explained that she wasn't old enough to wear a prosthetic nose like the other actors who played Whoville residents. "They wrote a line into the film: 'Oh, she hasn't even grown into her nose yet,'" she recalled. "So they just put a little blush on my nose."
As a teen, Momsen joined the cast of "Gossip Girl," a show in which having an immaculate appearance was of the utmost importance, but she'd eventually ditch the preppy Upper East Side aesthetic. In 2011, Momsen quit acting to focus on her career as the frontwoman for the rock group The Pretty Reckless, per Elle. "One was a job that I did when I was a child, and one is something that is my whole identity and something that I hope to do for the rest of my life," she told WWD in 2021. Momsen also adopted a signature beauty look: heavy black makeup around her eyes. But after she got COVID-19, fans got to see what Momsen looks like without any makeup.
Taylor Momsen's eye makeup secrets
In July, Taylor Momsen shared a makeup-free selfie with her Instagram followers to celebrate testing negative for COVID after having the virus. "Free and clear!" she captioned the photo. Some of her fans were pretty bowled over by how great she looked after being sick. "Omg your skin is flawless absolutely amazing," one of her followers wrote in the comments section. "I think that you look Absolutely Beautiful with no makeup Taylor!!!" another admirer remarked.
When she first began performing with The Pretty Reckless in 2009, Momsen usually sported her mask-like eye makeup. "When I go into a store, I just go, 'What's the blackest eyeshadow and eyeliner you have?' And whatever that is, I buy it at the time," she told MTV News. In a later interview with Elle, she said that the beauty brand Bed Head had become a favorite.
Speaking to Buzznet in 2011, Momsen revealed that most of the black around her eyes consisted of eyeshadow, which is much easier to smudge than eyeliner. "I do it myself on the road. Some days it looks better than others," the "Make Me Wanna Die" rocker told OK! "There's no trick. I think it's just the luck of your hand that day." She also said that she's a big fan of makeup wipes.
Why Taylor Momsen's Gossip Girl character got a makeover
On "Gossip Girl," Taylor Momsen's character, Jenny "Little J" Humphrey, originally aspired to be a chic prep school princess like Blair Waldorf (Leighton Meester). But when Momsen started touring with The Pretty Reckless, Jenny adopted the actor's real-life gothic style, including her dark makeup and icy blonde hair. "It was hard at a certain point to write for the old Jenny; we had to write for the new Taylor," EP Joshua Safron told Vulture. Eventually, Momsen lost interest in the role entirely and was written off the show so that she could pursue her real passion. "At one point I [said], 'I am so faking the world of who I am. I think people might actually start believing that. This is not going to work for me,'" Momsen told Faze Teen.
In a 2013 interview with the New York Post, Momsen said that "How the Grinch Stole Christmas" makeup artist Rick Baker deserves some credit for her goth style. She recalled visiting his home on Halloween as a child and being in awe of the macabre décor, which consisted of some of his creations for horror flicks.
Momsen initially did her Halloween-worthy makeup herself, per Teen Vogue, but makeup artist Steph Gomez later started accompanying her on tour. Gomez gave the rocker's edgy eye makeup a makeover by amping it up with an amount of glitter that would surely make Cindy Lou Who smile.