What Really Happened To The Challenge's Paula Meronek?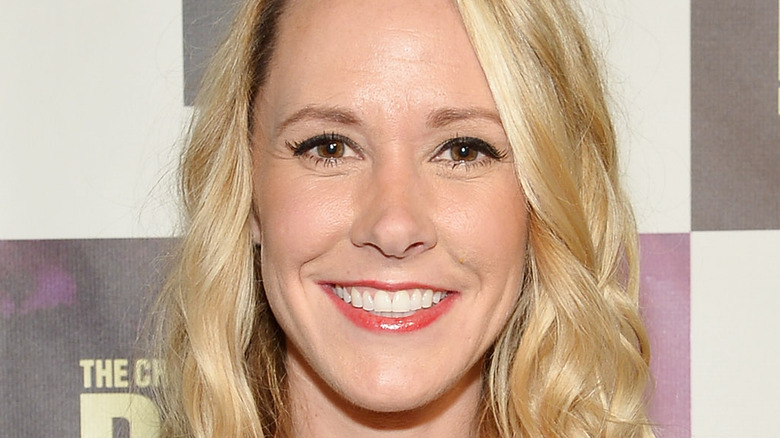 Mike Coppola/Getty Images
Fans first met Paula Meronek on MTV's "The Real World: Key West" in 2006. At the time, Meronek was 24 years old and had just started her career at a marketing job in New Jersey, per The New York Times. From the start, Meronek told cameras that she had an eating disorder and later revealed her drinking problem and abusive relationship with her then-boyfriend. 
Meronek's castmates were unaware of her eating disorder but suspected that something was amiss. "Key West" cast member Tyler Duckworth recalled feeling stunned upon first seeing Meronek. "She was easily the worst case of anorexia I had ever seen," he confessed. "I thought to myself: 'Stop the show. What is she doing here?'" Duckworth, who was close with Meronek at the time, admitted to feeling responsible for his castmate and worried about her health. 
On July 11, 2006, while "The Real World: Key West" was airing, Meronek was arrested after a physical altercation with her boyfriend at the time, John Alyward. As The Middletown Press reported, Meronek allegedly bit Alyward multiple times on his arms and hands after he reportedly denied her entry into their shared home. Meronek was charged with third-degree assault, while Alyward was hit with a disorderly conduct charge. On October 4, 2006, Courant reported that the charges against Meronek were dropped. After her brush with the law, it looked as if Meronek was done with her toxic relationship, and over the years, she has turned her life around pretty dramatically. 
Paula Meronek's many wins during and after The Challenge
Paula Meronek went on to compete in "The Challenge: The Duel," where she reunited with her "Real World" co-star, Tyler Duckworth. Although she didn't win her first few seasons of "The Challenge," Meronek eventually earned her champion title by winning "Rivals" and "Rivals II." 
Following her big win after "Rivals II," it seemed as if Meronek was done with the reality television world. In 2014, she announced that she and her then-fiance, Jack Beckert were expecting a baby. Meronek shared a snap of her son's sonogram picture and wrote, "Ok everyone...just wanted to officially announce that @jackbeckert and I are expecting the arrival of this lil guy in the beginning of July...yes this is correct!!!" 
Meronek and Beckert got married on April 6, 2014, just months before they had their son, Atlas. The couple posed together with Beckert's hand over her baby bump. "thanks to all our friends and family for making it the best day of our lives...we are truly blessed." Meronek and Beckert went on to have two more children together. In May 2015, Meronek showed off her baby bump and the following November, she announced the arrival of her daughter, Athena Rose Beckert. In 2019, she welcomed her second daughter, Aurora Mae Beckert. "We are officially a family of 5," she wrote. Since her MTV days, it's apparent that Meronek is completely devoted to her family and is thriving at motherhood.
Paula Meronek celebrates turning her life around
In November 2020, Paula Meronek celebrated seven years of sobriety on Instagram. "2556 days," she wrote alongside a photo that read, "Keep calm because 7 years sober is sexy as hell." Meronek's MTV family, including Derrick Kosinski and Johanna Botta, left her well wishes. Many fans also congratulated Meronek on her achievement and noted how far she had come since her time on "The Real World: Key West."
Meronek has traded her partying lifestyle for a healthier one and is an avid yoga lover. She often posts inspirational messages to her followers, such as, "Yoga allows me to focus on one thing...me. Make yourself a priority. Period." On July 7th, 2021, Meronek reflected on turning forty. She wrote a lengthy Instagram post on the dichotomies of her milestone, sharing, "I feel young and old and that's ok. I feel like I"m not where I should be, but I'm on the right path." She went on to say that she was looking forward to the next forty years.
The former reality star lives in New Jersey with her family and works at Power Home Remodeling Group. In 2021, she celebrated her sixth year working at the company she described as her "forever career." She recently announced that the company officially started a foundation called Power The Cure to keep their fight going to find a cure for pediatric cancer. Meronek beamed as she posed in front of the cameras, and why wouldn't she? It looks has a lot to celebrate.