What Really Happened Between Denise Richards And Richie Sambora?
Carlos Alvarez/Getty Images
An inevitably controversial pair, actor Denise Richards and Bon Jovi lead guitarist Richie Sambora made headlines for the entirety of their time together. Per People, the twosome first started dating in 2006 shortly after Sambora divorced his ex-wife, Heather Locklear. And while it is not uncommon to see stars rebound from past relationships very quickly, Richards and Sambora's romance stirred up controversy for a number of reasons.
Prior to her relationship with Sambora, Richards was friends with the musician's ex-wife Locklear. In fact, in her book, "The Real Girl Next Door," Richards wrote that she and her ex, Charlie Sheen, often went on double dates with Sambora and Locklear. To cap up the controversies, Richards had only just broken up with Sheen in 2006 when she started dating the Bon Jovi guitarist.
Of course, all of this stirred up rumors about Richards' possible role in Sambora's divorce from Locklear — but the "Love Actually" actor insists her romance with the musician started only after they were both separated. "I did not interfere with their marriage," she insisted in 2008 (via People). Richards would also later open up about her relationship with Locklear, telling Entertainment Tonight (via HollywoodLife) that "you can't help who you fall for and that friendship, unfortunately, was done and wasn't salvageable." Despite the pair's great love for each other, however, their relationship didn't last, ending almost as quickly as it started. 
Denise Richards and Richie Sambora broke up amid their individual struggles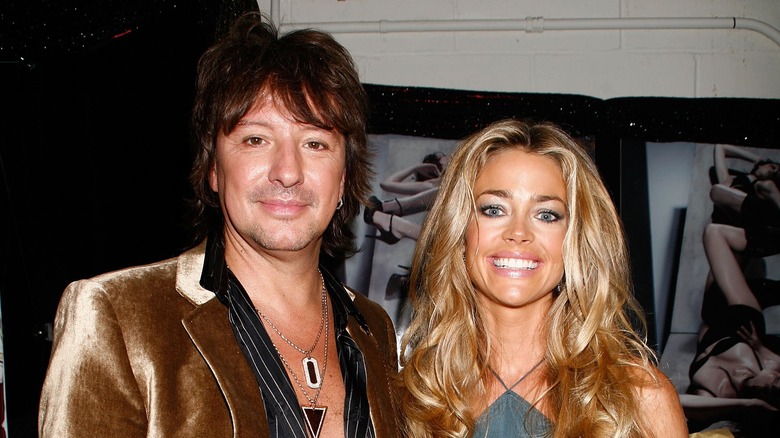 Amy Sussman/Getty Images
Denise Richards and Richie Sambora's relationship came to an end in May 2007, after only one year of dating, per People. Given the controversial start to their romance, the pair's break up was hardly a suprise to many. However, , it was not for a lack of love, but rather because of individual difficulties they were both facing at the time. 
According to Richards' memoir, "The Real Girl Next Door," prior to their breakup, Sambora's father was diagnosed with lung cancer, while Richards' mother faced her own kidney cancer diagnosis. In addition to this, the "Wild Things" actor was caught up in a bitter custody battle with her ex, Charlie Sheen.
"Ending the relationship was sad and hard," Richards wrote in her 2011 memoir. "He was a dear friend with whom I had some wonderful times and confided some of my darkest fears, and it was hard to give that up. But I needed to focus on my divorce, which had unfortunately turned into a messy custody issue, and my career, which the negative press had affected badly." The couple's split, however, was temporary, as Richards and Sambora got back together four years later in 2011, per the Daily Mail.
Denise Richards and Richie Sambora remained friendly through it all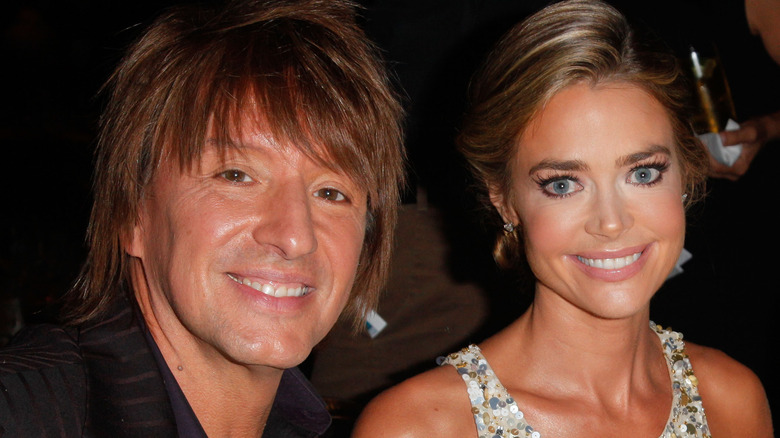 Imeh Akpanudosen/Getty Images
In June 2012, only a few months after rekindling their romance, the Daily Mail reported that Denise Richards and Richie Sambora had once again split up. According to the outlet, the couple got into a heated argument, ending with the "Love Actually" actor telling Sambora she could not go on with the relationship. Despite their rather rocky time together, Richards and Sambora have remained friendly in the years since their breakup. "We aren't dating, but as a lot of people have seen, I stay very friendly with my exes. All of them," Richards said of the Bon Jovi guitarist (via Us Weekly) shortly after their split, adding that she and the Sambora would "always have a bond with each other and we will stay good friends forever."
Since their split, both Richards and Sambora have moved on to other relationships with the "Send It!" star saying "I do" to Aaron Phypers in 2018, per Us Weekly. Sambora was also in a four-year relationship with musician Orianthi before they called it quits in 2018, according to the Daily Mail. Though they have not been seen together in recent years, there is no doubt that Sambora and Richards have remained cordial with each other — even to date.