The Tragic Death Of Basketball Wives Star Brooke Bailey's Daughter Kayla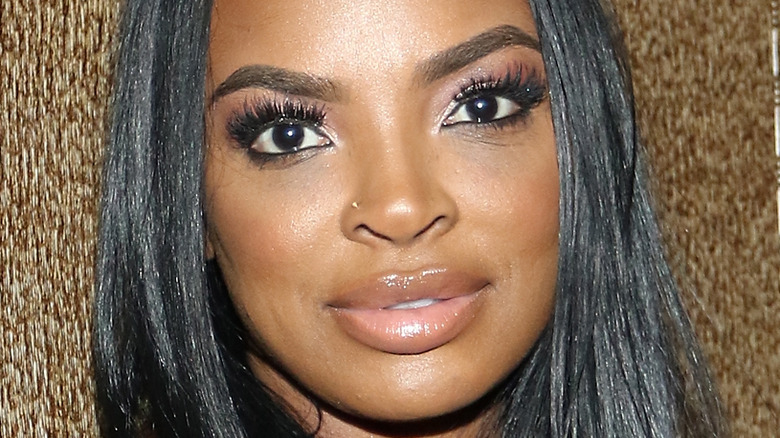 Cassidy Sparrow/Getty Images
The daughter of Brooke Bailey, star of the VH1 reality show "Basketball Wives," has tragically died at age 25, her mother has revealed. Brooke Bailey shared the devastating news on Instagram, where she shared many photos of her daughter, Kayla Bailey, along with a gut-wrenching note announcing her daughter's sudden death. "Forever my baby, Pretty Black aka Kayla Nicole Bailey," she captioned the post, adding, "This is not a goodbye. Mommy will see you soon."
The cause of Kayla Bailey's death was initially unclear, but there are multiple reports that Kayla Bailey died from injuries sustained in a car accident. According to Sportskeeda, the accident occurred on the evening of September 24. Brooke Bailey seemingly confirmed the tragic details of her daughter's passing by reposting an article on her Instagram Story that referenced the car accident. According to Page Six, an official cause of death has yet to be released.
The reality star has received an outpouring of support
Longtime "Basketball Wives" star Brooke Bailey has received an outpouring of support from friends and followers alike in the wake of her daughter's sudden daughter's death. Social media stars Shannon and Shannade Clermont wrote, "Soooo sorry for your loss. Our condolences praying for you." Meanwhile, "Love & Hip Hop: Atlanta" alum, Tammy Riva, penned a heartfelt tribute that said, "Omg beautiful I'm sooooo sorry! My prayers are with you im lifting your name high tonight in prayer."
Brooke Bailey took to her Instagram Story (via Page Six) to thank all of those offering their condolences, writing, "Thank you for LOVING my baby girl. Thank you." She later added, "My baby girl is so loved by all of youuuuu !!! the love and support my family has received today is unreal and so appreciated."
The reality star paid tribute to her daughter, Kayla Bailey, with the addition of a note on her Instagram bio that reads: "FOREVER Kayla Nicole Bailey 3/2/97-9/25/22 #PrettyBlack."