Alfonso Ribeiro's Juicy Question For Emma Slater And Trevor Donovan Has DWTS Fans Fired Up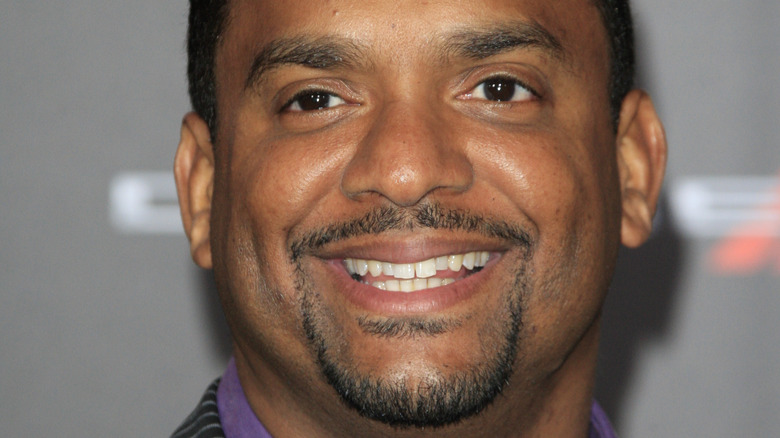 Kathy Hutchins/Shutterstock
Trevor Donovan danced a steamy rumba on September 26 with his "Dancing With the Stars" partner Emma Slater, impressing fans and judges alike, per People. "You're gonna be on a lot of people's minds tonight," Carrie Ann Inaba said during the judges' comments. "It's about time we had a rumba like that in the ballroom again." The pair earned a 30 out of 40 points, nine points higher than the week before, and even the hosts couldn't get enough of Donovan and Slater's chemistry.
"I gotta know — are those your acting skills or was that real?" co-host Alfonso Ribeiro asked the two, per Us Weekly. "If you're really doing a good job acting, it all comes from the truth so there's something real in every performance," Donovan responded. Tyra Banks was so into the steaminess of the dance that she forgot to let Len Goodman comment on it.
These chemistry questions came shortly after it was announced that Slater and Sasha Farber went their separate ways after six years of marriage. In August, a source told E! News that the couple — who got engaged during an airing of "Dancing with the Stars" — split amicably, noting it boiled down to them being on divergent paths. So although Slater and Donovan are technically both single, Ribeiro's question didn't sit right with fans.
Fans think Alfonso Ribeiro's question was 'disrespectful'
Although Emma Slater and Sasha Farber are done with their marriage, they have proven they're still friends. Case in point: Us Weekly reported on September 16 the two "Dancing with the Stars" professionals were spotted out with Farber's Season 31 partner Selma Blair. And fans aren't happy with Tyra Banks and Alfonso Ribeiro for potentially making things awkward.
Many people thought it was "disrespectful" to the two professional dancers since they were both in the room when Ribeiro asked if their chemistry was legit. One Twitter user hoped it was the production team telling the co-host what to say, mentioning that, either way, it was an inconsiderate question to ask. "Emma and Sasha have given so much to DWTS, they deserved better than that. And so did Trevor," they added. Someone else tweeted, "I felt bad for @EmmaSlaterDance I cringed. I can only imagine how everyone involved felt. Let's do better & keep the show about dancing & scores, voting etc."
Even Slater was shocked that the question came up. "I couldn't believe it," the professional dancer said, per Hollywood Life. Slater mentioned that she was so taken aback that she couldn't think, and she was happy Donovan was able to swoop in to answer. Donovan also expanded his response, saying that although the two may not be romantically involved, it was easier to connect to his partner as they are good friends.