Carrie Underwood Warns Fans That She 'Might Look A Bit Different' Following November Accident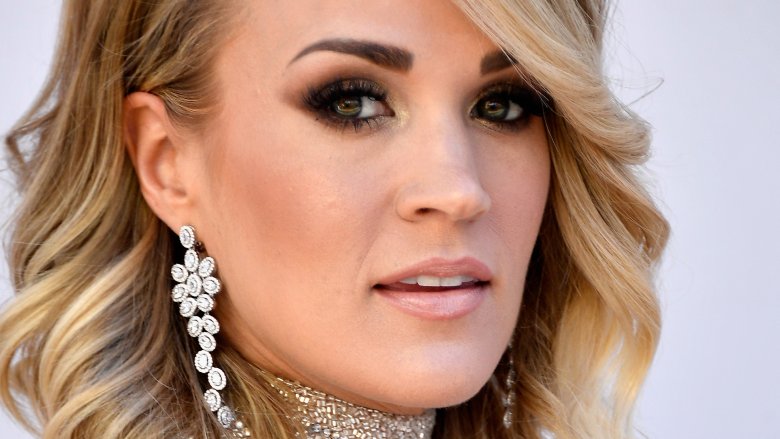 Getty Images
The next time we see the American Idol winner she might not look like herself.
Entertainment Tonight reports that Carrie Underwood shared a letter with the members of her fan club on Sunday, Dec. 31, 2017, detailing an accident in November in which she fell on the steps outside of her home. And, apparently, her wrist wasn't the only part of her body that she'd injured in the accident.
"There is also another part of the story that I haven't been ready to talk about since I have still been living it and there has been much uncertainty as to how things will end up," Underwood wrote. "It's crazy how a freak random accident can change your life."
The "Before He Cheats" singer continued, "In addition to breaking my wrist, I somehow managed to injure my face as well. I'll spare you the gruesome details, but when I came out of surgery the night of my fall, the doctor told [Underwood's husband] Mike that he had put between 40 and 50 stitches in."
And after having several weeks to heal, Underwood said she's "not quite looking the same" these days. "I honestly don't know how things are going to end up but I do know this: I am grateful," she noted. "I am grateful that it wasn't much, much worse. And I am grateful for the people in my life that have been there every step of the way."
Still, Underwood's not going to let her past injuries stop her from moving forward. "I am determined to make 2018 amazing and I want to share things with you along the way," the 34-year-old said. "And when I am ready to get in front of a camera, I want you all to understand why I might look a bit different."
As Nicki Swift previously reported, Underwood fell down the steps outside of her house back in November 2017, breaking her wrist. As a result, she had to cancel her performance at the Country Rising benefit concert on Nov. 12. Days later, Underwood revealed that she underwent surgery for her broken wrist, noting that she'd be "setting off airport metal detectors from now on."
In late December, Underwood shared a selfie on her Instagram page, featuring the singer's face mostly hidden by a scarf. "When in 5 degree weather, wrap your @caliabycarrie scarf around your neck and face...you keep warm AND look like an awesome winter snow ninja!" she wrote in the caption.
While we wait for Underwood to make her first public appearance since her fall, read all about the shady side of some of country music's biggest stars.