Who Is Taye Diggs' Girlfriend, Apryl Jones?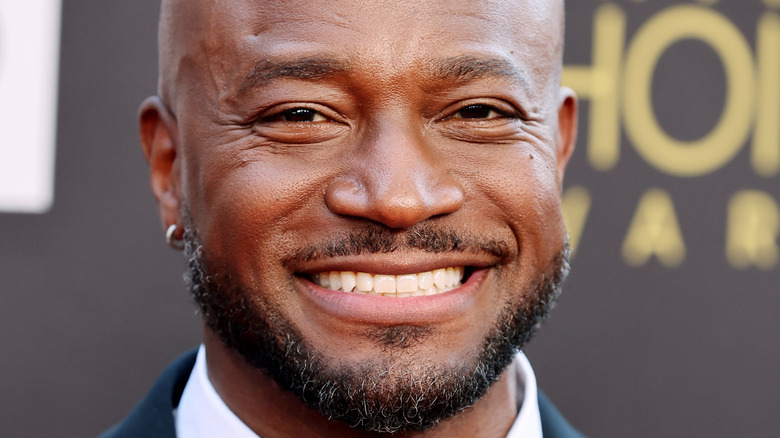 Amy Sussman/Getty Images
In December 2021, actor Taye Diggs took the plunge and joined the legion of celebrities on the short-form video app, TikTok. Days later, the "Opening Night" star made headlines when he posted a clip which showed him dancing alongside a mystery woman, who later turned out to be Apryl Jones.
Diggs — who was married to fellow actor Idina Menzel from 2003 to 2014 — was recently linked to "Selling Sunset" star Amanza Smith. Following the end of their five-year relationship, Smith suggested to E! News that the pair's union was doomed from the start. "If you're the first relationship someone has fresh out of a divorce, it's probably never going to work. We're better friends," Smith said.
It would take another year for Diggs to publicly move on, but it appears that he is very happy in his current relationship with Jones. The couple made their red carpet debut in February and were sure to gush over each other after the event. "I LAUGH MY A** OFF WITH YOU! YOU'RE SO F'ING DOPE," Jones wrote alongside of photo of the couple at the premiere of "Incarceration." And while Diggs has made no secret of his romance with Jones, some may still be wondering who she is.
Apryl Jones appeared on 'Love & Hip Hop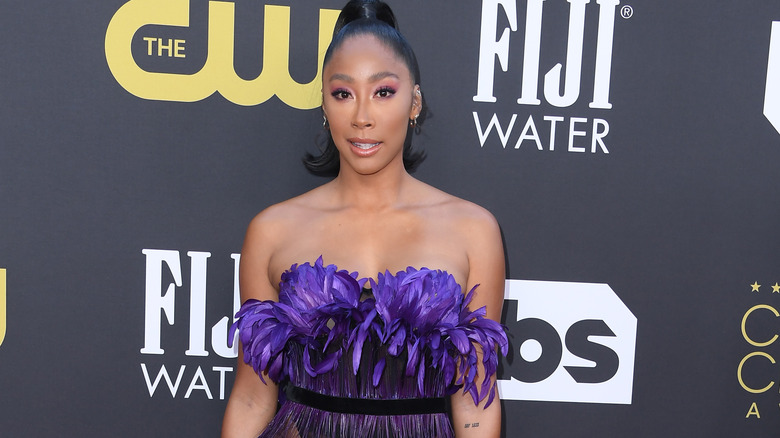 Steve Granitz/Getty Images
Long before Apryl Jones became romantically involved with Taye Diggs, she appeared on the hit reality show "Love & Hip Hop: Hollywood." The series, which premiered in 2014, follows the lives of famous hip-hop influencers as the navigate life, love, and the music industry. At the time of the show's inception, Jones was dating former B2K member Omarion. However, her time on the popular reality show quickly became messy, as Jones later began dating Omarion's bandmate, Lil Fizz.
The show is currently on hiatus — following the impact of the COVID-19 pandemic — but Jones has hinted that she will not return to the platform if given the opportunity. "That whole situation with me and [Omarion] on 'Love and Hip Hop' was completely controlled. I never even wanted to do freakin' reality TV," Jones told Madame Noire in 2021. The TV star went on to explain that her love for the "Ice Box" singer was the only reason she participated in the series, and that she never felt as though she was able to truly showcase her own personality.
Taye Diggs and Apryl Jones are going strong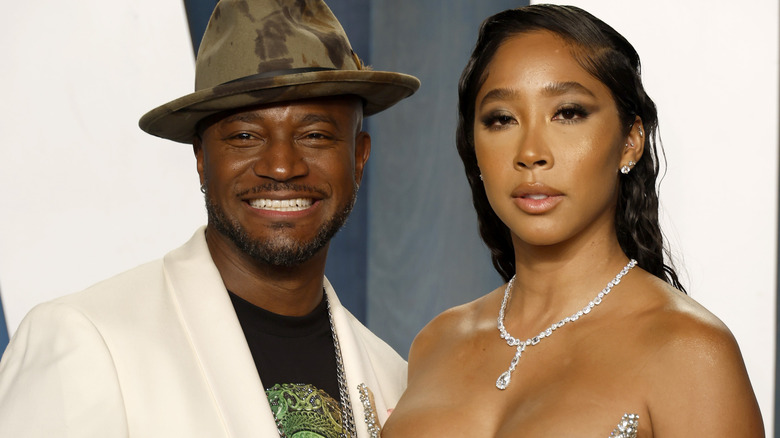 Frazer Harrison/Getty Images
Taye Diggs has made his feelings about his girlfriend, Apryl Jones, very clear. The "Rent" actor took to Instagram on August 26, to share an adorable declaration about his reality star beau. "As an adult, there are times in life where you can't believe what you are blessed with," Diggs exclaimed. "The fact that this woman is in love with me ... That's how I know, praise you, Lord Jesus or Buddha or universe, 'cause somehow she's next to me." Jones, who is sitting next to Diggs in the clip, then proceeds to playfully interfere with the actor as he attempts to finish speaking. In response to the post, Jones commented, "Amen" along with a heart and heart-eyed emojis.
Fans of the entertainers also appear to enjoy the couple's online antics. When Jones posted a video of the pair improving on September 25, fans rushed to the comment section to share notes about the duo. "You guys are so fun together," one person commented. While another wrote, "Isn't it beautiful finding the one."