What You Need To Know About Paris Hilton's Fiancé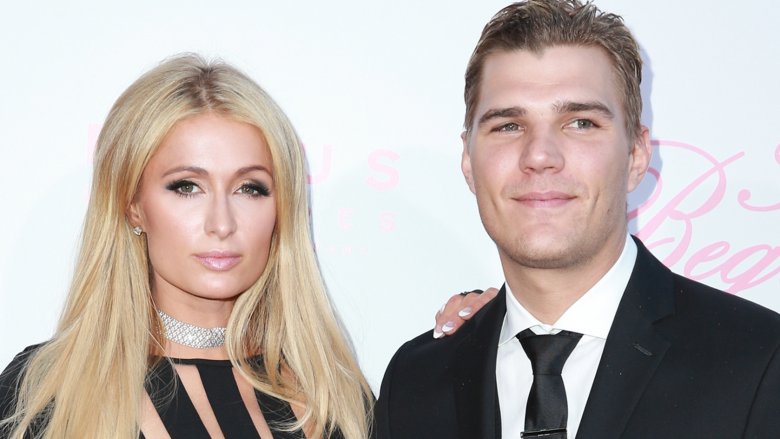 Getty Images
Paris Hilton, the ultimate party girl, will soon be an honest woman. The hotel heiress turned Simple Life star turned DJ is now engaged to actor Chris Zylka, who she's been dating for two years.
"I am so excited to be engaged to the love of my life and my best friend," Hilton told People on Jan. 2, 2018. "I have never felt so happy, safe and loved. He is perfect for me in every way and showed me that fairy tales really do exist! Ever since our first date I knew there was something special about him. I have never in my life met a man so loyal, dedicated, and loving. I knew right from the start that I wanted to be with him forever."
That's great. So who is this guy?
He changed his name to honor his grandfather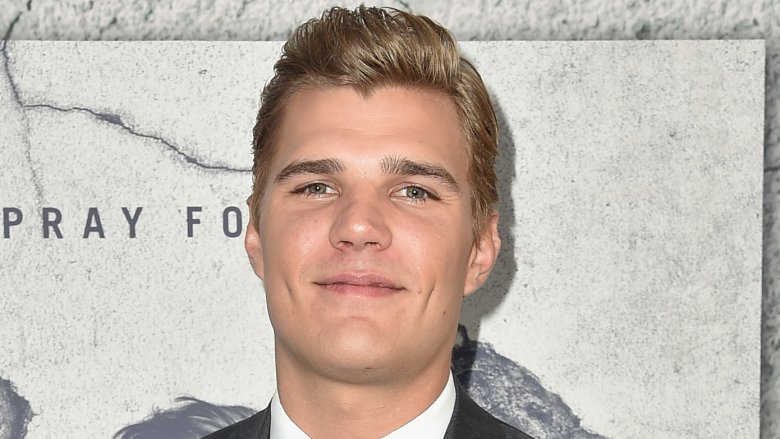 Getty Images
Zylka was actually born with the last name "Settlemire." The actor told the Daily Beast that he changed his last name to his mother's maiden name, "Zylka," after his maternal grandfather suffered a heart attack. He dropped out of college at the University of Toledo, where he played football for two years, to care for his grandfather after the cardiac incident.
"I changed [my name] for my grandpa," Zylka said. "I wanted to make him proud." He noted that he asked his great-grandmother for permission before making the change, noting, "Before she passed away, she got to see it in the title sequence for 90210."
He used to be homeless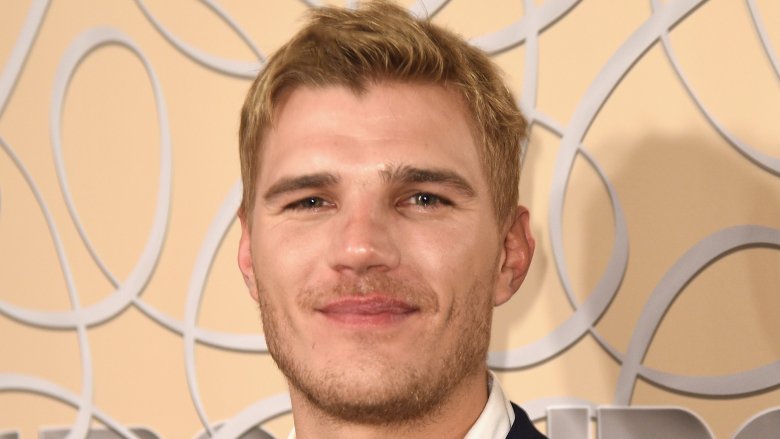 Getty Images
While Paris Hilton was born with a silver (and gold, platinum, and diamond) spoon, Zylka came from nothing. The Daily Beast reported that Zylka moved to Los Angeles after dropping out of college without a job or any prospects. He ended up homeless and sleeping behind a dumpster in a 7-Eleven parking lot, often sneaking into a nearby apartment complex to charge his cellphone and use their gym and showers "so [his] mom wouldn't know [he] was homeless." He later began working in restaurants and couch-surfing with friends he'd made at those jobs. 
Zylka was eventually discovered at a restaurant when he went to pick up a paycheck, and the rest is history.
He began his career with bit parts
Zylka's first onscreen role was in 90210 in 2008 as Jason in the episode "Games People Play." He later reprised the role in the 2013 episode "We're Not in Kansas Anymore." He also had walk-on roles in three episodes of Everybody Hates Chris in 2008, which opened the door for a guest starring appearance on two episodes of Hannah Montana in 2009 as Gabe LaMotti, who had a crush on Miley Cyrus' titular character.
His Disney gig led to bigger roles, including sci-fi sex comedy Kaboom (2010) and Joey Donner on the 10 Things I Hate About You TV series from 2009 to 2010. After some TV movie work, Zylka starred as Blake in Shark Night 3D (2011) before landing his breakthrough role of Jake Armstrong in The CW's The Secret Circle from 2011 to 2012. From there, he appeared in Piranha 3DD (2012), The Amazing Spider-Man (2012), and Freeform's Twisted TV series in 2013, followed by a role on the HBO hit The Leftovers from 2014 to 2017.
He doesn't mind getting naked onscreen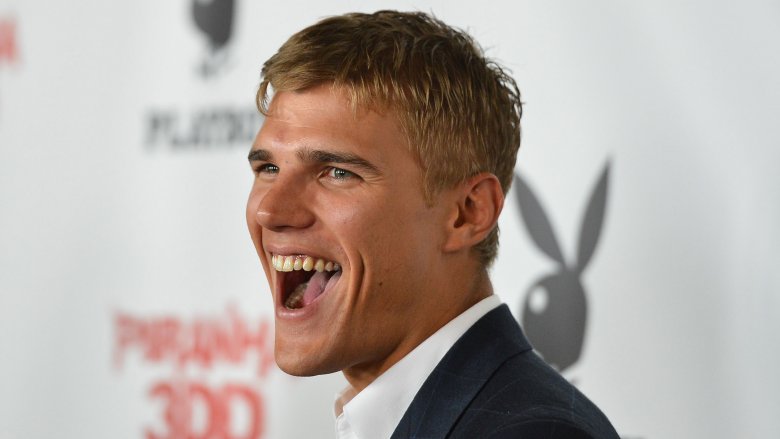 Getty Images
Of course, when you're jacked like Zylka, you're probably a bit more comfortable getting naked than the average person. Still, Zylka seems more at ease filming intimate scenes than other stars.
"I think it makes the crew more uncomfortable than it makes me," Zylka told the Daily Beast. "I mean, I don't shower with shorts on. I don't recall ever j**king off with underwear on. So the nudity makes it real, I guess."
He had a bitter Twitter breakup with Lucy Hale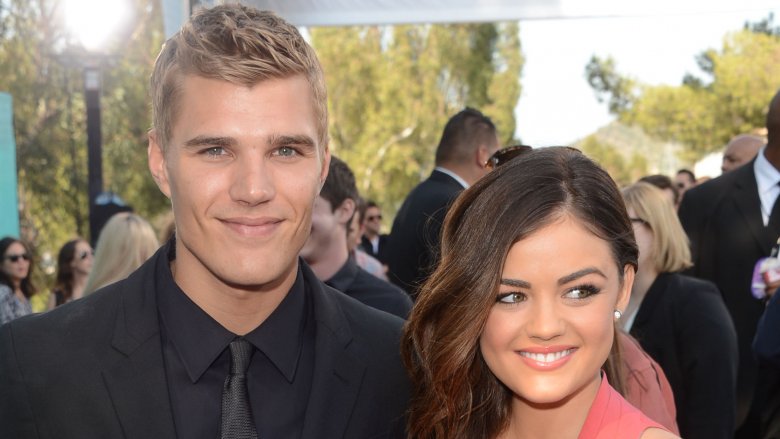 Getty Images
Zylka dated Pretty Little Liars star Lucy Hale for nine months before they split in September 2012 — and the breakup got ugly. 
Zylka took to bitterly tweeting about Hale, writing (via E! News
), "Don't have a girlfriend. She decided she was too good... There's a difference between celebrities and movie stars. Celebrities fade away, while movie stars stick around forever." He later tweeted, "Never any disrespect towards anyone. Only if you say what you say you should stick to it. If you say you love then love."
Hale took the split in stride, and the next day, Zylka apologized for his saltiness.
"I'd like to apologize about my previous comments," he tweeted (via Us Weekly). "Lucy is not only one of the most talented people I've ever had the pleasure of knowing, but also one [of] the most beautiful, inside and out. Anyone who's ever watched, or had the pleasure of meeting her, knows this to be true... I apologize for tarnishing any view anyone has on this amazing woman. I had the honor of loving her. That love will never fade, as your love should never fade from her as well... The last thing I want to do is be any reason for her to look bad in any way. She a remarkable human with an infectious personality, and a heart bigger than anyone's I've ever known. Proud to love her. And I'll continue to be her biggest fan as I know she will to me too."
His split from Hanna Beth turned salty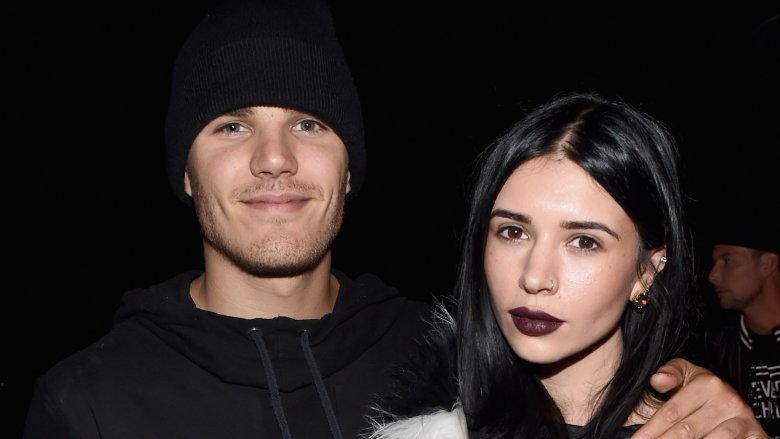 Getty Images
Zylka got engaged to model and fashion designer Hanna Beth in August 2014, but 10 months later the couple was dunzo, and Zylka took the drama public once more.
"I'm disappointed that I didn't see how fake you were, or pay attention to the backstabbing you did in front of me. I will rise up," he wrote in a since-deleted Instagram post (via E! News
). He then tweeted, "When someone's boyfriend shows up at [their] house with flowers while you're in that someone's bed. Don't get involved with them. @TheHannaBeth the truth has been revealed for a long time. Google yourself. @TheHannaBeth have fun 'staying sober' groupie... It was in the bed and the guy from boy london was with the flowers. Pink flowers to be exact."
He later shared a screencap from a friend named Nik, who wrote, "They've been dating for a couple months, if that. She is constantly in and out of relationships with celebrities/musicians. After proclaiming each one as her 'true love' she gets a terrible tattoo to memorialize the relationship, and they break up soon after. This one won't last either."
To really throw his point home, Zylka added, "All the things I've said tonight are things that I looked over and gave my everything too."
He's not on social media anymore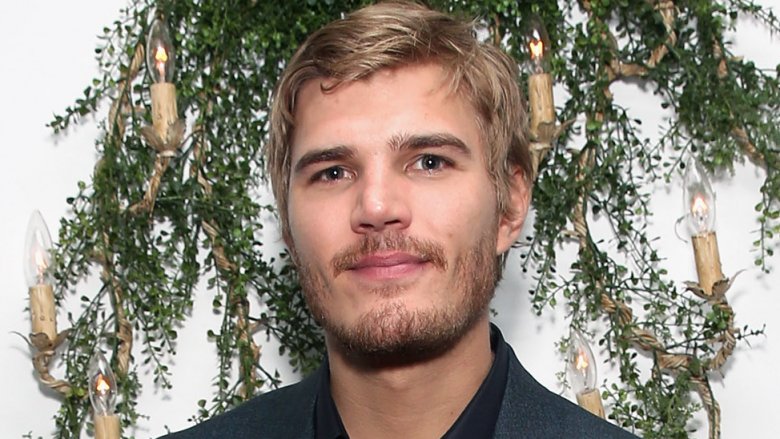 Getty Images
Perhaps because he kept beefing with his exes on social media, Zylka appears to have ditched all his accounts–at least, at the time of this writing. It seems he's learned something from his negative experiences.
He and Paris met a while ago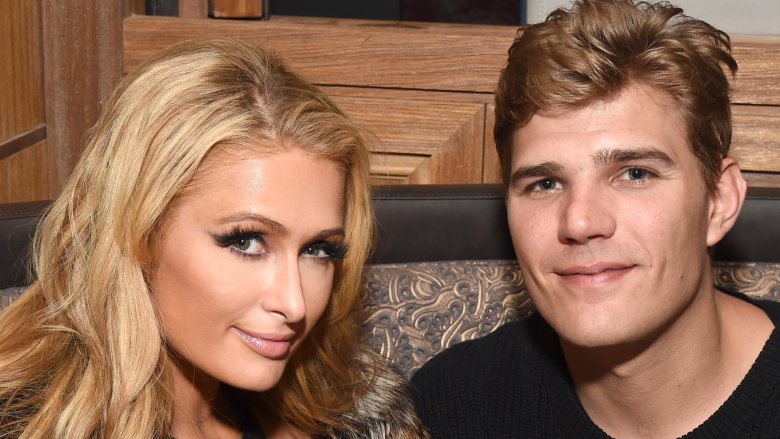 Getty Images
Hilton revealed to Galore magazine in September 2017 that she actually met Zylka back in 2010.
"Chris and I met seven years ago, during an Oscar party being held at the Chateau Marmont," she said. "As soon as he walked through the door, we looked at one another; we're both shy so it took a while, but by the end of the night we couldn't stop laughing and flirting."
He turned a party girl into a homebody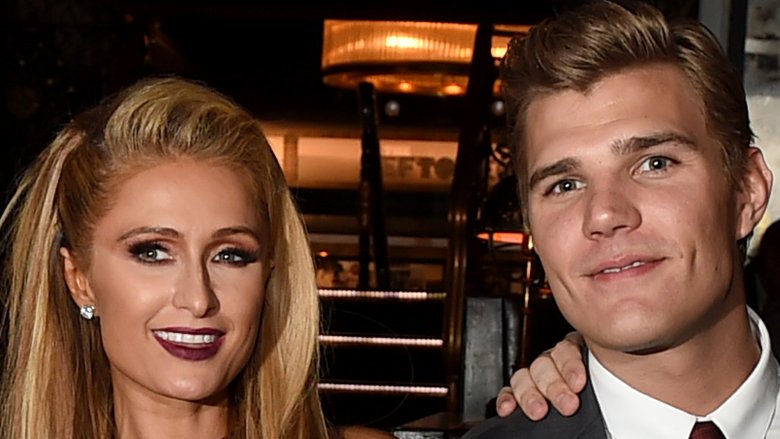 Getty Images
Hilton revealed that Zylka has made her pretty much rethink her entire M.O., which was for years to just party nonstop.
"On our first date he came over to my house. We stayed up all night talking and getting to know each other," she told Galore. "When we had our first kiss I felt that electric feeling and knew there was something special about him." She added, "My favorite thing to do is to be at home with him. He is my best friend and we always have the most amazing time together. For work, I have to be out and be social all the time. So in my private time, I would much rather be at home in bed watching TV with my boyfriend and puppies than out at a club."
He has Paris' name tattooed on his arm
Before getting engaged, Zylka showed his commitment to Hilton in a big, permanent way. He tattooed "Paris" in the traditional Disney font in massive letters on his forearm. 
"Such a lucky girl," Hilton captioned a photo of the ink in July 2017. "My love surprised me and got my name tattooed in #Disney font. And said cause I'm his most magical place on Earth and he finally found his fairytale princess. #BoyfriendGoals #ParisForever."
He's Paris' third fiance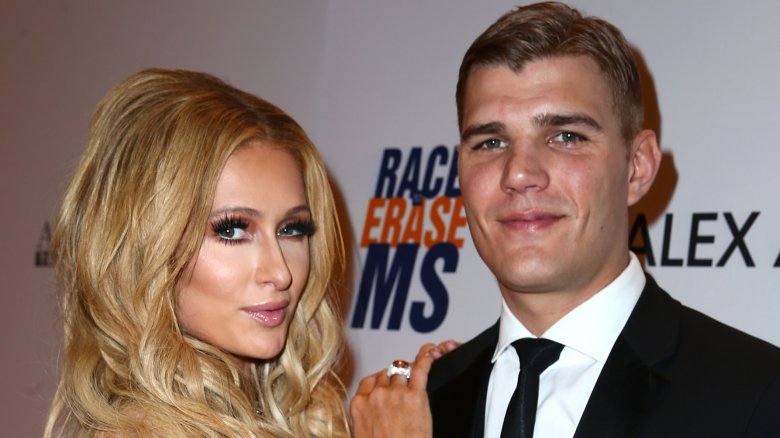 Getty Images
One reason Zylka may have wanted to think over that tattoo a little more before going under the needle: he's Hilton's third fiancé. The heiress was previously engaged to model Jason Shaw from 2002 to 2003, and he was reportedly Hilton's mom's favorite of all the many men Paris has dated. In 2005, she was briefly engaged to Greek socialite Paris Latsis before dumping him for Greek billionaire Stavros Niarchos.
He's a romantic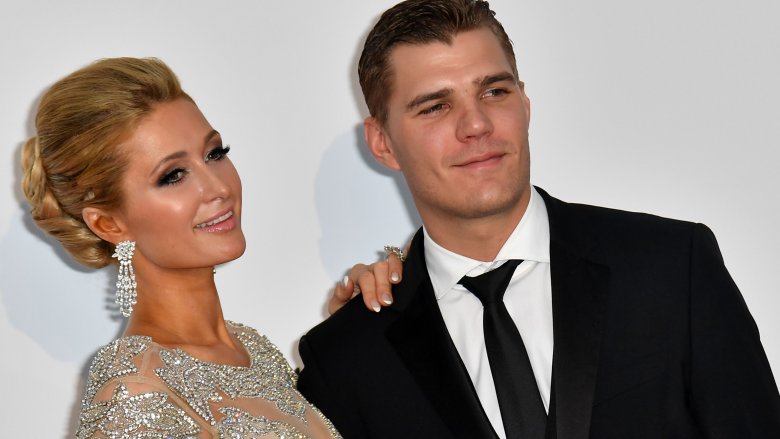 Getty Images
Jeweler Michael Greene, who sold Zylka the massive 20-carat diamond that's currently resting on Hilton's all-important finger, told People that the Leftovers star made all the right moves leading up to his proposal.
"Paris at one point in time told Chris she really loved her mother's pear-shaped diamond, and when Chris came to me that was his request," Greene said. "The pear-shaped really jumped out for him and ultimately for her. He did some fishing, but in the end it was all him. He's a smart guy, and hangs out a lot with the family, and I think she realized how much she liked her mom's ring." Greene added, "Paris was not involved. Chris did it all. He wanted to do everything so perfectly. He wants the best thing for his princess. And he did all the right things. He told me he had to set up a time to meet up with Paris' father to ask for her hand in marriage. He did the whole thing. All the traditions."