Carrie Underwood's Face Revealed In Gym Pic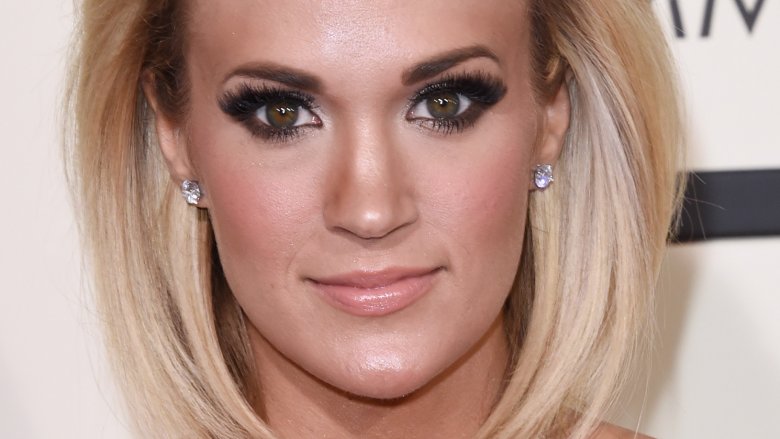 Getty Images
The country music star was spotted out for the first time since her dangerous fall in November 2017.
Carrie Underwood has made headlines after a post-workout snap from December was discovered online. The photo, which was shared by fan and Below Deck star Adrienne Gang, featured the two women posing together. Posted on Dec. 12, 2017, the pic shows Underwood just over a month after her tumble down the stairs outside of her Nashville home.
"Just worked out next to @carrieunderwood NBD... she is adorable and so gracious... LOVE HER!" Gang captioned the photo of herself with the superstar.
As Nicki Swift previously reported, Underwood sustained several injuries from the fall, including cuts, abrasions, and a broken wrist. After canceling her performance at the Country Rising benefit concert on Nov. 12, Underwood underwent surgery on her wrist.
However, Underwood truly shocked already worried fans when she announced that her fall may have resulted in a major change in her appearance. In a letter to her fan club shared in late December, the former American Idol winner revealed that she'd injured her face during the freak accident outside of her home. "In addition to breaking my wrist, I somehow managed to injure my face as well," she wrote. "I'll spare you the gruesome details, but when I came out of surgery the night of my fall, the doctor told [Underwood's husband] Mike that he had put between 40 and 50 stitches in."
As such, Underwood warned fans that she's "not quite looking the same."
"I honestly don't know how things are going to end up but I do know this: I am grateful," the "Before He Cheats" singer added. "I am grateful that it wasn't much, much worse. And I am grateful for the people in my life that have been there every step of the way."
However, judging by Gang's photo alone, Underwood still looks very much like herself. Even Gang, who saw Underwood in person, admitted, "I had no clue she was injured."
Speaking with Us Weekly, Gang added, "I had no idea she got hurt prior to meeting her. She had a wrist brace on, but I didn't think much of it until I saw the headlines after I posted our picture together." She continued, "She looked great and seemed to be in great spirits."
Sounds like Underwood may just be her own worst critic.
While we wait for Underwood to make her first official public appearance since her fall, read all about the shady side of some of country music's biggest stars.