Anderson Cooper's Television Debut Came A Lot Earlier Than You'd Expect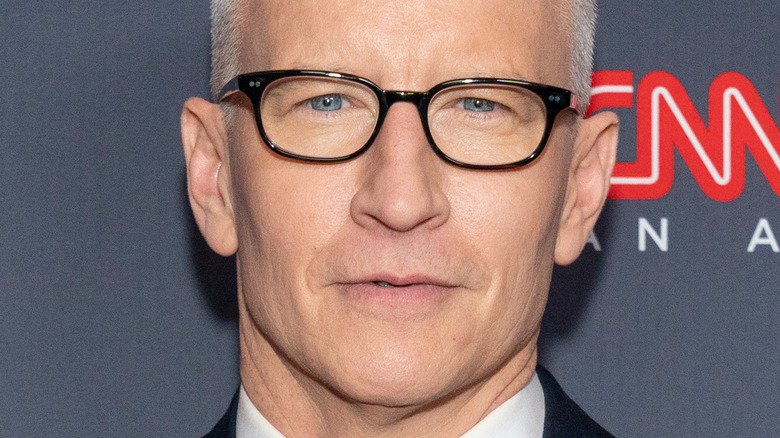 lev radin/Shutterstock
Anderson Cooper is one of the most well-known television news journalists in the country. The industry veteran has been a familiar face on TV since the mid-1990s and he's currently the anchor for "Anderson Cooper 360" on CNN, where he covers major news stories and provides election coverage. He has also been known to let loose in Times Square for live New Year's Eve festivities for the network with his good friend, Bravo host Andy Cohen.
Cooper also comes from a famous family. His mother was heiress and fashion designer Gloria Vanderbilt. The famous socialite died in 2019, but her close relationship with her son was apparent, especially in her later years. Just a few years before her death, Cooper worked with his mother on "Nothing Left Unsaid," a stunning documentary and accompanying book about her life. While the documentary was one of the last projects they worked on together, more than 40 years earlier, the mother-son duo made their TV debut together.
Anderson Cooper made his television debut as a toddler in the 1970s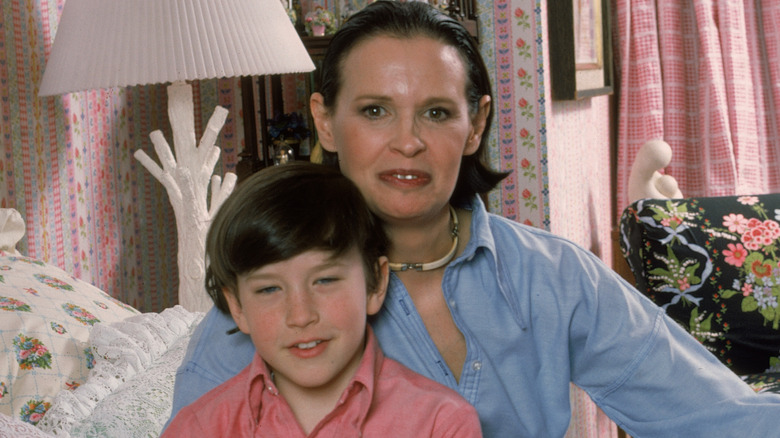 Susan Wood/getty Images/Getty Images
It's hard to imagine Anderson Cooper out from behind his news desk, but his first television appearance actually came when he was only 3 years old. In 1970, Cooper appeared alongside his famous mom Gloria Vanderbilt on "The Tonight Show Starring Johnny Carson," according to Entertainment Tonight. The episode featured the legendary late-night host and his sidekicks Ed McMahon and Doc Severenson, as well as guests James Coco and Phyllis Newman, per IMDb. It aired on September 17, 1970.
But "The Tonight Show" wasn't Cooper's only TV cameo as a kid. The first credit listed on his IMDb page is from 1977, when he appeared as an "imposter" on the TV game show "To Tell the Truth." In the episode, which can be seen on Facebook courtesy of Buzzr, Cooper faked out celeb panelists Nipsey Russell, Kitty Carlisle, Bill Cullen, and Pat Collins as he pretended to be Wally Naughton Jr., a child performer who did a circus act with bears. When the real Naughton Jr. stood up, Cooper confessed to the panel, "My name is Anderson Cooper and I go to the Dalton School and I'm in the fifth grade."
Anderson Cooper began his actual TV career in 1992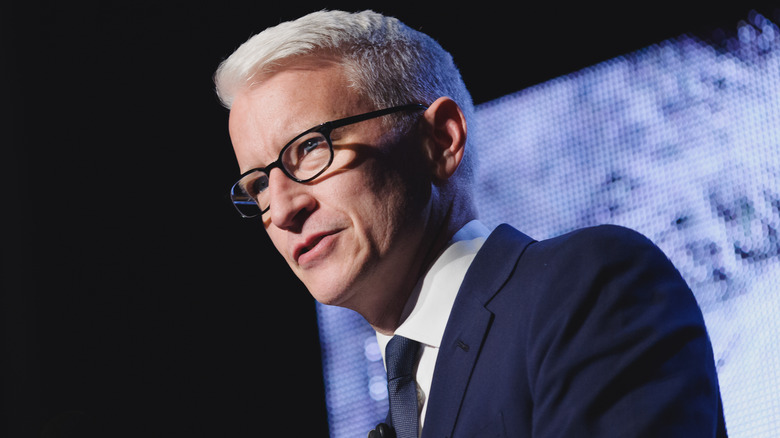 Stacey Newman/Shutterstock
Anderson Cooper's TV résumé has a big gap from the late 1970s until the 1990s. According to his CNN bio, his news career started in 1992. But he wasn't always in front of the camera. After graduating from Yale University in 1989, Cooper wasn't sure what to do with his political science degree. In a question and answer session with fans, he revealed how his career started. "I started out of college," he said in a video with fans. "I didn't really know what I wanted to do and I took some time off and traveled a bunch and then I decided to try to be a reporter."
Cooper revealed that after he was unable to get a job with ABC or CBS, he took an entry-level job answering phones, and then got a job as a fact checker for Channel One, which was a news channel seen in many high schools across the county "Then I came up with the idea of going overseas, going to places where there was conflict," he said. Cooper said the director at Channel One made him a not-so-legit press pass that he used for a trip to Somalia, where he did reports on a famine, in 1992. "And that's how I really began," he said.
 Soon after, he got a job at ABC as a news correspondent. Cooper later became the anchor for the late-night program "World News Now" before moving to CNN, per the Television Academy.