The Real Reason Jane Fonda Created Her Workout Videos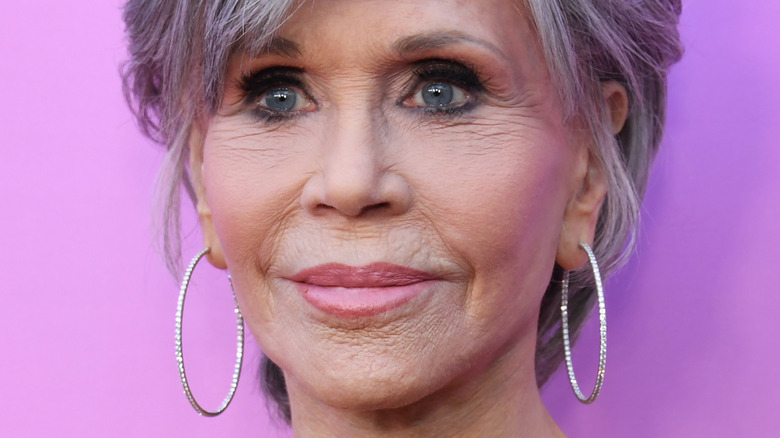 Jon Kopaloff/Getty Images
Some may say Jane Fonda has lived nine lives. An award-winning actor, devoted activist, and passionate fitness mogul, Fonda has accomplished quite a lot over the years. In 1982, she released "Jane Fonda's Workout," which according to CNN is considered to be one of the best selling VHS tapes ever. Dressed in a leotard and leg warmers, Fonda led the aerobics workouts, prompting viewers to stretch and move their bodies in the comfort of their own homes. In a 2011 appearance on "Anderson Live," Fonda spoke about the importance of exercise with Anderson Cooper, saying, "Why do I do it? I do it because when it's over, I feel so good," adding, "It changes your head, not just your body." Moderate exercise remains one puzzle piece that keeps Fonda looking so young. 
Though Fonda clearly loved to inspire others through her exercise classes and videos, there's more to the story than you might think. In fact, Fonda had one primary intention behind launching her fitness empire. Her motivation actually had nothing to do with exercise. Here's why Fonda really created her iconic workout tapes.
Jane Fonda's workout videos were tied to her activism
So, what was Jane Fonda's motivation for creating those innovative workout videos? In April, she told Vanity Fair, "I needed to start a business that would throw off enough money that could support the California Campaign for Economic Democracy, and that's what the Jane Fonda workout did." In 1976, Fonda and her then-husband, Tom Hayden, created the committee to tackle various social, political, and economic issues.
In a piece for Interview, Fonda explained why she opted for aerobics to crowdfund her cause. She noted, "So I realized that the only business I knew anything about besides acting was exercise." She explained, "The profits go in regular dividends to the organization. They do not go to any political campaigns — that's why we had to do so much fundraising for our candidates — rather it goes to the issues that we work on." Who would've thought toned arms could help improve the state of the planet? Apparently, Fonda did. And Fonda is still going strong. In October 2020, she recreated her classic workout in order to encourage viewers to vote. The creative clip, which she posted on Instagram, brought together other celebrities as they separately said various versions of, "Exercise your right to vote."
Inside the significant impact of Jane Fonda's workout videos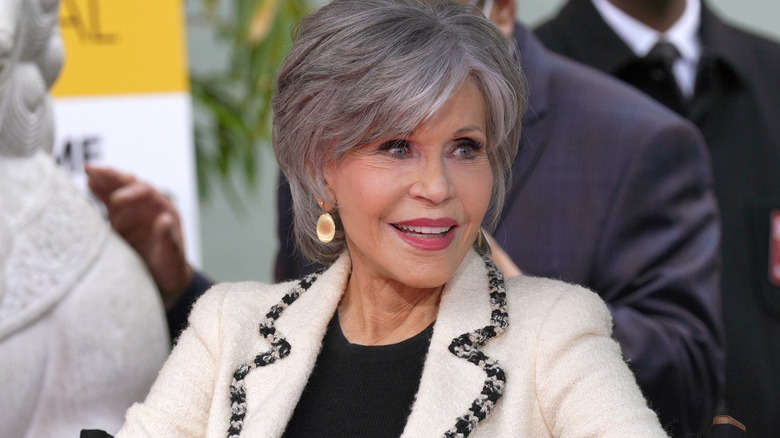 Presley Ann/Getty Images
Evidently, Jane Fonda's workout tapes helped change the planet, the fitness world, and the video industry. In a 2014 appearance on "The Ellen DeGeneres Show," Fonda talked about the major impact of her videos. She explained, "Prior to my first workout tape, which [required] a VCR, there was no video industry. Because it cost too much to buy the hardware to play it. My video came out, and suddenly a lot of people said, 'Oh I want to use that over and over and over, and it was worth their spending the money to get the hardware." In addition to changing the home video industry, the tapes yielded another key result. Fonda added, "Plus, it launched women being okay with muscles."
The fitness guru's workout regime also had positive effects on her own life. In 2018, Fonda, who had previously struggled with bulimia, told People, "I was doing the workout before I started the business, and it gave me back a sense of control over my body." Doing the exercises were a kickstarter for Fonda's recovery. She added, "I started the workout, and that kind of cemented my ability to eat normal, which I can do now. Some people say you can never get over it, but you can." In Fonda's case, a simple sit-up turned out to be incredibly powerful.