The Untold Truth Of Jane Fonda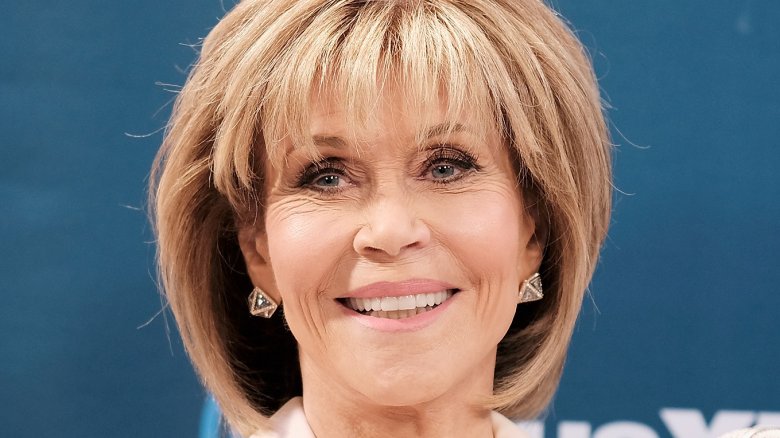 Getty Images
Depending on who you talk to, Jane Fonda might be considered either one of the greatest actresses of all time or a traitor to the United States of America. Personal opinions aside, one cannot deny that the two-time Oscar winner remains one of the most enduring figures in Hollywood, having found strength and success even when the odds were stacked against her. Let's take a closer look at the many twists and turns of the Coming Home (1978) star's life.
Her mother committed suicide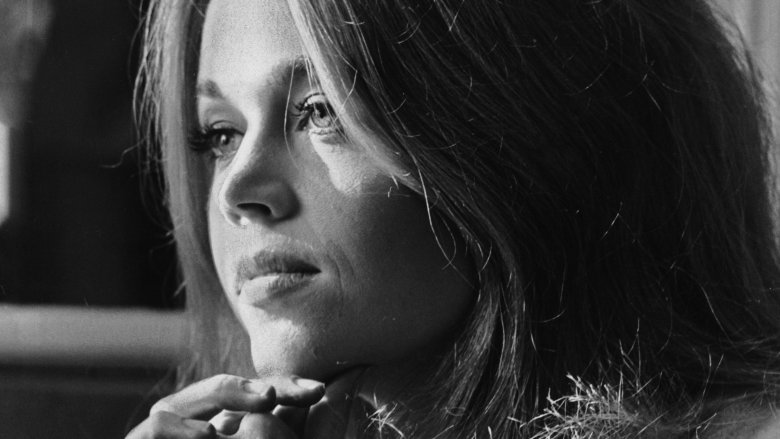 Getty Images
Tragedy struck Fonda at the age of 12 when her mother, Frances Seymour, who reportedly suffered with bipolar disorder, committed suicide on her 42nd birthday in 1950. 
"She had been institutionalized and the last time she came home with the nurse, the nurse was there to keep her from doing this," Fonda told 60 Minutes in 2005. "But she got away from her nurse and went up and got a little lacquer box that had a razor in it, and she went back to the institution, and cut her throat."
Fonda discovered the truth behind her mother's death about a year later, when a classmate showed her a magazine story. "They said she had a heart attack, and then, one day, someone passed me a movie magazine with a story about my dad. And it said, 'And his wife, Frances Seymour Fonda, cut her throat.' And I knew it was true. I knew it was true."
Fonda spent many years resenting her mother and dealing with the guilt of not being able to stop her from committing suicide. In fact, she was only able to find peace with the tragedy years later, when she discovered files from her mother's medical records that revealed she had been sexually abused. "Everything fell into place," a tearful Fonda told Oprah's Master Class. "I wanted to take her in my arms and tell her how sorry I was, that I understood why it had been the way it was."
She had a tough relationship with her dad
Jane Fonda is the daughter of legendary Hollywood actor Henry Fonda, with whom she had a tough relationship up until his death in August 1982.
Over the years, the actress has been candid about her father's icy and distant personality, even alleging in 2016 that the way he treated her growing up catalyzed her decades-long battle with bulimia. "When I hit adolescence and the specter of womanhood loomed, all that mattered was how I looked and fit in," she wrote in a 2016 edition of Lena Dunham's Lenny newsletter (via Us Weekly). "My father would send my stepmother to tell me to lose weight and wear longer skirts. One of my stepmothers told me all the ways I'd have to change physically if I wanted a boyfriend."
Jane spent decades trying to connect to her dad, which culminated with the release of On Golden Pond in 1981. That film–the only movie they shot together–was made while Henry was sick and was said to closely resemble their real-life relationship. Years later, she still considers it one of the proudest moments of her career.
She made peace with Barbarella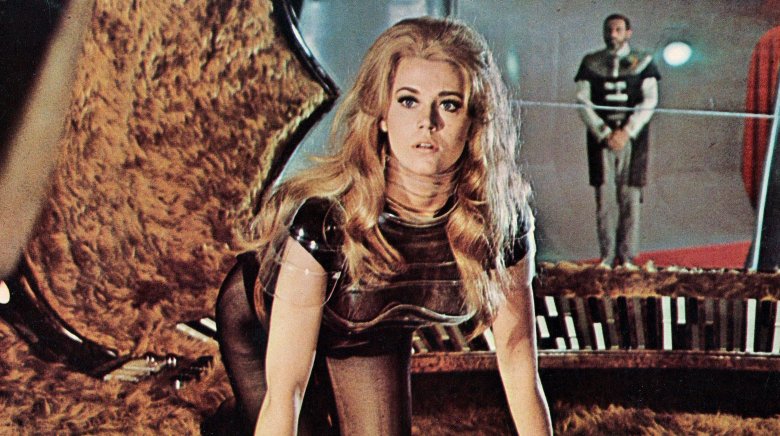 One of Jane Fonda's first major breaks as an actress came with the release of the 1968 sci-fi film Barbarella, which was shot by her first of three husbands, Roger Vadim. For Fonda, making the film was rough, but as the years have passed, she's been able to find a new way of looking at the cult classic.
"Our marriage was falling apart [during filming]..." she revealed during a 2017 episode of The Graham Norton Show. "And I had to do all these things, like, I had to be shut into a bird cage, and have birds pooping on me and picking at me."
"It was not an easy movie to do," she said. "But then, years later, when I had a sense of humor again–it took awhile–I kind of enjoyed it. It was kind of campy and fun."
She wanted to be fired from Klute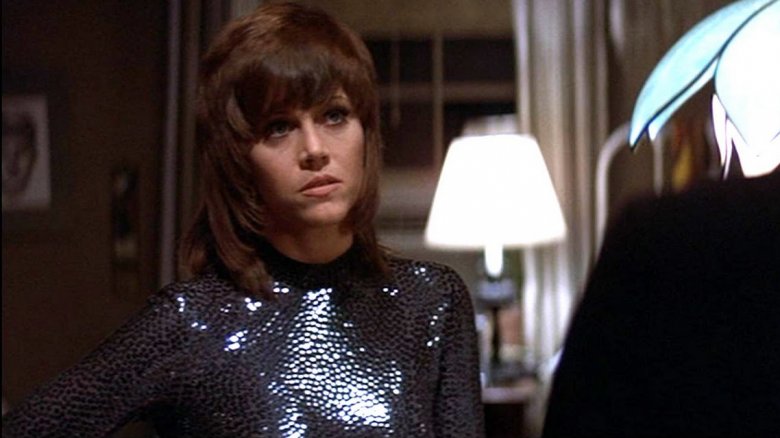 In just a few short years, Fonda was able to transform her image from "That Sexy Girl from Barbarella" to a legitimate actress, due in no small part to her roles in They Shoot Horses, Don't They? (1969) and the film that would earn her the first of two Academy Awards for best actress, Klute (1971).
While Klute brought her major success on the big screen, the prep work she did to play a New York City prostitute made her second-guess her ability to play the part. "So the production manager had arranged for me to spend time with prostitutes and madams prior to shooting. So I did that, I went to New York. I didn't look like I was supposed to because I'd been Barbarella and now I had this short, brown shag that became famous in Klute. Nobody knew who I was. I could tell some pretty good stories about what they told me and what I saw–man, it was wild," she said in 2005 (via The Guardian). 
"And the whole time, I would be going to these after-hours clubs, and no pimp would pick me up. Not even a wink," she said. "They didn't know who I was, so what that said to me was that I was wrong for the part, I just didn't have what it took. So I begged Alan Pakula to fire me, I said, 'I can't do it, Alan' and gave him a list of actors, starting with Faye Dunaway–I said, 'She should do it.' And he just laughed and I did it."
She blames her famous mugshot on Nixon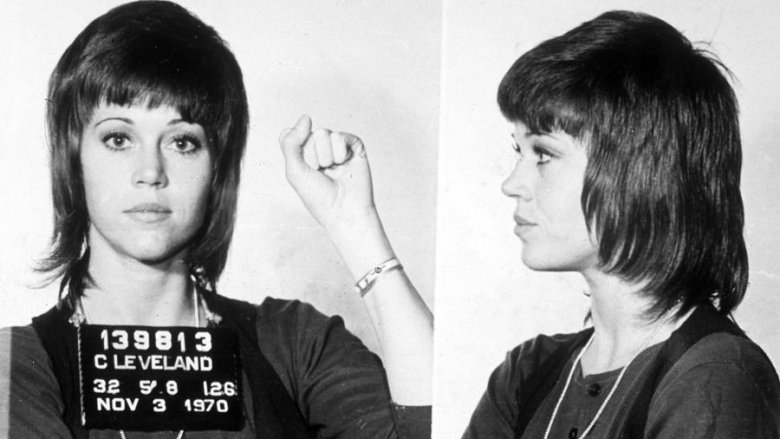 In addition to acting, Fonda became famous in the '70s for her political activism, particularly when it came to her stance against the Vietnam War. Her outspoken anti-war message ruffled a number of feathers along the way (more on that one in a second) and allegedly ticked off President Richard Nixon, whom she still believes orchestrated her now-famous arrest at the Cleveland Hopkins Airport in November 1970.
At the time, she was returning from Canada after giving a speech to raise awareness about the Winter Soldier Investigation. "When I re-entered the US at the Cleveland airport all my luggage was seized and gone through. They discovered a large bag containing little plastic envelopes marked (in red nail polish) 'B', 'L', 'D'–signifying breakfast, lunch and dinner–that contained the vitamins I took with each meal," she recalls in a 2009 post on her website. "They confiscated that as well as my address book (which was photocopied) and arrested me for drug smuggling. I told them what they were but they said they were getting orders from the White House–that would be the Nixon White House. I think they hoped this 'scandal' would cause the college speeches to be canceled and ruin my respectability. I was handcuffed and put in the Cleveland Jail, which is when the mug shot was taken."
"Headlines across the country had the story of me being jailed on suspicion of drug smuggling," she said. "I was released on bond and months later, after every pill had been tested in a lab (with taxpayers money!) The charges were dismissed and there were a few paragraphs hidden in the back of papers that they were vitamins, not drugs."
She regrets the 'Hanoi Jane' controversy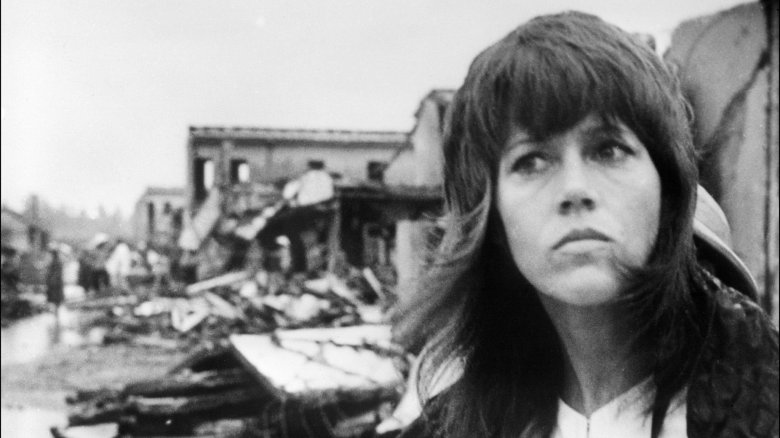 Getty Images
To this day, groups of Americans are still angry at Fonda for her infamous trip to North Vietnam in 1972, during which she was photographed smiling and laughing while she sat on a Vietnamese anti-aircraft gun. 
For her part, Fonda has spent the last several decades both apologizing for what happened and trying to explain what led to the incident that spawned, among other things, the nickname "Hanoi Jane" and her being branded as an American traitor. There's even an entire section of her official website dedicated to giving her "best [and] honest recollection of what happened."
"Someone (I don't remember who) led me towards the gun, and I sat down, still laughing, still applauding," Fonda writes on her website, claiming the laughter and clapping had been a reaction to a Vietnamese song she had just sung for local soldiers. "It all had nothing to do with where I was sitting. I hardly even thought about where I was sitting. The cameras flashed. I got up, and as I started to walk back to the car with the translator, the implication of what had just happened hit me. 'Oh my God. It's going to look like I was trying to shoot down U.S. planes.' I pleaded with him, 'You have to be sure those photographs are not published. Please, you can't let them be published.' I was assured it would be taken care of. I didn't know what else to do. (I didn't know yet that among the photographers there were some Japanese.)"
Fonda says she still doesn't know if the photo was a set-up by the Vietnamese. "But if they did I can't blame them... " she writes. "It was my mistake and I have paid and continue to pay a heavy price for it. Had I brought a politically more experienced traveling companion with me they would have kept me from taking that terrible seat. I would have known two minutes before sitting down what I didn't realize until two minutes afterwards; a two-minute lapse of sanity that will haunt me forever. The gun was inactive, there were no planes overhead, I simply wasn't thinking about what I was doing, only about what I was feeling, innocent of what the photo implies. But the photo exists, delivering its message regardless of what I was doing or feeling. I carry this heavy in my heart."
She saw something special in Meryl Streep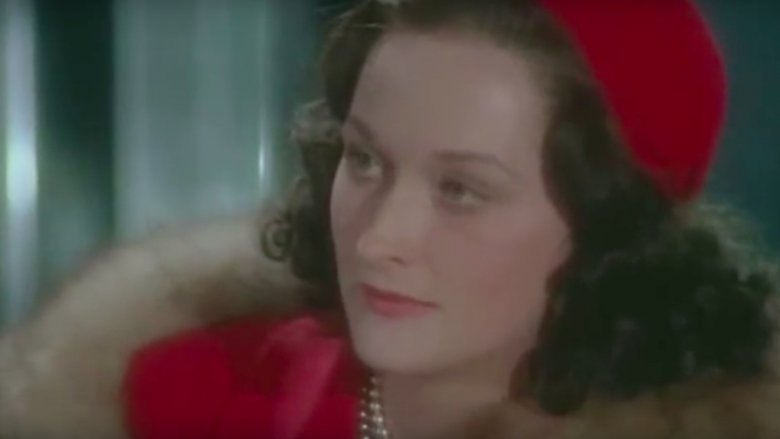 Despite the controversy over her trip to Vietnam, Fonda continued to find tremendous success in Hollywood in the 1970s. By the end of the decade, she had won her second best actress Oscar, incidentally, for the Vietnam drama Coming Home.
One year prior to the release of Coming Home, Fonda starred as playwright Lillian Hellman in the World War II drama Julia (1977). Among other things, that movie featured an auspicious, if brief, film debut for a young woman named Meryl Streep. Fonda described working with Streep in a 2005 interview with The Guardian, admitting she knew her colleague was special from the moment she saw her on camera. 
"I'd never heard of her because she'd never done a movie. We had a scene where Lillian Hellman walks into Sardi's after the triumphant opening of Little Foxes. And there's a character called Anne Marie, with black hair and everything. I wasn't even paying any attention to this actress; I just did my stuff," Fonda said. "The next day, I went to rushes, and...they bring me into Sardi's and they pan across several people, one of whom is this black-haired character called Anne Marie. Then I walk off and they stay on this Anne Marie, and with a slight gesture to her mouth, and a cloud across her eye, an entire character and all her thoughts about Lillian Hellman became apparent, and I went, 'Holy s**t!' Me and my partner were casting for Coming Home, and I went right to the phone and woke him up, I said, 'Bruce [Gilbert], it's really a weird name, Meryl Streep. I'm telling you...this is something phenomenal.' I feel so honored that I experienced that with her."
Her fitness tape was a game-changer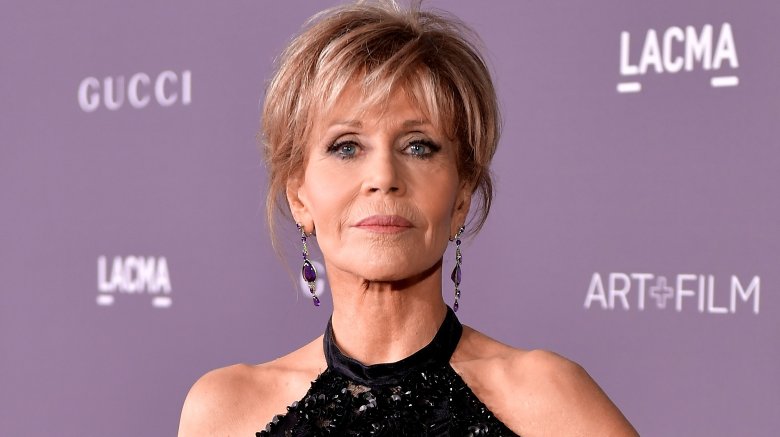 Getty Images
Fonda shifted gears in the '80s and became a pioneer of the home workout video franchise, all thanks to her smash hit, The Jane Fonda Work-Out. Released in April 1982, the tape would go on to sell 17 million copies and, as Fonda told talk show host Ellen DeGeneres in 2014, it paved the way for millions of Americans to buy VCRs.
"Prior to my first Workout tape...there was no video industry because it cost too much to buy the hardware to play it," Fonda said. "My video came out, and suddenly, a lot of people said, 'I want to use that over, and over and over' and it was worth their spending the money to get the hardware. So, it really launched the video industry."
She broke down when her second husband left her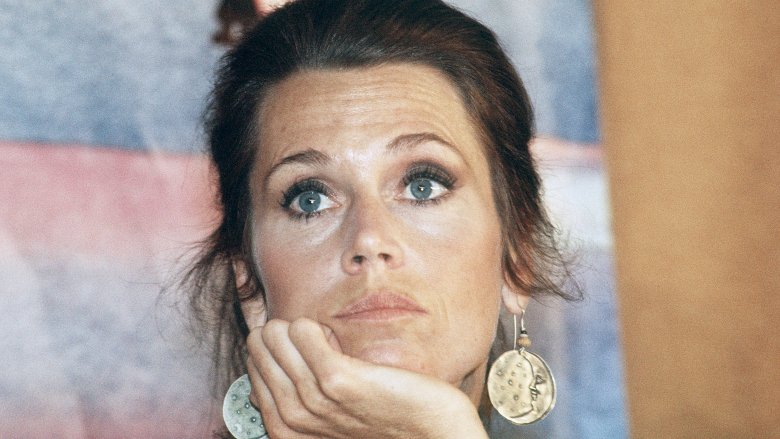 Getty Images
According to 60 Minutes, Jane Fonda's second marriage, to political activist Tom Hayden, ended dramatically on her 51st birthday when Hayden revealed that he had fallen for another woman. The shocking demise of their 17-year union had devastating effects on Fonda's mental health. 
"My life collapsed," she said. "I couldn't speak above a whisper. I couldn't walk fast. I felt like blood was coming through my skin. I felt like I'd just found out I'd been adopted."
News of their split paved the way for Fonda to meet her third and last husband, media mogul Ted Turner, who phoned Fonda the day after her breakup hit the papers. "The phone rings, and it's this booming Southern accent. And the first words out of his mouth were, 'Is it true?' 'Is what true,' I said, thinking this was really a weird way to start a conversation," Fonda told 60 Minutes. "And he said, 'Are you and Hayden getting a divorce?' Now, I mean, I'm in the middle of a nervous breakdown, right? I can't talk above a whisper."
She found Christianity at the end of her third marriage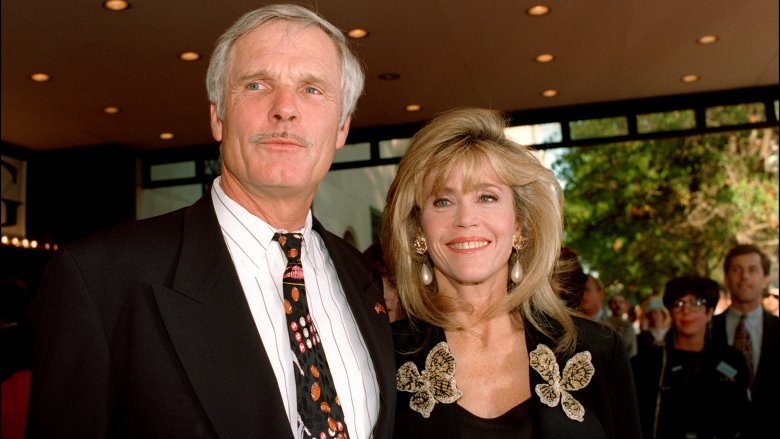 Getty Images
Fonda's 2005 memoir, My Life So Far, Fonda said her 10-year marriage to Turner dissolved, in part, due to Turner's affairs and Fonda's secret conversion to Christianity. Fonda, a born Atheist, writes (via Fox News), "I hadn't told Ted [about converting] beforehand because by then I didn't feel we were on the same team. Alongside the frantic life we shared, I was living a parallel inner life, where I took care of my own needs... I also knew that if I had discussed with him my need for spirituality, he would have either asked me to choose between him and it or bullied me out of it."
Fonda also admitted in an interview with Barbara Walters that Turner got angry with Fonda after he learned her secret. "As well he should've," she added. "It was not a good thing for me to have done."
The couple divorced in 2001.
Unhappiness fueled her Hollywood hiatus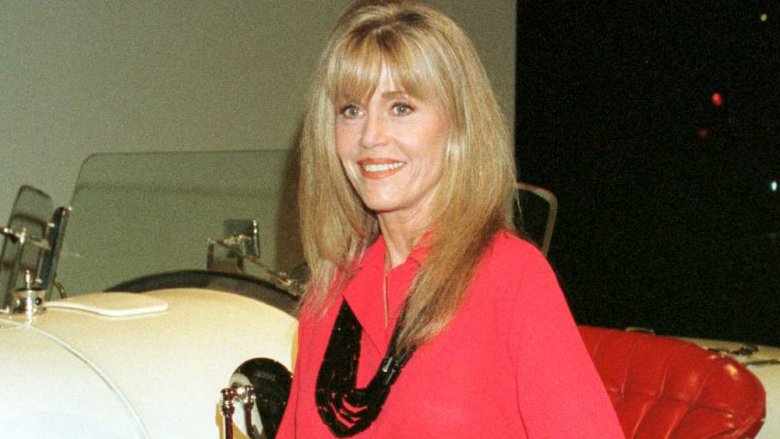 Getty Images
Fonda took a 15-year hiatus from acting before making a triumphant return to the big screen in the 2005 comedy Monster-in-Law. Speaking to Deadline in 2015, she admitted that it was her own unhappiness that prompted the sudden break.
"I was 49 and I was really unhappy. I remember I was making a film with De Niro called Stanley and Iris in Canada. I sat on the edge of my hotel room bed and I was trying to envision a future for myself, and I couldn't. I thought, 'I can't keep doing this.' I can't act if I'm miserable and so I thought, 'Well, I'm just going to stop.' I bought some property in New Mexico and I was going to become a full-time environmental activist," she said.
"And then Ted Turner came into my life," she continued. "People think I gave up acting because of him. The fact is that I was on the way out. I had 10 years with him that were fabulous and then I had five years writing my memoir, which was very cathartic," she said. "It's hard to know who you want to be if you don't know who you've been."
She wishes she'd been a better mom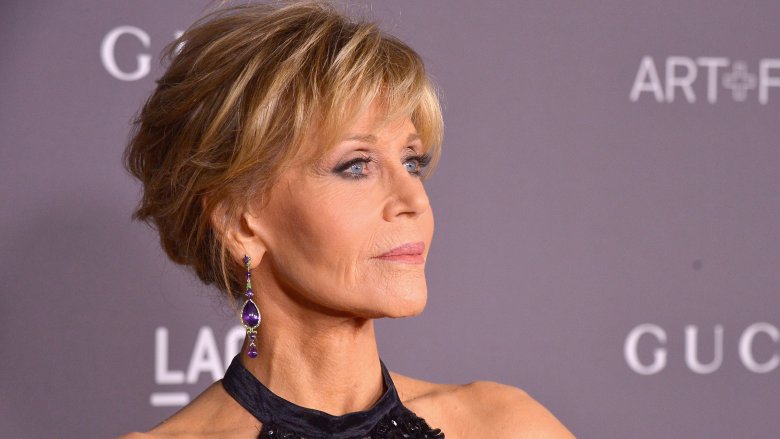 Getty Images
In an interview with Barbara Walters, Jane Fonda spoke openly about her belief that she was not a good parent, particularly as it pertained to her daughter, Vanessa Vadim, with whom she shared a "prickly, problematic relationship" for decades. 
"She has been angry with me most of her life...because when she was little, I really never showed up," Fonda admitted. "I did what my parents did to me. I took care of all the external things; the clothes and the food and the doctors and all that stuff. But I didn't countenance her as a human being."
Although they've patched things up in recent years, Fonda, who has three children, still feels tremendous guilt. "I regret that I wasn't a better parent," she told The Edit (via Today) in 2016. "I didn't know how to do it. But you can learn, so I studied how to be a parent. It's never too late."
"I am trying to make up for what I didn't know before," she said. "When I die, I want my family to be around me. I want them to love me and I have to earn that. I'm still working at it."
She's still killing it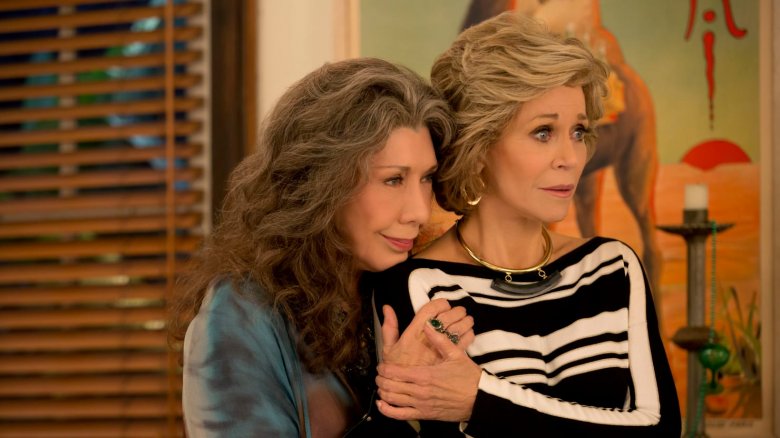 On Dec. 21, 2017, Fonda will celebrate her 80th birthday. Incredibly, her career today remains as relevant and successful as it did 50 years ago. In the past few years alone, she's done everything from star in hit movies such as Youth (2015), for which she received her first Golden Globe nomination in 31 years, to the successful Netflix series Grace and Frankie (2015-) for which she earned an Emmy nomination in 2017.
And that's only the beginning. In 2018, Fonda will join Mary Steenburgen, Diane Keaton, and Candice Bergen in the comedy Book Club, about a group of friends whose lives take a turn after reading Fifty Shades of Grey. 
With that kind of success, this next decade might just be Fonda's best yet.