Inside Sandra Bullock And George Clooney's Decades-Long Friendship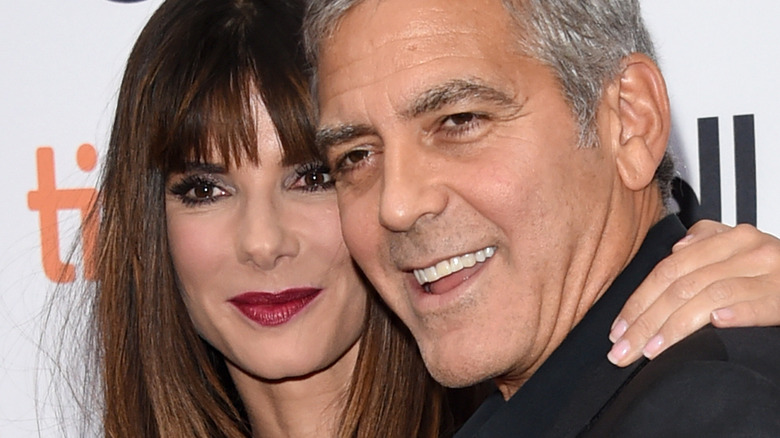 Jason Merritt/term/Getty Images
Sandra Bullock and George Clooney are not only two peas in a pod, but they are also living proof that there's nothing like having a best friend. The two have been inseparable for more than two decades and, surprisingly, they met prior to becoming Hollywood stars — or, as Bullock described, "literally before any of us had a job." Bullock told Glamour she met Clooney at a mutual friend's party where Clooney was drunkenly doing Buddy Hackett impressions. "We've all known each other for umpteen-chillion years and have supported each other from afar," Bullock told the magazine (via Hola!). 
Aside from maintaining a close friendship, Bullock and Clooney also had the opportunity to work together professionally. The actors first starred in the 2013 film "Gravity," about two astronauts stranded in space. "We've known each other so long," Bullock told Daybreak (via Hello!). "Just his joy for life and who he is in the workplace is so infectious, and he loves what he does so much." In addition to Bullock and Clooney's outstanding performances in "Gravity," the movie also won seven out of the 10 Oscars it was nominated for, according to The Verge.
Not only has the pair been there for each other during the good times, but through the bad times, as well.
George Clooney and Sandra Bullock share a deep connection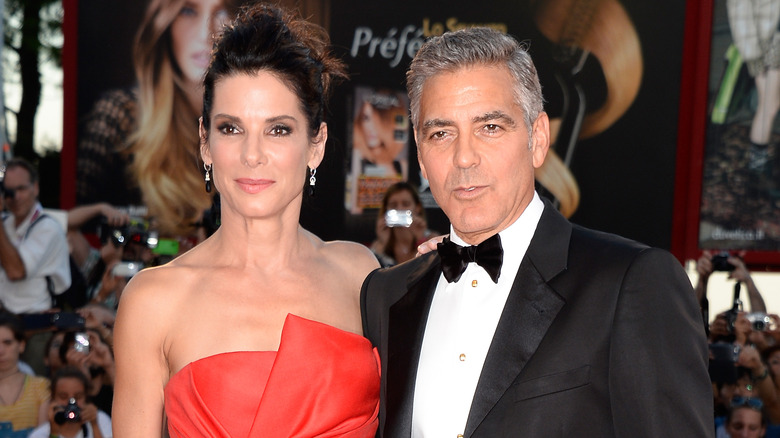 Pascal Le Segretain/Getty Images
Sandra Bullock and George Clooney have been by each other's side for more than 25 years. Thankfully for the "Miss Congeniality" actor, her longtime pal was there for her during one of the most difficult times in her life. Back in 2010, Bullock filed for divorce from her then-husband of five years, Jesse James, after learning that he had multiple affairs throughout the course of their marriage, according to Us Weekly.
"She's a really dear friend," Clooney said during an interview with People. "So watching how this year has gone for her — and she's had tough years before — has been great." Bullock also revealed to Canada's etalk that she's grateful she and Clooney have gone through life together. "We've seen each other through many facets and stages of life, and this is just another one of those facets and stages," she noted (via PopSugar). "And the nice thing is we still like each other at the end of it, we still admire each other."
Aside from being a great companion to Bullock, Clooney is also her wingman. 
George Clooney confessed why he would never date Sandra Bullock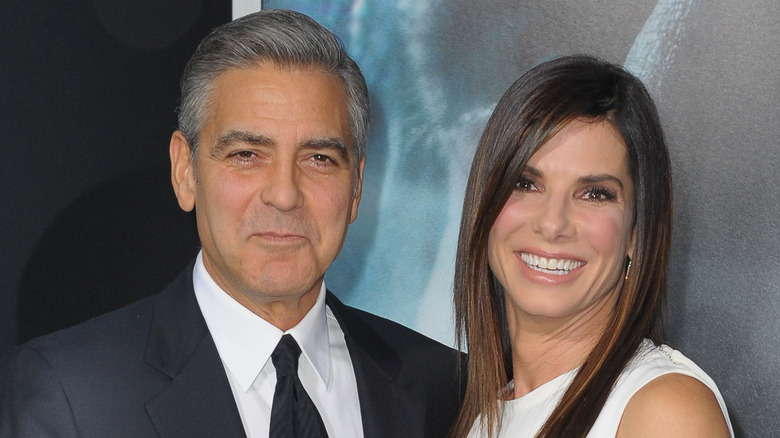 Michael Loccisano/Getty Images
More than 20 years ago, George Clooney was responsible for hooking Sandra Bullock up with one of his friends — and it was someone she had really wanted to date at the time. "When I came out after I spent time with George, George went to him and said, 'If you don't marry her, I will,'" Bullock said during an interview with Access Hollywood. "The Blind Side" star made it clear Clooney was just joking, but he ultimately made the statement to prompt his friend to get with her. "That was sort of the thing that sort of got him to just hang with me, the boyfriend," Bullock told the outlet. "We were together for four years after that, thanks to George."
And while the two sound perfect for each other, Clooney revealed why he would never date Bullock. "She was dating one of my best friends," Clooney said during an interview with E! News. As a result, the "Ocean's Thirteen" actor explained why he can't see himself ever being romantically involved with his dear friend. "There's a certain bro code, you know what I mean?" he added. "I've known her a long, long time."
Although fans will never get the chance to see this pair be more than just friends, at least Clooney and Bullock have found a companion for life with one another.