Natalie Portman Praised For Calling Out Best Director Snub At Golden Globes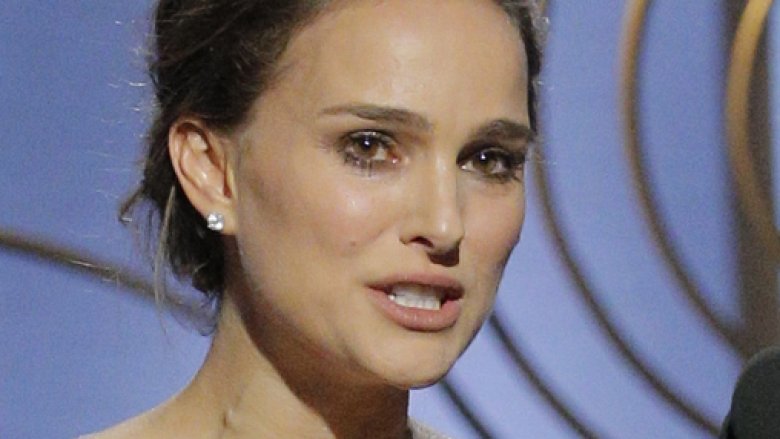 Getty Images
The stars cheered for the Black Swan actress as she announced the winner for Best Director.
On Sunday, Jan. 7, 2018, Natalie Portman took the stage at the 75th Annual Golden Globe Awards, alongside actor-director Ron Howard, to present the award for the year's best director. But she didn't just read off the names of the nominees before announcing the big winner. Instead, Portman brought attention to the fact that none of the 2018 nominees were women —  which many found odd, considering the success and acclaim garnered by female-directed films Lady Bird, Wonder Woman, and Mudbound (via Variety).
"And here are the all male nominees," Portman stated, eliciting a powerful response from the crowd and a nervous laugh from her co-presenter.
Natalie Portman: 'And here are the all male nominees' 🔥🔥🔥#GoldenGlobes pic.twitter.com/f2MyPkF8x6

— UPROXX (@UPROXX) January 8, 2018
But members of the audience weren't the only ones to react to Portman's comment. Celebs also took to social media to celebrate Portman for calling out the major nomination snub.
"'And here are the all male nominees.' Natalie Portman calls it for what it is," Shonda Rhimes tweeted out.
"YAS NATALIE GET EM GIRL," Mindy Kaling wrote, praising the Jackie star.
Zoe Saldana tweeted, "And then my girl #NataliePortman names the all 'male' nominees for best director! Preach!"
Considering that Time's Up was the topic of choice at the show, it's only fitting that Portman made note of the absence of talented women from one of the night's biggest award categories. 
The Shape of Water's Guillermo del Toro was ultimately the recipient of the award, marking his first-ever Golden Globe win (via Entertainment Weekly).
Want more Golden Globes news? Read all about the moments that weren't on TV at the 2018 awards show.