Jana Kramer Recalls Disturbing Details About Past Relationship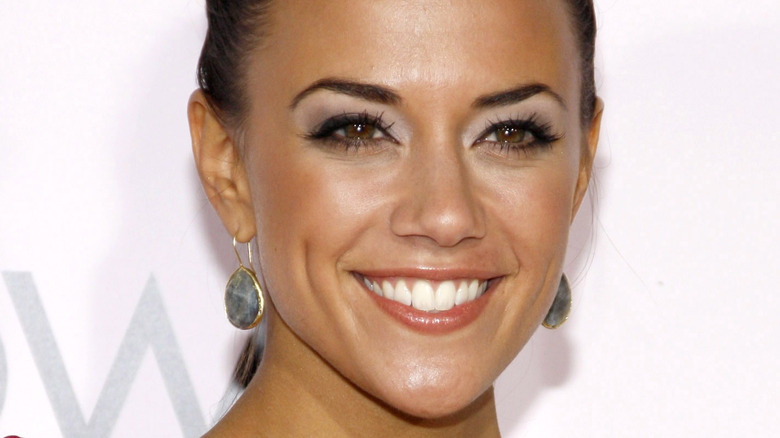 Tinseltown/Shutterstock
Country music singer Jana Kramer has been through a lot when it comes to romantic relationships. She was once linked to former NFL player Mike Caussin, per Page Six, but had a rocky relationship with him after cheating allegations and his admitting to being a "sex addict." The singer's final straw was when she found pictures of a topless woman on her ex-husband's phone. Although he claimed that a random girl texted him the photos, she left him.
Kramer appeared in Season 23 of "Dancing with the Stars," often opening up about her past and calling the show a "healing experience." "It was the worst time in my life," she said in the rehearsal package, after briefly opening up about being in an abusive relationship. But she mentioned that she's been slowly healing while raising her daughter Josie, vowing to protect her from what she had to go through.
The country music star also started opening up about the relationship on social media. In September 2021, Kramer posted a photo on Instagram about the negative "voices in her head" while she was going through the abuse. "My healing ... your healing ... our healing is to stop those negative voices," she stated in her caption, bringing awareness to the situation and helping people who were in her position. And now, it looks like Kramer is continuing to share her story.
Jana Kramer wants to bring awareness to domestic violence
In 2020, country music singer Jana Kramer fully opened up about her abusive relationship with Michael Gambino. She explained to People that she met Gambino when she was 19 years old. At first, she liked the way he protected her, but things took a turn after the two got married after two weeks of dating. "He'd come home at 3 o'clock in the morning and pick me up out of bed, throw me onto the ground and start yelling and hitting," she told the media outlet. He was later convicted of attempted murder and committed suicide two years after he was released from prison.
In a recent Instagram post, the "I Hope It Rains" singer shared her story again for Domestic Violence Awareness Month. She mentioned in her caption that people will look at the photo posted as a happy mother-daughter moment, but in reality, she was hiding the physical and emotional abuse she was facing at the time. "I speak out to help others and to hopefully help at least one person who is reading this to talk to someone," she stated in her caption, hoping to let others know that they "don't deserve abuse."
If you or someone you know is dealing with domestic abuse, you can call the National Domestic Violence Hotline at 1−800−799−7233. You can also find more information, resources, and support at their website.