The Tragic Story Of Jana Kramer's First Marriage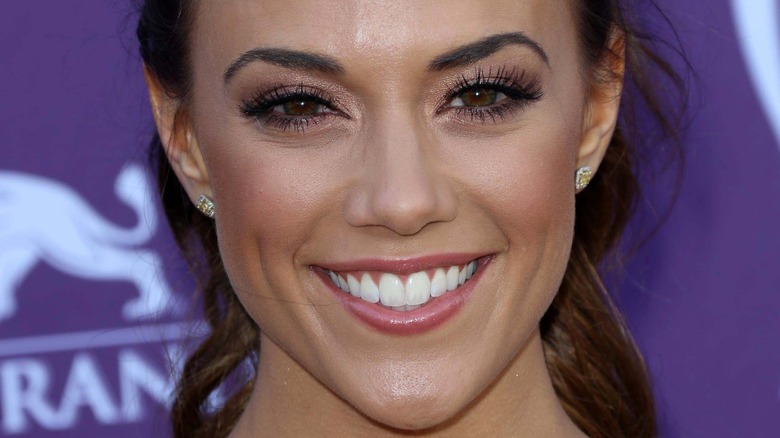 s_bukley/Shutterstock
The following article includes allegations of domestic abuse.
Jana Kramer is an open book when it comes to her romances and personal life. The former "One Tree Hill" star turned country singer regularly lets fans in on her life via her social media and her "Whine Down with Jana Kramer" podcast, where she's made some very candid admissions over the years. Some of her most shocking confessions related to her former marriage to Mike Caussin prior to their 2021 divorce, including when she opened up about an incident in which Caussin relapsed in his sex addiction. Kramer appeared to suggest during a March 2019 episode that Caussin had arranged to meet a woman at a hotel, but she turned up at the location instead.
But while we know plenty about her rocky marriage with the athlete, did you know Kramer had been married a couple of times before? The actor and singer was originally married to Michael Gambino in 2004, before tying the knot again six years later to "Legends of Tomorrow" star Johnathon Schaech which lasted just a few months. Neither were exactly the former "Dancing with the Stars" contestant's fairytale romance (hence why they ended in divorce papers) but it was her first marriage that was particularly difficult, with the relationship fraught with abuse allegations.
Jana Kramer experienced domestic abuse
Jana Kramer is a domestic abuse survivor, and has gotten very open about her ordeal with her first husband, Michael Gambino, who was 17 years older than her. The star spoke to People in 2016 about what her life was really like during their marriage, as they tied the knot when she was 19 after just two weeks into dating. Kramer explained that Gambino would get jealous and violent towards her, often kicking her out the house. "He'd come home at 3 o'clock in the morning and pick me up out of bed, throw me onto the ground and start yelling and hitting," she also shared, explaining that when she finally got the confidence to tell her she was leaving him, he would threaten her dogs.
One of the worst incidents between the two happened in 2005 when Gambino tried to kill Kramer by strangulation before leaving her unconscious outside her home. "I remember praying that night, 'Please, just take me away, I don't want to be here anymore'," Kramer heartbreakingly recalled. Gambino was later sentenced to six years behind bars for his abuse.
Kramer opened up about the ordeal to "Good Morning America" in 2016, sharing that she felt she saw her dead grandfather as she lay on the floor and asked him to take her away with him. She explained she called out for her mom as she saw her whole life play out, including her funeral.
Jana Kramer's experience with PTSD
Michael Gambino died by suicide after leaving prison, with Jana Kramer admitting his death brought about a plethora of different emotions for her. "I felt bad because my first feeling was relief that he was gone. That I didn't have to worry about him anymore," she explained to "Good Morning America," but also admitted she felt disappointed that she was unable to change things for him. Despite Gambino's suicide, the star admitted she still suffers from PTSD and panic attacks as a result of his abuse. "I still have that fear when I'm alone, him coming to grab me and... throwing me out of bed," she said.
Thankfully, Kramer seems to be on a better path today. In July 2022 she shared that she had decided to go back to therapy. "Focusing and working on mental health is just as important as physical," she wrote in the caption of a stunning Instagram selfie, giving her therapist a shoutout for helping her find herself once again. Kramer proudly showed off her new tattoo of an ampersand in honor of all the work she's been doing on herself. "[It's] my symbol for the healing work I've done and continue to do. You can be happy AND hurt/struggle. It's holding space for both. It's saying this is hard AND it's going to be okay," she wrote in the caption. "Holding space for both. Holding space for all of you....AND my story is not over yet."
If you or someone you know is dealing with domestic abuse, you can call the National Domestic Violence Hotline at 1−800−799−7233. You can also find more information, resources, and support at their website.
If you or anyone you know is having suicidal thoughts, please call the National Suicide Prevention Lifeline by dialing 988 or by calling 1-800-273-TALK (8255)​.