How Tall Is Prince William?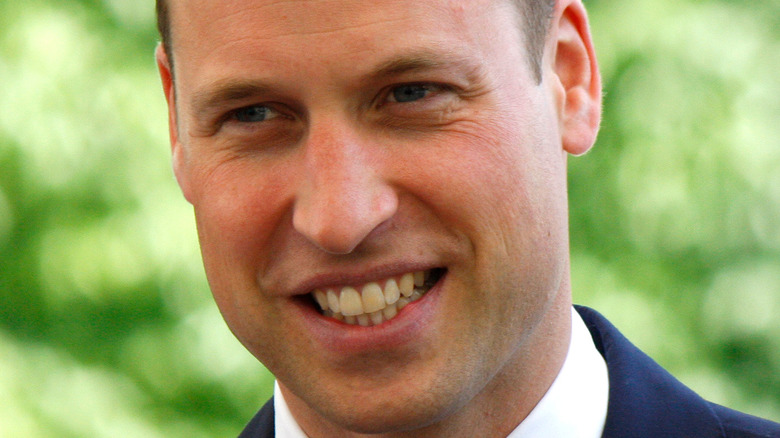 360b/Shutterstock
The British monarchy is constantly relevant and on everyone's minds. Prince Harry and Meghan Markle have become a favorite among American royal fanatics, and the fanfare around the royal family never ceases to fascinate people all over the world. With Queen Elizabeth II's death on September 8, news and coverage about them have continued even more. And due to Prince Charles now becoming King Charles III, looking to his eldest son Prince William is natural.
Prince William is next in the line of succession for the throne after his father, which now makes him Prince of Wales, a title passed down to him by his father, King Charles III, when he ascended to the throne (via Cosmopolitan). That also makes Kate Middleton, Princess of Wales, the first to use that title since the late Princess Diana.
Prince William has turned heads since he was a young man, and even as he's matured, his physical appearance still intrigues many. He even won the title of "World's Sexiest Bald Man" in 2021, according to People. While Stanley Tucci fans would like a word, the royal is definitely one of the taller bald and famous men. And while a minute detail in the life of Prince William, his height is actually notable among the royal family as well.
Prince William is the tallest royal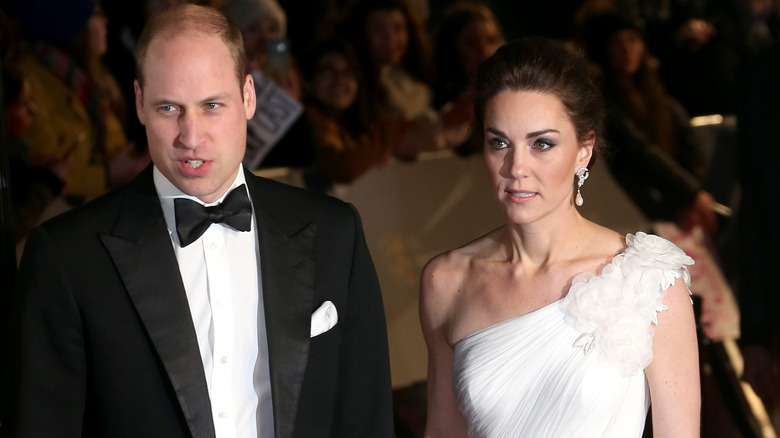 Fred Duval/Shutterstock
While the royal family isn't known as a particularly tall clan, the tallest among them are all 6 feet or taller. And Prince William towers over them all. According to PureWow, Prince William's height measures 6 feet, 3inches, making him taller than his brother, father, and grandfather. And his oldest son, Prince George, seems to be following in his lengthy father's footsteps.
People reported in 2020 that the then-7-year-old looked tall for his age while attending a night at a theater in London with his family. And even in 2022, photos of Prince George with his mother highlighted his growing height at age 9 (via Express UK).
But even though William is the tallest royal in the current British monarchy, his brother Prince Harry is close behind him at 6 feet, 2 inches tall. The late Prince Philip, who died at age 99 on April 9, 2021, stood 6 feet tall. And how do all of those 6-foot royals stand up in a ranking of tallest British Monarchs of all time? They're not far behind the tallest, King Edward IV. He allegedly stood at 6 feet, 4 inches (via EnglishMonarchs.co.uk). He reigned from 1461 to 1483.
How do the rest of the royal family members measure up?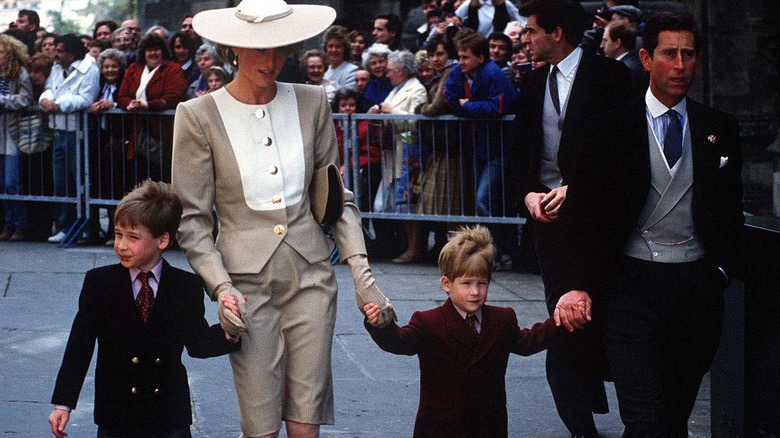 Anwar Hussein/Getty Images
Prince William may be the tallest royal family member, but his parents were the same height. PureWow reported that the late Princess Diana stood at 5 feet, 10 inches tall, the same as his father, King Charles III. Allegedly, Lady Diana opted not to wear heels often because of this fact.
"For years, Diana wore shoes no higher than two inches out of respect to her husband's ego," Eloise Moran wrote in her book "The Lady Di Look Book" (via Insider). "Since he was the same height she was." Later in the book, Moran wrote that "as the estranged royal's confidence grew, so did her heels."
Prince William's wife, the Princess of Wales Kate Middleton, is close to his mother's height at 5 feet, 9 inches. Luckily for King Charles III, his second wife, Camilla Parker Bowles, is 5 feet, 8 inches tall, and therefore doesn't have to worry about that either. Meghan Markle is noticeably shorter than her husband, Prince Harry, coming in at 5 feet, 6 inches. The late Queen Elizabeth II was the shortest member of the modern monarchy, standing at 5 feet, 4 inches.